Sky 3D's continuing evolution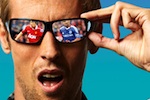 While the channel's first birthday isn't until the start of October, the weekend's Premier League football matches mark the second season of Sky 3D's coverage of the league. And the broadcaster is, as ever, looking to take its coverage to the next level.
With four EPL matches already on the slate for August (including screening both Arsenal and Man Utd twice), Sky 3D's coverage of the league is as high-profile and heavy-rotation as ever. It has no intention of sitting on its z-axis laurels either.
"We've been testing a 3D ENG-style camera which, when that gets launched, will give us the ability to go behind the scenes and do interviews and so on away from the truck," comments 3D Development Manager, Robin Broomfield. "That's the tool that's currently missing from our kit and I can't wait to get it working for us."
Broomfield's under NDA and currently can't talk more until IBC time, but it doesn't take a rocket scientist to piece the clues together – watch this space.
Sky is working closely with long-time 3D OB partner Telegenic in developing new 3D workflows and even how best to utilise the limited space in their specialist 3D trucks. "We'll never get rid of convergence operators, we may never want to, but we're looking at semi-automated convergence so that we can run our convergence operation more efficiently," says Broomfield.
"Telegenic has also been working on the Sony HDFA [the HDFA, a dual-channel HD fibre-optic transmission adaptor] and on integrating that into the trucks and the 3ality rigs," he continues. "Currently we're still running down two fibres, as opposed to three when we started, and the senior engineers at Telegenic are working on getting us down to one. Very soon now we'll be running just one SMPTE fibre out to each camera rig, which impacts on rig time, reliability, and makes life easier for all of us."
The idea is to mount the HDFA unit on the cameras so that all the controls are accessible to the cameraman. "As a result he'll end up with all the standard 2D controls, plus he'll be able to look at the left and right eye of both channels. I would say that's probably our next big step forward," says Broomfield.
Sky is also looking to bring 3D rigs into the studio to make for a complete 3D operation, rather than up-dimensioning the studio feed as it does now. The broadcaster is also working closely with the EPL clubs on camera positions, Broomfield saying that it's a work in progress, though the recently promoted clubs have apparently been very accommodating. And elsewhere, the evolution continues.
"The next non-sports big event is Bestival on the Isle of Wight, which unfortunately clashes with IBC, but it's interesting because we're doing 2D and 3D as separate programmes out of the same truck all shot on the 3D rigs. It's another different workflow we're looking at."