Sky debuts modular 3D flypack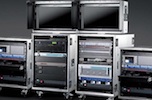 Sky 3D has started making use of a brand new modular flypack system. Designed specifically for stereo 3D work by Sky in collaboration with ONSIGHT and Sony's Professional Services division, it should ease some of the pressure on the company's Telegenic-operated 3D trucks.
"In terms of how they'll use it is quite interesting," comments Mark Grinyer, Head of Live Production Business Development- 3D and Sports for Sony Professional. "It gives them the ability to run a small OB-truck flyaway, or they can run a single camera convergence channel, just depending on which box they wheel out of the warehouse. It was quite an interesting build, because it all had to fit together to make a complete unit, but they can break it up and do small shoots, or put it all together for a larger, four-camera shoot with audio and switcher as well."
The system was designed by BSkyB Chief Engineer and ONSIGHT CTO Richard Mills, supported by Sony, and will make use of four dedicated 3D camera rigs from 3ality Technica. It is the first commissioned 3D Flyaway constructed by Sony and will be operated by ONSIGHT.
Richard Mills explains: "Sony P1 cameras, mounted on 3ality Technica Pulsar 3D rigs, will provide a flexible solution for both standalone documentary and multi-camera live event coverage. Up to four rigs can be fed back via a fibre-optic cable to a Broadcast Production Gallery with full 3D vision mixing, monitoring and communications."
"We're deeply committed to leading the way in the production of original 3D content so we can provide our customers with the best and most diverse range of 3D programming around," says Johns. "The modular nature of the 3D Flypack system allows for a simpler and more coherent use of what is sometimes seen as a complex acquisition toolset. Thanks to this new partnership we're able to be even more ambitious, and we're looking forward to seeing the impact it will have onscreen."