Sky Deutschland partners with Bundesliga on 'Der Klassiker' for kids
Sky Deutschland is working with the DFL and Bundesliga on the first live sports broadcast in Germany designed specifically for children.
Billed as 'Sky Next Generation', the broadcaster's kid-focused coverage of Borussia Dortmund v Bayern Munich will be available on the broadcaster's Sky Sport Bundesliga 3 channel. It will be in addition to Sky Deutschland's usual Bundesliga coverage.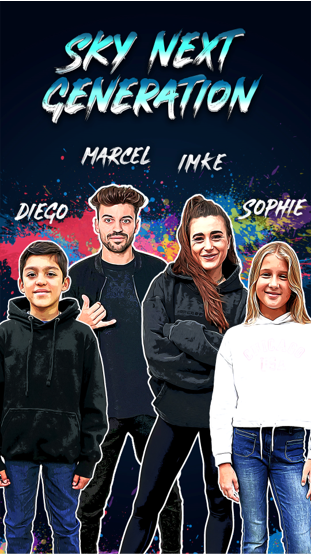 Taking place on at 5.45pm Saturday 8 October, 'Der Klassiker' as the tie is known in Germany, will feature two of the most successful teams in Germany, with fourth place Borussia Dortmund at home to third place Bayern Munich.
For the child-focused presentation of the match, special graphics and editorial content designed to appeal to kids have been developed.
As part of the overall aim of getting closer to the action, dedicated interview positions for 45-minutes of pre-match build-up, half-time and post-match analysis will be used.
New presenters have also been drafted in to host the coverage, including football freestyler Marcel Gurk and athlete and fitness influencer Imke Salander. Two children's reporters, Diego Miele and Sophie von Kameke, will also be part of the presentation team.
A cinematic, shallow depth of field look will be used for the presentation elements of the programme, with two wireless Sony FX6 and two F5500 cameras.
Sky has produced packages and stories to appeal to children, with child-friendly sections and interviews, a fan quiz for kids and – depending on player access – some behind-the-scenes content to air before before kick off, at half time and after the final whistle.
A kids reporter equipped with a wireless body camera will walk on to the pitch with the players for the pre-match line up to provide an up-close view of the players.
During the match, commentator Frank Buschmann will be joined by kids reporters Diego Miele and Sophie von Kameke. Comic-style graphics will also be used to explain and enhance the coverage.
To provide AR graphics, a dedicated AR camera will be supplemented by the production's usual Spidercam, along with a drone.
Child-friendly productions of live sports have been airing for a couple of years in the US, with Nickelodeon and the NFL, in conjunction with CBS Sports, providing "Nick-ified" highlights, complete with SpongeBob SquarePants and slime cannon graphics and special guest appearances.