Sky Deutschland's Sky Sport News HD proves out workflows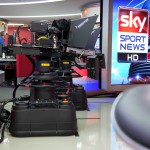 Sky Deutschland's Sky Sports News HD service will celebrate its six-month anniversary next month, and for Francesco Donato, Sky Deutschland's vice president of broadcast operations, and the rest of the team, the network's workflow remains more than viable, despite coming together in only nine months.
"We want to engage the audience in the age of multimedia," he says of the network, which has a staff of more than 200, including 70 journalists and 22 reporters, who use Sony XDCAM cameras, Avid iNews and Media Composer systems, Vizrt templated graphics, and Mosart automation to deliver sports-news updates to viewers across Germany 24 hours a day, seven days a week.
"We have an integrated workflow that is based on iNews and has Avid Newscutter at a typical workstation," says Donato. "And with Vizrt and Mosart plug-ins, the journalists can create their own graphics and drag them into the rundown."
The newsroom and studio are located in one large space in Munich, but, with a ceiling only 3.5 meters tall, compromise was required when it came to lighting and set design.
"The studio is surrounded by the output team and the gallery, and we can run the gallery with three people, two running the Mosart automation system and one handling the rest of the production process," adds Donato.
Studio gear includes nine HD cameras controlled by eight robotic systems and two 103-inch touchscreen displays controlled by presenters. The gallery includes two HD playout servers, a vision mixer with 3 mix effects, five Vizrt graphics engines, and a 188-channel audio mixer, which provides ample room for a wealth of audio needs.
"The audio console seems huge, but you need that because you need much more audio capacity than capacity in the vision mixer."
Donato says that 50 journalist workstations are available for staffers to create their own graphics and also make their own edits and instantly feed content from the workstation to the on-air server and rundown.
"As a result, we have a limited number of full editing stations as most of the content comes directly from the journalists' desks," he adds.
Twenty Newscutters are used to finalise content while four Newscutters with MojoDX can be used for more-complex editing needs. More than 80 iNews clients are used to create content and deliver it through the automation system to the 288TB Avid ISIS online storage system or the offline library with 1,600 TB of storage.
"Our facility is about workflow efficiency, with everything harmonised and integrated," says Donato. "The big change was to find a way to bring the production process and editorial process closer to each other. So we moved a lot of the production process to the editorial side so that editorial can be in total control and have the freedom to drive the process. The editorial side wants to be fast and free to do any changes on the fly."
Field operations include six SNG trucks (transmission uses the H.264 format), five ENG cars, and 10 cars for reporters.
Donato says that, before the launch last December, there was a lot of time spent preparing the graphics templates to make sure the different combinations of possible graphics were already built.
"We spent a lot of time on it, and the system works perfectly," he adds. "In news, you must be quick, and the quicker you are the better you are."