Sky launches virtual reality app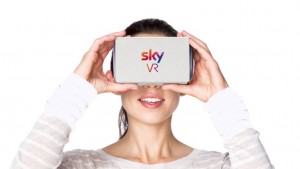 Sky is aiming to become the home of high-quality virtual reality (VR) content with the launch of a brand new app. It is available to download on a compatible mobile from Google Play or the App Store. The app will let anyone watch immersive VR content on a Smartphone either in conjunction with a Google Cardboard headset or in 2D (360 degrees) without a headset. The app will also work when using Samsung Gear VR and Oculus Rift.
To coincide with the app's launch, Sky has also revealed two new VR experiences: Sky Sports: Closer featuring David Beckham and, coming later this autumn, the first of a series of Sky commissions — a performance from English National Ballet's production of Giselle ahead of its forthcoming UK tour.
In his second piece of VR content for Sky Sports, David Beckham is seen entering a Sky VR simulator, which takes him and the viewer to visit sports events at the touch of a button. The footage was created in-house by the Sky VR Studios, in collaboration with Google.
"It was great to work with Sky and Google on this film to launch the new Sky Virtual Reality app," said Beckham. "The team from the Sky VR studio came up with an incredible concept that shows the range of sport Sky offers. Being able to take other sports fans on a journey into some of the world's biggest sporting events was a unique opportunity."
At the other end of the creative spectrum viewers can access an immersive re-imagining of a performance from English National Ballet's production of Giselle, which will be available later in October.
In addition to Giselle, Sky will commission a series of high-end VR experiences, under the Sky VR Exclusives label. Produced both in-house by the Sky VR Studios and with third-party partners, the series will build on the commitment to create VR content. This includes Sky News – US Elections and Tutankhamun's Tomb -The Search for Nefertiti.
At launch the Sky VR app becomes home to around twenty different pieces of 360-degree video content from Sky, Disney, Fox Innovation Lab, Warner Brothers, Baobab Studios, Jaunt, Innerspace and Surround Vision.
Content highlights in the app at launch include:
Star Wars: Red Carpet (Sky Cinema) – get closer to the red carpet at the premiere of Star Wars: The Force Awakens
Anthony Joshua: Becoming World Champion – see Anthony as you have never seen him before, as he becomes IBF world heavyweight champion
Disney – two VR experiences from The Jungle Book, enabling viewers to get up close and personal with King Louie and Kaa
Warner Brothers – Suicide Squad – Squad 360 – viewers can see what it's like being a member of the Suicide Squad during a scene from the film.
Team Sky – Journey to the Tour – follow the team preparing for their third Tour de France
F1  – Team Williams – lets fans go behind the scenes of the Williams team, in the pit lane and in car viewing