Sky never stumped for close-up coverage at the Ashes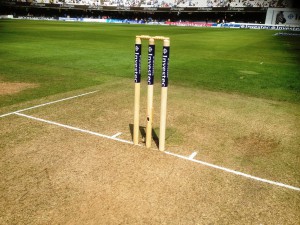 Innovative in-stump cameras developed by SIS LIVE are part of Sky's technical armoury for its coverage of the 2013 Ashes. Beginning with two wins for England, the series is due to recommence with the Third Test at Old Trafford, Manchester, on 1 August.
This year has seen SVG Europe run its most extensive coverage of the Ashes to date, with detailed reports on the Sky and CTV OB set-ups (https://www.svgeurope.org/blog/headlines/live-from-the-ashes-sky-sports-ctv-ob-bowl-over-viewers-with-tech/), and Sky's latest second screen innovations (https://www.svgeurope.org/blog/headlines/sky-sports-slips-in-second-screen-for-ashes/).
Now SIS LIVE has released details of the innovative stump cameras being used to take viewers even closer to the action this year. SIS LIVE supplies the world's only full HD cricket stump cameras; the only cameras to be located on the field of play, they are designed to give viewers unparalleled views of th action.
Developed by SIS LIVE's in-house team and used at events all over the world, the SIS LIVE HD Stump Camera Kits supplied for use at the Ashes include multiple HD Stumps with various wide and narrow angle lenses, plus FX microphones and all necessary equipment to transport signals to the broadcast hub.
Barry Parker, commercial manager for SIS LIVE, says: "Our Special Cameras division lead by Mark Robinson comprises an enthusiastic group of exceptionally talented and innovative broadcast, mechanical and electronic design engineers. Through their expertise viewers have been able to enjoy high quality HD live action pictures from this exciting series. "