Sky Sports adds Tough Mudder to its Mix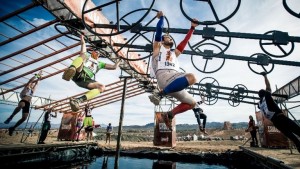 Sky Sports Mix will add another extreme sport to its schedule with the addition of Tough Mudder from January 24. Sky Sports Mix will broadcast this year's World's Toughest Mudder, adding to the schedule that has seen 33 different sports since the new channel launched to all Sky TV customers in August.
For the first time on UK television, viewers will be able to follow all the action as competitors battle it out in an extreme 24-hour endurance race to become the World's Toughest Mudder champion. The Tough Mudder programming adds to a new schedule of extreme sport on the channel, which also includes drone racing, surfing, snowboarding, cliff diving and mountain biking.
The World's Toughest Mudder series will first air on 24 January with a special pre-show to engage the UK audience. The pre-show will introduce the range of people taking part, from amateurs to semi-pro endurance runners. The main competition event and a follow up programme will both air on 26 January.
In addition to the World's Toughest Mudder, Sky has also agreed to show two more Tough Mudder series in 2017. A six-part series focusing on three 'every day' Tough Mudder heroes will air in February on linear and on Sky's digital platforms.
Sky Sports Mix will also broadcast an exclusive series following five current and former British Olympians competing in a number of Tough Mudder challenges. The original content series is due to air in the spring of 2017 and is being produced by Wilson Worldwide Productions.
Sky Sports Head of Multisport Georgina Faulkner said: "Sky Sports Mix has brought a whole new set of sporting events into every Sky home for the first time, and Tough Mudder is another exciting addition. Our viewers will already be familiar with these popular events and we will bring the excitement, competition and sheer physical effort to an even wider audience."
Tough Mudder's Founder and CEO, Will Dean, added: "We are thrilled to expand our video content distribution footprint globally with Sky to bring the Tough Mudder brand and active lifestyle to millions more people throughout the UK. As one of the leaders of video content in the sports industry, our partnership with Sky will allow us to continue to reach a truly global audience."
The Tough Mudder acquisition sits alongside a variety of sports that will be shown on Sky Sports Mix in 2017 such as the NFL play-offs, Premier League football, the Vitality Netball Superleague, ATP 500 tennis and the Snowboarding World Cup.