Sky Sports and EFL ink £935m five-year domestic rights deal and pledge to up production values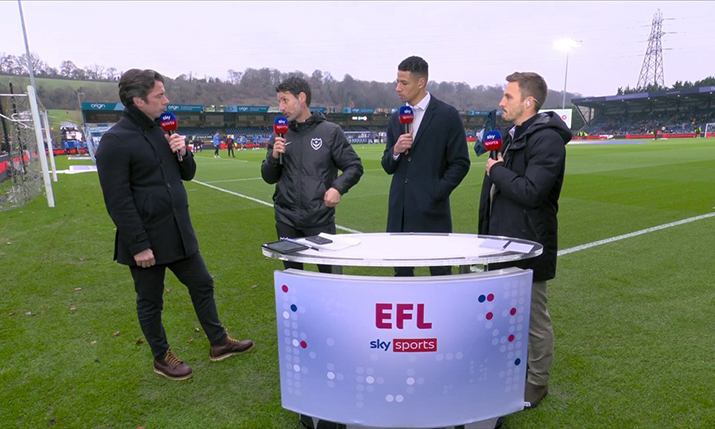 The EFL (English Football League) has committed to "significant" investment in production infrastructure as part of its new £935m domestic rights deal with broadcaster Sky Sports that will see an increase in the number of games aired by the broadcaster.
Running from season 2024/25 to season 2028/29, in total, 1,059 EFL matches are set to be broadcast exclusively across existing Sky Sports channels or live via a Sky Sports streaming destination available on TV and mobile devices. This is compared to 243 in the current Sky deal.
"This is the biggest deal in football, in terms of the number of matches being broadcast"
The EFL and Sky Sports said they will "continue to work together to innovate, seeking opportunities to improve coverage and take viewers closer to the action".
The EFL added that it will be "investing significantly in production infrastructure to enhance the viewing experience".
In addition, Sky Sports will have a minimum of eight cameras for each game broadcast on existing channels. And a minimum of four cameras will be used at Championship and League One matches, with a minimum of two cameras in League Two. For matches available to stream, Sky Sports commentary will also be provided.
The deal effectively replaces the current Sky Sports EFL red button coverage and the EFL's domestic streaming option provided via iFollow and club streaming services. Domestic streaming audio services will remain alongside existing audio-visual arrangements for international audiences via iFollow and club streaming services.
Sky Sports managing director Jonathan Licht described the deal as "ground-breaking".
He said: "We believe that fans of all 72 league clubs will benefit with increased coverage across all the leagues and competitions. With four times as many matches than we currently offer, we will capture even more of the excitement created by this unique league – and in a way that will be immediately accessible to millions of supporters.
"This is the biggest deal in football, in terms of the number of matches being broadcast and we look forward to working with the EFL and its 72 member clubs to give fans the most entertaining viewing experience.
"Between Sky and the league, we're pleased to be able to make a commitment to fans that will ensure greater notice periods around the movement of matches for broadcast. There'll also be greater parity in the number of times clubs are selected to be live on Sky Sports.
"The EFL stands alongside our key rightsholders we have partnered with for the rest of the decade, keeping Sky Sports as the number one destination for sports fans. We thank the EFL clubs and EFL board for their support and look forward to our future together."
The EFL said that it received any expressions of interest and proposals from the RFP, including free to air, pay tv, OTT and streaming formats.
At the beginning of April 2023, the League entered into an exclusive month-long negotiating period with the preferred bidder, Sky Sports.
The deal is worth £895m in rights fees plus £40m in additional marketing benefits. The new agreement represents a record domestic rights deal with broadcaster Sky Sports worth £895m in guaranteed payments over a five-year period. This represents an uplift of £300m over the five-year period and £60m per season in comparison to the current agreement.