Sky Sports' coverage of The Open wins BAFTA award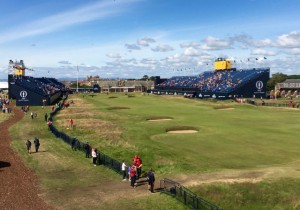 Sky Sports has collected a major accolade for its coverage of The Open after winning the BAFTA for best sports production. The 145th Open at Royal Troon was the first to be broadcast exclusively live on Sky Sports, and the production was rewarded at the annual BAFTA television awards in London.
The Open was named the winner ahead of BBC's coverage of the Rio Olympics and the Six Nations clash between England and Wales, while the Paralympics on Channel 4 was also nominated.
Head of golf Jason Wessely paid tribute to his team as well as European Tour Productions and CTV OBs, and he said: "Thanks to BAFTA for recognising what we try to do here… to make golf exciting."
Henrik Stenson claimed a record-breaking victory and his maiden major title after one of the most dramatic final-day duels in Open history as the Swede held off Phil Mickelson with a stunning nine-under 63.
The first tee shot of the tournament was screened live for the first time on British television as Colin Montgomerie got the tournament under way on his home course, while the Open Zone was a popular innovation throughout the week as the world's top players provided insight into their games.
Sky Sports also won the best multimedia sports package at the Sports Journalism Awards in February for its extensive coverage of The Open, beating nominations for four Olympic packages.
The golf team have previously won several awards for coverage of the Ryder Cup, including best sports production at the RTS awards following Europe's victory over the USA at Gleneagles in 2014.
This year's Open can be seen live on Sky Sports in mid-July, with Stenson defending the Claret Jug at Royal Birkdale in Southport.