Sky Sports finds Ross Video efficiency for rebranded horse-racing channel
Sky Sports recently decided to revamp its horse-racing output and added a number of technology enhancements to the rebranded Sky Sports Racing channel to bring it into line with its other channels.
Sky took on responsibility as the chief production partner which required the building of a new HD studio and gallery featuring the latest generation of newsroom computer systems (NRCS), production switchers and production automation to help increase the production values and boost viewer engagement.
"The process of transforming empty rooms into a fully-operational studio within six months was always going to be challenging," said Jack Horry, platform manager with Sky Production Services. "But we chose experienced and trusted partners who are familiar with our style of doing things.
"Ross Video had already worked with Sky to automate our main news studio, so we knew we'd get plenty of hands-on advice and support when introducing the NRCS and automation to Sky Sports Racing. The tight deadline was certainly stressful, but our launch was incredibly clean and that's really been down to excellent training, product ease-of-use and reliability."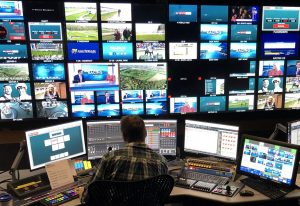 Sky Sports Racing will provide live coverage of over 700 UK fixtures from 25 courses this year, as well as showing more than 200 race meetings from France and over 80 from Hong Kong. There is also daily coverage of live racing from the US and Australia.
With such a robust schedule, workflow efficiency has been top of mind throughout the process. OverDrive, Ross Video's production automation tool, and Inception, a newsroom computer system and social media management tool, are central to this project.
"Automation can be a contentious subject in this industry, but it definitely helps us scale our productions appropriately. The OverDrive solution from Ross enables us to do so much more with our already lean headcount, then add more people to the production when we're doing something more complex," said Horry. "We've also found Inception to be an intuitive tool that has enabled us to centralise our workflows from this platform."
Sky Sports Racing was previously known as At The Races. The new name came into effect on 1 January 2019.
Further reading:
Automation, drones and touchscreens added as At The Races becomes Sky Sports Racing