Sky Sports Formula 1 tech team is ready for challenge of Monaco Grand Prix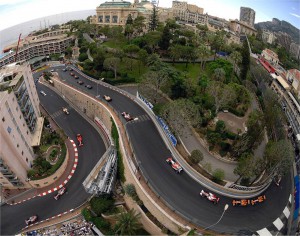 Sky Sports coverage of Formula 1 turns its attention to arguably the sport's most famous venue: Monaco and the Monaco Grand Prix. "Monaco is a difficult venue as it is a very glamorous location but also very tight," says Keith Lane, Sky Sports, operations manager, adding that the logistics of everything from handling wireless signals from microphones and cameras to simply moving around the paddock and navigating the sheer number of people can be a challenge.
While French TV network TF1 will handle the production of the race feed, Sky Sports will build its "show around the show" with the help of four Pods of equipment that fly from race to race and remove the need to book OB vans around the globe. Races have already been held in Australia, Malaysia, China, Bahrain, and Spain, so the Pods have already racked up some serious models.
"From our point of view, we have the facilities to travel around the world as they are built into a set of Pods that are square and transportable onto a plane via a [shipping pallet]," explains Lane. "So they can go everywhere we go and provide the same level of technical facilities [from race to race]."
One Pod contains a 5.1 surround audio suite, another editing systems and replay, a third the equipment for the main master control, and a fourth storage. Three additional Pods include cabling and other equipment.
Key gear includes a Grass Valley Kayenne vision mixer, five Avid editing suites, EVS XT[3] replays, and a large Omneon MediaGrid server with 170 TB of storage.
"We are very happy with the suppliers for our facilities as they had to raise their bar," says Lane.
When the Pods arrive at a race, they are placed into portable cabins. One holds the production team, a second replay, media management, and two edit suites, and then a third with three full Avid craft-level editing suites.
The use of the Pods is an example of cost-effective yet top-level technical operations as the team can guarantee that the engineering side will be consistent from week to week. For example, routers and communications systems can be up and running much more quickly instead of having to be reprogrammed for a different production truck every week.
Given that TF1 will handle coverage of the race, the Sky Sports production team is focused on layering analysis and coverage from three studios and four radio cameras around the course into the programme. Two of the RF cameras are in the paddock and two in pit lane. Those feeds are then mixed into the world feed when possible before the signal hits viewers in the UK. The wireless cameras are Panasonic P2 cameras coupled with BSI radio links.
"If the cameras are out of range, they can record locally [onto the P2 cards] and then send the content back when they are in range as baseband video," explains Lane. "Or if the signal during an interview breaks up, we can re-feed the locally stored version."
The BSI links, adds Lane, are more than up to the challenge of the Formula 1 season. "The links have been incredibly stable," he says of a system that also provides Tally data returns, full iris and camera controls, and even two return feeds so the presentation team can watch on roving monitors.
There is also a fifth wireless camera that is used by Sky Sports News that the Sky Sports team will look after during the race.
As for non-wireless cameras, two Sony HDC-1500 cameras are used in the main studio alongside a Hego touchscreen used for analysis. An eighth camera, a Cueball, is used in the commentary area to cut to talent.
From an audio standpoint, a full 5.1 surround sound mix is being created using a Lawo audio board and Reidel communications systems.
"We are taking the audio mix from Formula 1 Management and adding as many elements as we can," says Lane. "It's very engaging and quite different. When we go to the onboard cameras, you feel as if the engine is sitting behind you."
Two backpacks are also used around the track as receive sites where the surround sound bed can be mixed and then sent into the submix so the audio mixer can control it with just one fader. The Panasonic cameras also record ambient audio.
One of the wonderful things for F1 fans is the way each venue is unique in terms of course layout, turns, top speeds, and strategy. And for broadcasters, that constant change can make Formula 1 coverage more like covering a golf tournament as the compound could be near or far and cable runs can't simply plug into a fiber ring the way US broadcasters are used to using for NASCAR races.
"The scale can be quite a challenge," adds Lane. "In Australia, we had more than 11 kilometers of cable for an add-on to a world feed."
Along with the eight cameras that are integrated into the world feed, there are also the technical demands to provide content for the Pit Lane Channel, handling nine onboard camera feeds, an iPad app, and Sky On The Go.
The interactive channel gets a whole host of extra facilities as the onboard camera circuits are sent back to the UK, and viewers can change from camera to camera to access different drives and track driver data.
"We also have an iPad app that has race controls, data from Formula 1 Management, and it has been a massive enhancement for viewers," says Lane. "They are watching TV in a different way. It's not just about the broadcast but an interactive, data-rich product that can bring the race to life through different applications.
"F1 fans aren't like other sports fans," adds Lane. "They want more information and more stats so they know what is happening. So the thing for us is to tell the story of the race through all the teams, and we work very hard to get exposure for smaller teams."
Of course, telling the story of the teams on the track requires a solid team at Sky as well.
"We have a core crew that is on the 20 races, and it's an endurance race for some of them," says Lane. "But they provide the best quality of live reports from the race, and so far we have been critically acclaimed. After Australia, the feedback was really great, and we are taking the coverage wider so that, just like the Ryder Cup, it is watched by more than just race fans."
With that goal in mind, there is no better opportunity than Monaco, a jewel of a race that attracts viewers who simply want to see how the world's best drivers can navigate one of the world's toughest courses in the most beautiful location, to take viewers to the next level.