Sky Sports' Ryder Cup 4K trial ultra-motion replays provided by I-MOVIX X10 UHD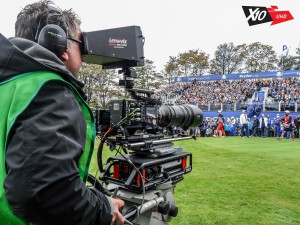 Sky Sports covered the entire week's action at The Ryder Cup recently as a full production trial for 4K broadcasting. As pat of this ambitious test, Fletcher London provided the I-MOVIX X10 UHD ultra-motion system, which operated during the entire event at 500fps to capture the action at the club head and in the crowd.
For this UHD trial, the I-MOVIX X10 UHD system was tested with the DreamCatcher solution from Evertz and with the FUJINON 4K Cine lens, Premier PL 75-400mm Cine Zoom (HK5.3X75). Chrosziel provided the FUJINON servos.
"The 2014 Ryder Cup gave Sky Sports the opportunity to produce a comprehensive trial production at Gleneagles with the same challenges that a big event golf tournament would give," said Keith Lane, director of operations, Sky Sports. "Using a range of UHD cameras and lenses, we were able to cover the production on several holes. The I-MOVIX camera that was located on the 1st Tee, produced some excellent hi-motion UHD replay images of the players teeing off at the start of each round as well as giving replays of crowd reaction. Used extensively for replays and teases and highlights, the I-MOVIX X10 UHD camera proved to be good value for the production team."
"If the I-MOVIX X10 UHD technology is already in use in the United States thanks to Fletcher Sports, it was the first time the UK branch had the opportunity to experiment it. The setup was quick and simple: indeed, the X10 UHD system is configured in 4K ultra slow motion mode thanks to a simple switch on the OCP," said Haydn Parnell, manager and chief engineer, Fletcher London. "We had the best available 4K monitors on the truck and we were blown away by the image quality, which was beyond what I was expecting. The I-MOVIX system matches perfectly the quality of the other 4K cameras we were using, and it produces beautiful and stunning shots."