Following on: Sky Sports sends The Hundred into the Aether
With less than 100 days until the newest format of cricket makes its debut, it is now time to get to grips with the Americanised version of the 300-year-old sport.
While cricket fans do love a stat, arguably the broadcast presentation of the match needs as much of a shake up as the hallowed rules of the game itself, especially if The Hundred is to attract those all-important younger demographics.
That is where data comes into play. We are light years away from basic score overlays; data today drives pretty much everything.
Live and die by data
"Data is a new currency for rights holders and for federations and the faster it is delivered the more valuable it becomes," says Mark Bowden, product director at AE Live.
Federations are now starting to want in-house control of data not least because it powers official scoring and adjudication. Data also enables them to control and implement the rules of the game and manage the overall event.
"We are a Babelfish. We take everything in, standardise it and translate it and give it back out to the end consumer. We're offering data as a managed service because it is so complex to manage all those data sources, keep it in synch and distribute it"
But there is more power to data than this, which a new platform called Aether from AE Live has been evolved to provide.
"We've always been a data provider except that typically the data we provide as graphics lives and dies in the lifecycle of the onscreen graphic," Bowden says. "Now we have the ability to collect and share that data with federations and rights holders and to help them create and distribute multiple applications out of it."
For The Hundred, AE Live will generate graphics remotely for Sky Sports' host broadcast as well as producing augmented reality content at the venues. Sky Sports plans a hybrid operation to get the best of both worlds.
The same set of real-time scoring data will be used to drive graphics around the LED perimeter of the grounds and the venue's main scoreboard. It will also be used to automate Sky Sports' highlights packages.
What is new is that all the data is being ingested, orchestrated and distributed from AE Live's new platform, Aether.
Introducing Aether
Aether comprises two main components: data handling and graphics rendering, Bowden explains. The data element allows for the creation of new data points that enable the creation of new content.
"The ability to render graphics in the cloud, in real time and in sync with the main broadcast allows rights holders to approach their digital viewers from a whole new perspective," he says. "The system requires no additional hardware on venue and the outputs are controlled by the main graphics operator, so the integration is seamless."
The successful delivery of The Hundred draft in October 2019 (with a mini-draft earlier this year to update players and teams following 2020's event postponement,) marked the first outing of Aether. This provided the backbone for the player registration system, through to the software the teams used to draft on the night, and the data that was fed to digital and broadcast partners. The database is behind all the broadcast graphics for the tournament when it goes live in July.
The nucleus of the workflow has not changed. An AE Live scorer at the ground will log data, such as a run, into their laptop which automatically triggers changes to on-screen, giant screen and LED graphics. The difference is that instead of 'disappearing' (into the ether) this data is now available within Aether to be segmented, shaped, targeted and published to wider or niche audiences in an array of formats, such as mobile.
Federating data
"With the creation of Aether, AE will be in a position that allows us to federate third party feeds and blend them with our scoring data and manage it all on the behalf of rights holders," Bowden says. "This will allow for a greater scope of data that can be used for broadcast or delivered to third parties."
AE Live believes federations value what Bowden calls, "a single source of truth": one set of verified, accurate, official data owned and controlled by the federations.
"We are a Babelfish," says Bowden. "We take everything in, standardise it and translate it and give it back out to the end consumer. We're offering data as a managed service because it is so complex to manage all those data sources, keep it in synch and distribute it.
"Rather than having three to four people at the same game logging, each perhaps a little differently which leads to discrepancies, federations want a supplier who can take in everything and manage it end to end. Aether does that."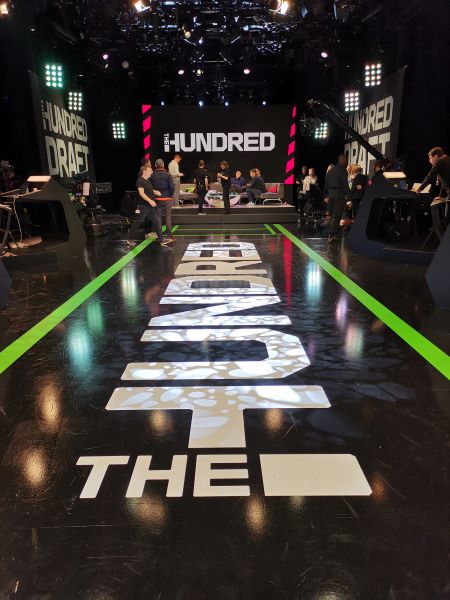 For example, fans who want more in-depth analytics could have a feed that has more advanced metrics on the graphics instead of the standard scoring data. A younger fan might want more colourful graphics that present the data in a way that explains the game in a simple way.
Targeting adverts based on location is also possible, so if a rights partner would like to have a country specific advert on a digital feed, this can be done using Aether. Fundamentally the same look and feel could be used, but specific company logos could be used based on region.
Automating personalised feeds
AE Live is also in a prime position to assist in aiding the delivery of additional video content to digital platforms, Bowden reckons. "With a scorer already in position on venue, the data points that are gathered are accurate not just in terms of the match situation but also in terms of timing," he says. "This requirement for being frame accurate allows us to expand our logging to also include contextual data that will allow for additional data points to generate highlights almost instantly."
The database will be able to not only produce the situational information (eg, bowler, batsman facing and match score); it will also provide digital partners with a timecode reference of when a natural in and out of the clip should exist. Example uses could be outputs for social media platforms, so highlights that are branded automatically using the same data that is generated for the main broadcast feed but created in a style that is more suited to the output format.
Another service that can be powered by this is Catch Up To Live, where the user may have missed the first 15 overs of a cricket match, yet they are able to get up to speed with the content in a timescale that suits them. So, if the user only has five minutes, the highlights are condensed to that duration and delivered to them based on their preferences.
While The Hundred is a prime use case for this technology, AE Live has grand plans for taking this wider to sports including rugby, tennis, basketball; frankly, the sky is the limit.
All 68 games (34 men and 34 women's) will air live Sky Sports' dedicated The Hundred channel, and on Sky Sports Mix, available for Sky subscribers without the sport package to access. All women's matches and most men's matches will also be streamed on Sky Cricket's YouTube channel.
The Hundred kicks off on Wednesday 21 July and runs till Saturday 21 August. The eight teams taking part are: Birmingham Phoenix (Edgbaston); London Spirit (Lord's); Manchester Originals (Emirates Old Trafford); Northern Superchargers (Emerald Headingley); Oval Invincibles (Kia Oval); Southern Brave (Ageas Bowl); Trent Rockets (Trent Bridge); and Welsh Fire (Sophia Gardens).