Sky Sports embraces live remote production with F1 for Italy and UK
This Formula 1 season, Sky UK and Sky Italia have moved to produce their live trackside coverage remotely, taking unilateral camera feeds, audio and comms from the track back to their own facilities in London and Milan. We spoke to James Clement, Sky Sports UK's Head of Operations, about how Sky was going about this, what the challenges have been and continue to be, and what is coming next.
On its F1 contract, Clement said: "As you'll have read [on SVG Europe], F1 is changing; there are many new conversations with broadcasters like us. In the UK, exclusivity for [F1 rights] for Sky starts from 2019 and at the start of 2018 Scott Young joined Sky as the new head of F1, bringing with him a passion to innovate and develop the coverage. Separately, our supplier contracts to provide facilities have one year to run so when you look at all that is happening there are a lot of variables in play."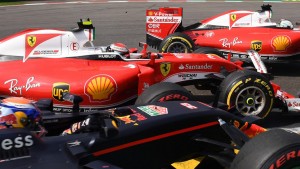 Remote production renegade
Clement commented that Sky has been rolling out remote production on any international productions it could, wherever the right level of connectivity has been available, over the last two years. "We started with the European Open in 2015, and last year the [Lions tour] rugby. Now it's F1. We are working with Tata Communications for the connectivity and Gearhouse for the OBs on site, although we manage all our services. We are going with 550MBps on two geographically diverse paths for redundancy, as well as a cold satellite on standby to offer further redundancy."
Clement stated that while Sky's project to take its live F1 production remote is not revolutionary, it is certainly large: "Nothing we are doing is revolutionary; it's the scale that's exciting, and being efficient with our bandwidth; making every piece of bandwidth work for its money is thrilling."
Carefully phased rollout
On how the rollout was controlled, Clement said: "In the UK we delayed the complete roll out until the Barcelona GP, whilst Italy went from the very beginning in Australia. This phased launch for the UK allowed us to do remote for the Friday Practice, whilst using our old system on site for Saturday Qualifying and the GP Sunday in Bahrain. Then gradually we moved elements back until the complete weekend from Osterley for the Barcelona GP.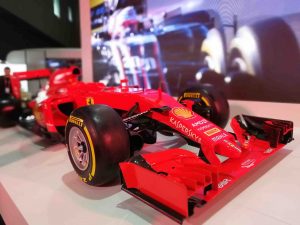 "This built a level of confidence in the workflows and allowed gremlins to be ironed out." Clement added: "However this was only an option due to us changing our contract mid-term with Gearhouse (who've been patient with our ever-evolving plans,) so they still had our on-site gallery available and could be flexible with our go-live dates."
On the phased rollout, Clement said: "I'd stress that phasing has its complications too. The increased workload of running duplicate galleries on site and at Sky's London HQ, whilst having Italy up and running with remote has the potential to cause conflicts. When you have two vision mixers, one in Australia and one in London, assigned to be making the same show but in different time zones, you want to make sure your communications are clear."
Remote production rocks
As to why F1 production has been an ideal candidate for remote production, Clement said: "I've spoken frequently about the positives and negatives of remote production. You can reinvest savings onto the screen by not flying so many people around the world. Reduce heavy freight, improve your staff's work/life balance etc — but worldwide signal distribution is not for the faint-hearted and perhaps most importantly, at the point of implementation you want to be sure what you're rolling out.
"For F1, the boxes are there to be ticked. Far-away travel, lots of heavy kit, a commitment to stay on site with large presentation and innovate for the customer, plus an available stable world feed which reduces the risk of losing race coverage in the event of an epic failure. Pulling together all our previous remote event experience resulted in no show stoppers at the high level design meetings in early 2017. The variable distances were going to push the kit further than we had gone before whilst achieving 'in-ears' and reverse vision needed thought to give a consistent experience week to week. A core solution that's expandable and scaleable over time was mapped out," continued Clement.
"All our previous remotes have been flipping an established workflow into a gallery at Sky Studios. And the business case for F1 followed a similar path: however F1 is now a constantly evolving solution, with continuing close dialogue with the editorial team so we expect to keep developing," he added.
Managing the latency challenge
On the problem of latency, Clement noted: "Latency is a very real issue but until my engineers do something about the speed of light, you adapt with this limitation. The rugby team did a great job last summer during the very successful Lions Tour of New Zealand.  We'd not be too radical with the system deployed there."
Even though latency is very low – 400 milliseconds is the worst case latency due to decompression, according to Clement – Sky Sport's talent have still needed training to get used to working with a team that is not also based at the event site. "We've been working with our talent on this, to make them comfortable with working with a production crew that is miles away," said Clement. "Change can be quite scary so we are working with our production teams and talent teams to ensure everyone is confident."
Clement concluded: "We'll continue to evolve for the 2018 season to get our solution to the slickest set-up in F1 before we push again for 2019."