Sky Sports unveils Fanzone details and launches beta version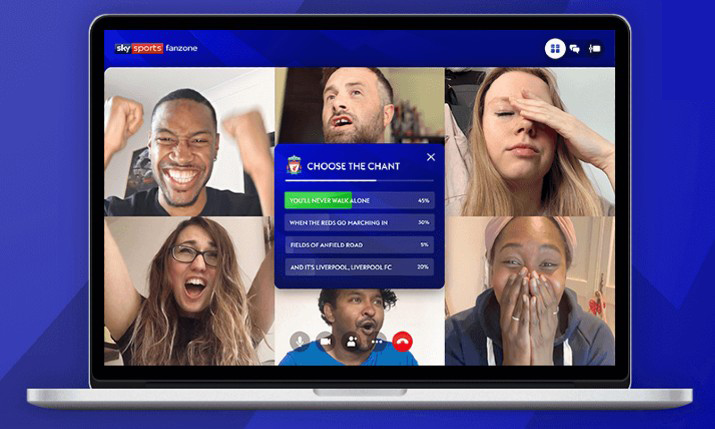 Sky Sports has launched a beta version of Fanzone, its online Premier League 'watch together' service, and provided more details on how the viewing experience will operate.
Starting last night (1 July) with the West Ham vs Chelsea game, Sky Sports subscribers can now use the Sky Sports website on a phone, laptop or PC to watch selected matches with friends in a video room and interact while the match takes place.
The service gives viewers the chance to chat about the match and influence the crowd noise they hear on screen as well as post predictions, join in-match polls and view Sky Sports statistics.
Up to five people can take part in a Fanzone 'watch together' at any one time.
For technical specifications visit: https://www.skysports.com/watch/news/12004051/sky-sports-fanzone-watchalongs-what-is-it-how-it-works-where-to-experience
On announcing the launch of Fanzone on 6 June, Sky Sports managing director Robert Webster said: "With live sport on hold for over two months, we've spent a lot of time thinking about how we broadcast in new ways to bring fans together, even if they can't meet up to watch the match.
"Sky has always been a leader in innovative sports broadcasting, and we're excited by this opportunity to share something really special with the whole nation. We want Sky Sports viewers to still feel it all and have the best possible viewing experience – even if they can't be in the stadiums or watch with their family and friends."
Fanzone will be available for tonight's top-of-the-table Premier League clash between second-placed Man City and champions Liverpool.