Sky Summit 2020 slices into 5G trials and challenges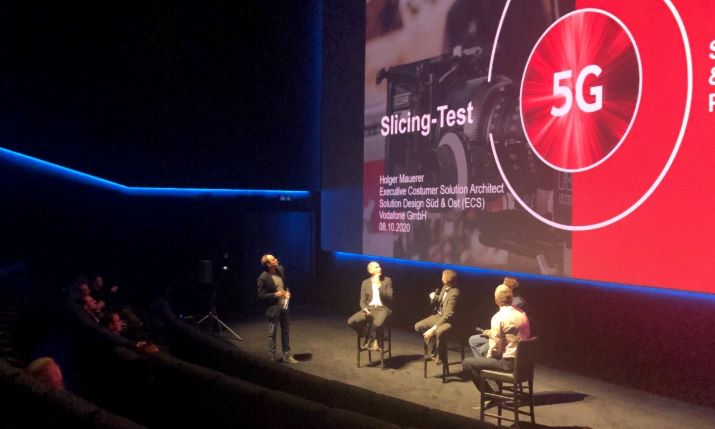 At the Sky Summit 2020 supported by SVG Europe, held in Munich at Mathäser Filmpalast (8 October 2020), a session looking at 5G in sports production, titled Opportunities and Challenges 2021, set the scene for where Sky Germany is right now in its working relationships with mobile technologists and enthusiasts.
Remote production has been getting a big boost over 2020 as during lockdown the only option for many sports broadcasters was to produce remotely.
Testing 5G on location
New technology is on hand to help advance the remote production of sports, with 5G and network slicing offering new ways to transmit signals from the stadium to the broadcast centre. However, this method also requires larger network capacities from the mobile network providers.
Sky is already testing 5G. Flexibility is a key requirement for companies such TV Skyline, a service provider for mobile TV productions. "This has reached a new level now because decisions are cancelled that were made only a day ago," said Wolfgang Reeh, chief executive officer, TV Skyline.
Due to travel restrictions, there are more remote productions now. However, said Reeh: "We don't have an application yet that can set up a camera and do the wiring. There is still the need to get some staff members and equipment to some place."
Until recently, costs and the quality of remote production have been the most important criteria. In 2015 at the Champions Summit in Berlin, Sportcast chief, Alexander Günther, stated that quality comes first.
"Meanwhile, the significance of quality changed because in many areas remote production was the only option," stated Markus Osthaus, general manager, TVN.
In Germany, remote production may become also an add-on for certain ways of production. "The infrastructure in Germany is not as good as in other countries," Osthaus underlined. "That is why 5G is an interesting topic." He sees it as a business opportunity: "We have the staff, we have the technology. That is a new business area for us."
4G network slicing
The requirements of the broadcast industry are a challenge for cellular networks. "We tested 4G slicing. If we have to transmit the signals in the stadium, it is not the matter of download but of upload rates because we have limits in uplink bandwidth," explained Holger Mauerer, executive customer solution architect, Vodafone.
In cooperation with Sky, Vodafone has run a test on the mobile provider's network. A slice of the 4G network was cut out and dedicated exclusively to a Sky camera.
Until now, backpack cameras used several encoders, modems and SIM cards from different providers to deliver data streams; if a network slice is used instead, certain quality parameters be can fulfilled more easily.
At a test centre, Vodafone compared various scenarios for transport of streams, such as the traditional standard internet as well as 4G slicing. Each camera received 8Mbps uplink capacity, or more if available.
"We used a compression standard and limited it to 8Mbps. This allowed us to use 6Mbps for the video transmission and additional 2Mbps for the forward error correction (FEC)," stressed Mauerer.
While the public internet cannot provide a guaranteed bandwidth for video transmission as needed by Sky, slicing delivers much better results. Vodafone can set slicing parameters in the 4G network as well as in the 5G network, which deliver the kind of image quality that customers expect.
"We are ready for [5G] remote production but that doesn't mean that we can implement the solutions right away. We need more network capacities," Mauerer emphasised.
Alessandro Reitano, vice president for sports production, Sky Deutschland, which operates a fleet of 21 vehicles, responded: "That is an interesting test. The transformation towards backpack cameras is going to continue. We are taking a look at 5G but we will need new disaster recovery concepts if the signals from the stadiums are transmitted via 5G to our broadcast centre in Munich. We will have to deal with issues such as multi points and cross-functional."
Handball gets 5G treatment
Meanwhile, continuing the 5G theme, mobile network carrier O2 plans to put a bigger focus on entertainment. As one of its first tasks, O2 and Sky will present the European premiere of a 5G end to end showcase of handball match, Flensburg versus Melsungen, which will take place in Flensburg on 11 November 2020.
"We will produce the handball match in the same way as always," said Reitano, "But parallel, we will use four 5G smartphones and the O2 bandwidth to produce a 5G only-feed. This has never happened before [in Germany]."
Added Markus von Böhlen, director devices, training and digital life, Telefónica: "We are proud of this partnership and want to develop together further formats. I think that is the beginning of a new era how images can be captured closely.
"This will attract fans because they can experience first-hand emotions," continued von Böhlen.
Reitano goes on: "It is all about learning, stress test and a new way of storytelling." He sees this as an opportunity to approach Generation Z. "We will have new talents [for this event] as [presenters] who we wouldn't choose otherwise. We want to reach a different audience."
Statistics are also being given the mobile operator treatment. When Sky viewers are watching football matches, they can see all run and pass statistics on screen while the audience in the stadium doesn't get this information. "We want to bring the live experience in the stadium on a different level," stressed Maurer.
Together with the DFL and Vfl Wolfsburg, Vodafone will offer an application for the smartphone that allows to zoom at the player on the pitch in order to receive live data such as run and pass statistics.
"We need to learn what we can do with this technology so that it can provide the customers with an added value," concluded Reeh.
Reliable infrastructure
Reliability and a system relevant infrastructure are important issues, according to Remo Ziegler, senior vice president product management, Vizrt Austria. But it is expensive to put everything in the cloud and to rent computer capacity.
"That makes sense in peak periods but hardware is better for constant production," said Ziegler. "For Vizrt, software is key. "Companies don't want to spend much money," Ziegler added.
Vizrt's most recent tech launch is Viz Vectar Plus, a software-based solution for switching, in which the engines for graphics will be integrated. The software can be used with flexible business models so that the workflow can be developed according to the needs of the production.
For Vizrt it is also an essential requirement that graphics will have the same image quality as UHD. "We are investing in artificial intelligence (AI) and developed our own algorithms how to embed graphics without classical keying," explained Ziegler. "The advertising in the stadium should look like as it is actually placed there. For that, we also have to consider the lightening," he added.
Together with several data companies, Vizrt is working on the integration of tools that support storytelling. "The trend is that there is a growing number of productions. The monetisation has to work but the costs cannot go up. The automation of data is a big issue for us," remarked Ziegler.
Finally, the panel noted that UHD HDR is also gaining ground. "Two matches in UHD HDR at the weekend are not business as usual yet," said Maurer. "The quality is excellent, also in combination with Dolby Atmos."
Indeed, HDR is the most attractive package at Sky for the customers. Added Reeh: "The combination of UHD and HDR makes sense because the audience doesn't notice the difference between UHD and HD but between HDR and SDR. HDR is very complex. It comes with an extended color space. The challenge for the technicians is to get everything in the right way so that they produce a good image," he continued.