Skyline Communications renews its SVG Europe sponsorship to further empower digital transformation in the media sports industry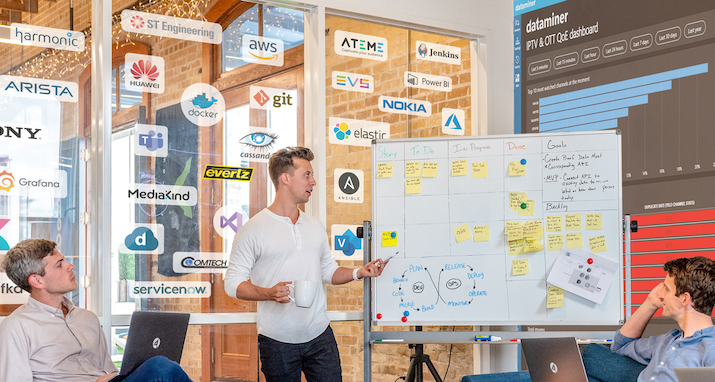 Skyline Communications, a leading provider of end-to-end digital transformation solutions for the ICT media and broadband industry, has returned as a Bronze sponsor of SVG Europe.
"We didn't have to think twice about renewing our partnership," commented Roger Bijos, sales director at Skyline Communications. "This is a huge opportunity to further expand our connection with broadcasters, media companies, sports companies and leagues during today's transformational times."
"We've entered an era where the bulk of media organisations are starting to embrace the shift from legacy technology to enabling technology, like all-IP, virtualised and cloudified products," he added. "However, it's often overlooked that digital transformation is about more than just implementing the newest technologies; it's also about empowering your people to efficiently use them and adopting an entirely new agile mindset."
And that's essentially what Skyline's DataMiner platform is all about: helping customers face the digital transformation challenges, such as ever-growing complexity and fast-evolving technology. "DataMiner enables sports organisations, broadcast unions, broadcasters and production houses to leverage new technologies and manage changes in business models and workflows more easily than ever before. And that all results in a better user experience, which is key to being competitive in the fast-changing industry," explained Bijos.
"DataMiner very particularly addresses the needs of sports production and distribution. Specifically, our Software-Defined Media Networks (SDMN) solution is very well received on the market. This solution enables our customers to schedule events, plan capacity and resources and automate the entire media service life cycle across complex IP infrastructures.
"Even though standards, network and media edge products are still very much evolving, DataMiner connects all processing and network functions together and performs end-to-end workflow orchestration. The beauty is that this spans across any technology from any vendor in the network core and media edge devices. By using DataMiner, our customers can deploy best-of-breed technology in their operations without changing the operational workflows, even when those workflows require public cloud capacity during periods of peak demand," concluded Bijos.