SmartCart Technology to showcase SmartCart SVX at the Football Production Summit 
SmartCart Technology will be in Paris showcasing its SmartCart SVX at the SVG Europe Football Production Summit on Wednesday 14 March at Stade De France in Saint Denis.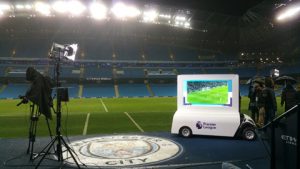 Gil Cowie, founder and director at SmartCart Technology, commented: "We have previously exhibited at the SVG US Summit in New York and this is the first time a SmartCart SVX has been at an SVG Europe event.
"We are very excited to have this opportunity and hope those attending with production aspirations for their upcoming football calendar will find the time to come and say hello and see how straightforward it is to add this enhancement to their live pitchside coverage," added Cowie.
The company is particularly interested is helping those delivering or launching over the top (OTT) streaming or 'at home'  remote production coverage. SmartCart  "SVX and the smaller SmartPad Pro deliver cost savings  over conventional onsite  methods and offer opportunities for greater  fan engagement," continued Cowie.
SmartCart Technology offers different deployment options, including: as an extension of the main onsite production; onsite presence for at-home studio operation; a presence at the game for OTT providers; and standalone operation with broadcast clips from cloud-based file drops anywhere.
Cowie with colleagues Paul Fuller and Tom Bell will be in attendance at Stade De France to answer questions on the SmartCart SVX and its use in production.