SMPTE marks centennial with look at next-gen tech, growing millennial workforce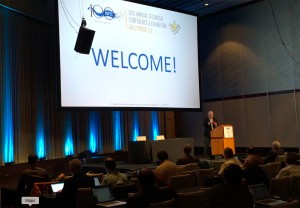 SMPTE celebrated its 100th anniversary during its annual conference in Hollywood last week, bringing together the film and television industry's engineering community to address the latest developments. Among the issues discussed were the transition from SDI to IP; the cloud and virtualisation; UHD 4K and 8K; high dynamic range (HDR), wide colour gamut (WCG), and high frame rate (HFR); virtual reality and augmented reality; live streaming and next-gen compression; asset-management and content security; and advances in audio production.
Perhaps the highlight of the conference had nothing to do with next-gen technology, but rather the next generation of engineers: a session featuring a half dozen millennial video engineers illustrated how the industry's workforce is rapidly evolving.
Seidel, Trumbull on the Past, Present, Future of Broadcast and Cinema
The show was opened on Tuesday morning by outgoing SMPTE President Robert Seidel (VP, engineering and advanced technology, CBS) and visionary filmmaker and innovator Doug Trumbull with an overview of broadcast and cinema from the very beginning of the moving image, through the innovation of HD, to today's 4K and HDR work, and into the future of 8K, 120 fps, and more bleeding-edge TV- and film-production efforts. Trumbull also provided an inside look at the production of his experimental film, UFOTOG, which was shot and projected in his new MAGI process of 4K 3D at 120 fps. He also provided a sneak peek into his ultra-immersive MAGI theater concept.
Millennial Spotlight: Evolving Workforce With Evolving Needs
Although the conference focused primarily on next-generation technology, one of the show's highlights proved to be a session highlighting the next-generation engineers who will be using that technology. During a session titled 'Re-Inventing Entertainment Engineering: How To Blend the Experience of Yesterday with Millennials' Vision of Tomorrow', 20-something video engineers from Disney ABC TV Group, Dolby Labs, Industrial Light & Magic (ILM), NBCUniversal, Netflix, and Technicolor detailed how they broke into the business and their experience in the industry thus far.
"Millennials have an advantage that our most seasoned counterparts do not: growing up with Google, we love information-sharing, and we find it more effective than keeping information and ideas to ourselves," said ILM Media Systems Engineer Jennifer Zeidan, who led the panel. "This realisation has shaped me as an engineer, and my hope is to meld the divide between operations and engineering in the future."
Day 1 Recap: IP Revolution, Content Security, Color Management
Day 1 focused heavily on the move to IP, security and IMF, wide colour gamut, and more. Consultant Paul Briscoe kicked off the IT-Based Media Infrastructure track with his 'A Tale of Live IP Formats' paper, which provided an overview of the rapidly evolving state of IP formats and standards.
This session also featured a look at the what's coming down pike. In a paper titled 'Looking Deep Into the Future – Infrastructure Prospects for the Media Enterprise,' Media Systems Consulting's Al Kovalick (who also chaired the session) preached the importance of "thinking exponentially" to understand where media-enterprise technology is headed and asked whether Moore's Law will continue infinitely (hint: it's not going away anytime soon, according to Kovalick). Other papers addressed the benefits of software-defined networks, PTP (precision time protocol) and timing challenges, and the IT Transformation of Media Infrastructure.
The session titled 'Color Management: The Art and Science of Preserving and Enhancing Creative Intent' featured presentations focused on WCG, adapting content to different displays and viewing environments (Tarkus Imaging's Jack Holm), a colorist's view of HDR grading (Dolby's Shane Mario Ruggieri,), HDR colour timing (FilmLight's Peter Postma and Daniele Siragusano), and distribution of HDR in an SDR World (isovideo's Keith Slaven,), among other colour-management topics.
Opening day also offered a session focused on one of the industry's hottest topics: security in the cloud. Examining the subject were 'Security in the Cloud With IMF and Securing IMF,' a paper by Dalet's Bruce Devlin and Eric Diehl, and 'The Challenges of Forensic Watermarking UHD/HDR Content,' by Jaap Haitsma.
Day 2 Recap: VR and AR, SDI, MAM and Storage, HDR and HFR, the Cloud, Coax
A Wednesday-morning session was dedicated to virtual reality and augmented reality. Digital Troublemaker's Pierre Routhier presented his 13 Rules for Quality 4K as he continued his push for VR quality standards. In addition, Technicolor's Mary-Luc Champel and Sebastien Lasserre addressed the special challenges of offering high-quality experience for VR video, and NVIDIA's Thomas True addressed how GPUs can take cinematic VR production to the next level.
Although much of the discussion at the conference dealt with the move to IP, one thing was clear: coax and SDI aren't going anywhere anytime soon. The Broadcast Infrastructure track featured presentations on the latest advances in coaxial-cable design and a look at 12G SDI over RF coax structures — an issue many mobile-unit providers are extremely passionate about as more live 4K shows are produced.
The track also focused on the evolution of SDI as a universal transport for streamed media (presentation by Semtech's Nigel Seth-Smith), and Sony's Shigeyuki Yamashita provided an inside look at the 100-Gbps interface for 4K/8K signals. Utah Scientific's Scott Barrella presented a paper on practical strategies to gradually transition SDI facilities to IP by constructing "IP islands" within current infrastructure.
Media-asset management (MAM) also proved a big topic on Day 2. Oracle's Brian Campanotti, Panasas's John Pittas, and Avid's David Colantuoni discussed content-owner strategies for building out efficient content-management and -storage infrastructure/workflows to handle the exponential growth in content and continued explosion of big data.
Fox Network Engineering & Operations' Thomas Edwards chaired the popular Cloud session on Day 2, which addressed how broadcast operations can be moved to an IP architecture and virtualised across a data-centre and cloud infrastructure for encoding, master control, disaster recovery, and archive. The series of papers addressed practical use of the cloud for media and virtualising broadcasting via data centers and the cloud.
Wednesday also featured a Future of Cinema track (chaired by RealD's Peter Ludé), which focused on the latest developments and challenges in relation to HDR and HFR.
Day 3 Recap: 8K, 4K, HFR, HDR, WCG — and Audio
SMPTE kicked off Day 3 with an update on NHK's Super-Hi Vision 8K format following the Japanese broadcaster's largest live production to date, the Rio Olympics. NHK's Tsuyoshi Sakiyama provided an overview of the Rio 2016 production and the current state of NHK's 8K video and 22.2-channel-audio-production technology. NHK's Tetsuya Hayashida followed up with a look at what's next for Super Hi-Vision, detailing NHK's development of a 120-Hz 8K production system, which it successfully tested this year.
The morning sessions also focused on 4K, HFR, HDR, and WCG, including a presentation by Grass Valley's Klaus Weber on a how a UHD ⅔-in. CMOS imager with dynamic pixel management can serve as an enabler for format flexibility. Another session addressed advances in display technology, asking "how many bits do we really need?" (informitv's William Cooper) and addressing test patterns for HDR (Sarnoff's Norm Hurst) and cutting the cord at 60 GHz (ROAM Consulting's Pete Putman).
The 'Video Compression Technologies' session took a look at next-gen codecs, addressing the VP9 encoder/decoder as a tool for next-gen online video platforms (Ittiam Systems' Mukund Srinivasan), HEVC mezzanine compressed for UHD transport over SDI and IP infrastructures (Institute of Telecommunications and Multimedia Applications' Damián Ruiz), and more.
The 'Advances in Audio Reproduction' session addressed loudspeaker requirements in object-based cinema (Dolby's Paul Peace), open-source spatial audio compression for VR content (Google's Jan Skoglund), and building the world's most complex TV network from an audio standpoint (Fraunhofer's Robert Bleidt).
With streaming stealing eyeballs from linear TV, SMPTE 2016 tackled the influence of digital technology on distribution channels and challenges in transmitting immersive quality for OTT. It offered presentations titled 'Evolving Television Broadcast Architectures in a Digital IP World' (ONE Media's Kevin Gage), 'M&E Technology Trends Enabling Consumer Engagement' (Cognizant's John Footen), 'How's Your Hooper Rating?' (freelancer Andy Rosen), 'More Juice Less Bits: Content-Aware Streaming' (MediaMelon's Kumar Subramanian), and "Challenges of Delivering Superb Viewing Experience While Streaming UHD 4K and HDR Content in the Adaptive Bitrate Era" (Ravid Hadar).
CLICK HERE for more SVG reports from SMPTE.