SNTV Digital cued for October launch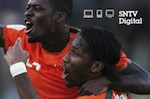 SNTV, the joint venture between Associated Press and IMG which distributes sports content to around 400 broadcasters every day, is launching its new SNTV Digital system aimed primarily at digital publishers on 1 October.
The service is essentially a comprehensive set of three digital video products covering football, all sports and key events, and is available in a full range of technical formats and delivery options.
"For broadcasters, they can receive it in the same formats as we deliver via the AP Media Port and Global Video Wire service, which for SD is MPEG-2 at ~6mpbs," explains SNTV MD, Martin Kay. "When we go HD, that will also be available MPEG-4 at 10mbps 1080i. For online, the main delivery format is H.264, although the platform can handle others (eg Windows Media Player) if clients require it."
All content, which is kept on a system architected and largely maintained by Rightster AVS, is designed to be available as ready-to-publish clips of 60-90 seconds duration, and is additionally available with voice-over if clients prefer. In addition the content is available as 'raw' edits of 2-4 minutes if clients wish to adapt the content – mirroring SNTV's existing broadcast offering. In common with SNTV content, native tongue soundbites are secured wherever possible.
"For online clients, we think they'll want to take the general sports service, and in H.264," says Kay. "And we also think there will be great interest in our Euro 2012 and Olympics coverage next year. Indeed there are clients taking our 'road to Olympics' coverage already."
The service can be received by direct download, ftp, or via an embeddable player which clients can integrate with their own ad-serving solutions. "This means that publishers and broadcasters can now directly monetise sports content through advertising across multiple platforms, either directly via their sales teams or via an ad funded pre-monetised player," says the usual statement.
"We think some will opt for auto-ftp publishing, while others will prefer to select and download individually. There will also be some that opt for the embeddable player. The vast majority of broadcasters will continue to use the AP Global Video Wire and Media Port systems already in place," says Kay.
HD capability is due to come on stream in January. "The AP has a timetable for rolling out HD, which they announced at IBC," says Kay. "They are the first news agency to go HD, and in turn we will be the first sports news agency to do so when we go HD in January (it's the file-based Media Port system that will be HD-enabled)."