Spectacular production: LaLiga's Roger Brosel on bringing fans closer to the action for the new season of top-flight Spanish football
LaLiga is now deep into the new 2021-22 season, which kicked off on 13 August. After making headlines in 2020 at the height of the pandemic as Spanish football embraced innovative solutions for virtual crowds and fan sounds in the stadium, we talk to LaLiga's head of content and programming, Roger Brosel, about what this season is bringing to global screens in 2021 and beyond.
What is LaLiga's innovation strategy moving into the new season? What are your goals and aims?
LaLiga's goal is always to bring the fan closer to the action by using the best technology to create an immersive experience, as well as telling an exciting narrative. We use our technology to tell the story of what's happening on the pitch so the viewer can mix entertainment and information, all while making the most of the spectacular production.
How have the events of 2020 and your innovative technical broadcast approach to that season been bought into the 2021-22 season? What is staying and what has evolved?
Fans are finally back in the stadiums, which is great for improving the viewing experience as we no longer need to use virtual fans to create the desired atmosphere. However, the technology we developed to create virtual fans in the stand is now helping us produce 3D graphics for the viewers to enjoy even more data in an attractive format.
During the pandemic, we also introduced the FanCam, a camera dedicated to players celebrating their goals. This season, we are keeping the FanCam as it has been embraced by our players and it brings fans closer to the action.
What are the latest innovations being used for the new season, and how are you applying these to your broadcasts?
During the pandemic, we introduced drone filming which we will continue to use this season. Increasingly, these drones are becoming a standard in our productions and in upcoming games, they will be available in six games every 'matchday' (round of ten fixtures).
We will be also adding more 3D graphics to deliver qualitative data to the live broadcast. This has been an ongoing project since last season, but it's just the beginning, we see this evolving during this season and beyond.
This season, we are also producing a multicamera feed that is broadcasted in Spain by our main partner, Movistar, and is also distributed internationally. In a nutshell, the multicamera feed is achieved by producing a split-screen with four different camera angles plus a window dedicated exclusively to statistics.
We wanted to produce this alternative feed to make it exciting and different to the standard broadcaster offering. The game commentary is also delivered by esports casters, and it's aimed at a younger demographic. Currently, we have three games per matchday available in this format.
Finally, we have increased the number of games where we showcase our cinematic Sony Venice camera that acts as a steadicam during the game. This camera also plays the role of the FanCam.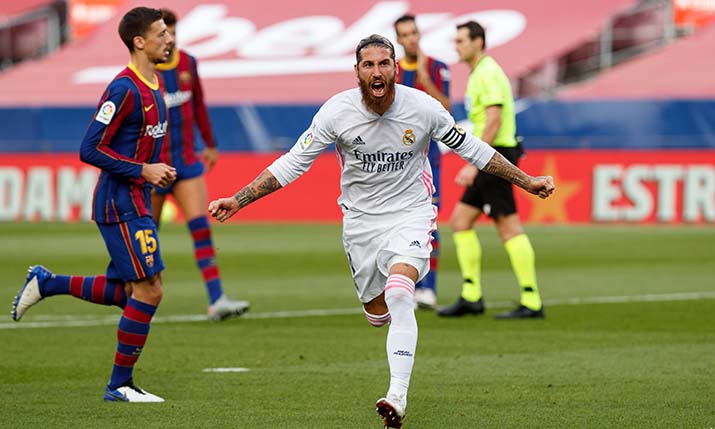 How will these latest broadcast innovations help both your clubs, fans and broadcasters get more out of this league?
Live games are the essence of every league. It's the main source of content and all the innovations applied to live games revert in better content for digital and social media for clubs, broadcasters, and our own channels.
We think about content from a 360-degree approach; where match action during the weekend creates a narrative and a story that feeds social media conversations and TV shows during the week. This creates interest in the league and gets fan excited and informed so they can enjoy the games the following week.
The games are the backbone of the league, and our role is to identify the most exciting stories around them by using all the tools available to deliver them to our fans worldwide.
How are you working with rights holders to ensure they get what they want and need?
We work closely with all our broadcasters; we organise workshops, webinars and source their feedback regularly. The pandemic has helped us realise that we can organise Microsoft Teams calls at any given time to learn from their suggestions and needs. That aspect of work has been great and it has improved our communication channels.
At the end of the day, they are the ones reaching LaLiga fans worldwide and everything we do is aimed at generating excitement so more and more supporters can follow LaLiga every week.
The LaLiga season continues this weekend with Matchday 7.