Spectators and grass court tennis return to Germany with bett1ACES
The bett1ACES tennis tournament in Berlin last week was the first sporting event with spectators in Germany since the advent of the coronavirus lockdown. The six-day tournament involving six female WTA and six male ATP players started at the newly-laid grass Centre Court at Steffi Graf Stadium for opening rounds and then moved to a temporary construction with hard court in Hangar 6 at the iconic Templehof Airport in Berlin for the weekend finals.
The event was organised by e|motion sports, with media partner U.COM Media producing TV, social and news coverage alongside OB provider TV Skyline for the world feed. It was broadcast by Eurosport and Servus TV in the German market and Eurosport also broadcast its first grass court tournament of the year to more than 50 markets across Europe.
This innovative event replaced the original Grass Court Championships Berlin scheduled for June, and German Chancellor Angela Merkel said, "The corona pandemic means a difficult exceptional situation in top tennis. As a patron, I regret that this year's Grass Court Championships Berlin cannot take place. I am all the more pleased about the bett1ACES as an attractive substitute tournament."
"We all thought it was going to be a TV event only, with no spectators at all. And then, two weeks before the event, it became clear we were allowed to play in front of spectators, both at Steffi Graf and at Templehof."
The e|motion group was responsible for the health and security concept including disinfection stations, wearing masks, limited capacity and social distancing on the stands. All players and their staff were tested for Covid-19 upon arrival, anyone entering either site required a temperature check, and all spectators were urged to wear facemasks when not in their seats.
Organisers and media partners were keen to deliver a world feed with some added attractions so this event saw the integration of a drone, HawkEye Live technology for line calling at both venues and the use of a 6x super slomo, which you would normally expect to see at a Grand Slam tennis tournament.
Providing some background to the collaboration and the event, U.COM Media head of operations Christian Zillig told SVG Europe, "We have a close collaboration with e|motion sports. We've produced the Mercedes Cup in Stuttgart, which is a regular ATP 250 event, for them for many years. So they asked if we could provide live production for the world feed, for social media services for their social channels and also a worldwide news service.
"In June e|motion invited me to come to Berlin to do a site visit. We went together to the Steffi Graf Stadium and then to the hangar at Templehof Airport. We looked at whether it was possible to do a tennis event inside an aircraft hangar at all: obviously there were some challenges, most obviously with regard to the light. But we all agreed that it made sense and we went ahead with the production.
"There was supposed to be a new WTA event in the Steffi Graf Stadium in June this year, and that's why they put grass inside the stadium. This was to be, from 2020, a premier WTA event on grass," said Zillig.
"The title sponsor is bett1, which is not a betting company – they produce mattresses! It's the German word for 'bed'. They are young and innovative, and they wanted to do something different. They were supposed to be title sponsor of the new WTA grass-court event in Berlin, but of course it couldn't happen.
"So they got together with e|motion and asked, 'Is there anything else we can do, in this time of corona?' And they came up with the idea to divide the event and play it at two different venues. When I came on board it was already clear that Templehof Airport would be involved.
"Obviously the venue is challenging. You have to work with temporary stands and infrastructure, and on top of that when we did the site visit, we all thought it was going to be a TV event only, with no spectators at all. And then, two weeks before the event, it became clear we were allowed to play in front of spectators, both at Steffi Graf and at Templehof.
"I wouldn't say it was difficult, but it's always a challenge to produce from somewhere you've never been before. My biggest concern was the light situation. We wanted to be able to open the hangar doors – even if the lighting for TV would be better if the doors were closed. We wanted to have this urban touch, even if the pictures were not perfect.
"Then they came up with the idea of placing an aircraft in shot. This was actually the aircraft used as an air bridge in 1948-1949 when West Berlin was locked down by Russia and the Americans and British came by air to provide food for the people. We tried four or five different shots until we all agreed the perfect set-up for this aircraft.
"At Templehof there was a maximum capacity of exactly 300 people. That's 300 people minus television crew, tennis players and coaches, infrastructure staff and organisers – so you end up with something like 150 spectators. This had to be exact: every day they came up with 298 people in total. We were 35 people including our news service team on-site and off-site.
"We've worked with TV Skyline since 2016. A lot our jobs are world feed productions from Ladies European Tour Golf events, where U.COM is both the rights holder and also the world feed producer. The relationship with Skyline is not like a typical employer/client relationship; it's more like, let's say, an amicable partnership, where every time we come up with different solutions and everything is tailor made and hand crafted to achieve maximum exposure," said Zillig.
Innovations for the world feed production
The format of the bett1ACES tournament was innovative in that it was not a typical knock-out: if you lost one match you were not out and got another chance to qualify for the finals. In terms of world feed production there were some innovations introduced for an exhibition event like this, as TV Skyline managing director Robert Kis told SVG Europe.
"The use of Hawkeye was new: there were no line callers. When the ball was not hitting the line by two centimetres there was an automated shout of 'out'. If the player wanted to check a call Hawkeye could show them if they were wrong – the ball was definitely out! It was cool.
"When you first go to the venue you think ' there are much fewer people on the court' but you do not realise why. This was the first time for us doing Hawkeye only for tennis, and with the director putting a lot of Hawkeye into the world feed to show everybody whether the ball was in or out.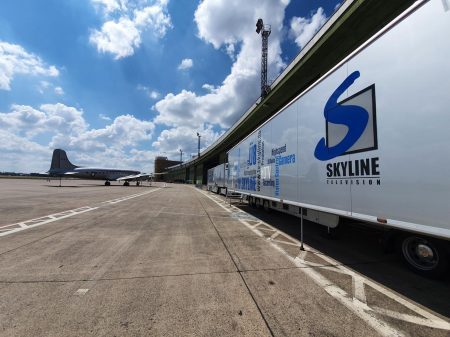 "It was also the first time that we have had a drone at a tennis tournament with U.COM, to put into the world feed. If you look at the iconic Templehof Airport, which is now an event location, with the drone you could show this fantastic 'time capsule' place in the middle of the city. And also to show the old plane which was used as an air bridge during the Berlin lockdown of 1948, positioned right outside the hangar where the finals were held – you could see this plane on every wide shot, which was really great.
"We made this event with OB8, which is our UHD/HDR truck. It was used in 1080p, not UHD. We chose this truck because of the amount of space on board, due to corona of course. We separated the workstations again with plexiglass partitions, which is the new normal on every production. Everyone wore masks and there were disinfectant dispensers on every entrance, plus a daily temperature check at the main entrance to be allowed to get in.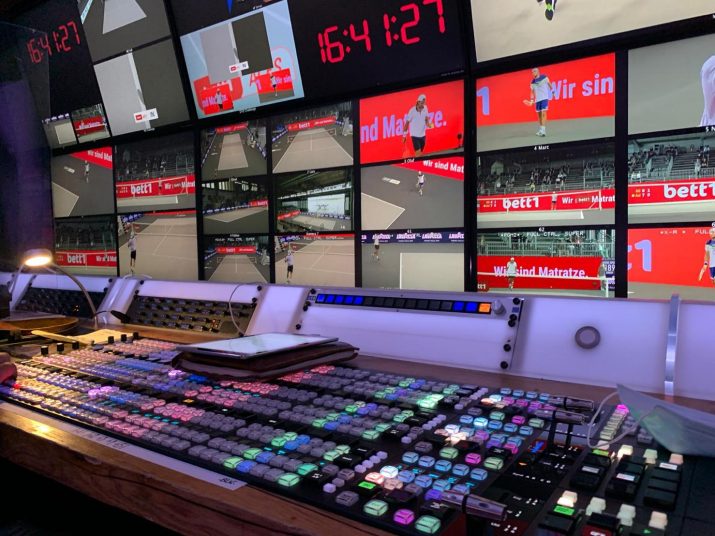 "We had a six-times super slomo, which would be normal for a Grand Slam like Wimbledon or Roland Garros. Unusual for a tennis tournament in Germany – but together with U.COM we said 'OK let's try to make an innovative approach. What can we do?'. e|motion group and U.COM wanted to push the world feed a little, as there were a lot of people watching. In the German market it was Servus TV, DAZN and Eurosport and worldwide we heard there were a lot of takers, and therefore we arranged some additional cameras as well as some remote and high-speed positions. The feedback we got internationally and from the clients was that they were really happy with this 'new look'.
"We also used a TV Skyline-developed remote cam called Qubecam. We have used them for UEFA and HBS as a commentary cam on European and World Cup football. They are tiny, and here we used them on the court where no player would be disturbed and we got some quite new shots.
"It went very well and proved the good long-term relationship between U.COM, the e|motion group and Skyline. It proved you can do an event like this if you want to and if you do your homework with good preparation. It is possible, and hopefully getting more possible with every new month. Everything is possible," said Kis.
The bett1ACES tennis tournament took place in Berlin 13-18 July 2020