Sport Production Summit: New chairs to discuss future directions for SVG and the sports broadcasting market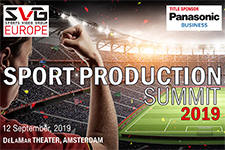 SVG Europe's Sport Production Summit 2019 on 12 September will open with a very special session featuring new SVG US chair Mike Davies and new SVG Europe chair Alessandro Reitano.
Sports Video Group is delighted to have gained two new chairs in 2019: Michael Davies, Fox Sports senior vice president field & technical operations in the United States and Alessandro Reitano, Sky Deutschland vice president of sports production.
In this opening keynote session, Davies and Reitano discuss their new roles and the many business and operational challenges ahead for the sports production industry, in the company of SVG editorial services director Ken Kerschbaumer and SVG Europe editorial director Fergal Ringrose.
Returning to Amsterdam's DeLaMar Theater for a third consecutive year, Sport Production Summit is the flagship event in the SVG Europe calendar. Last year's conference attracted almost 500 delegates. It is one not to be missed and is an ideal way to kick off your IBC weekend.
The 2019 conference will explore current and future sports production and broadcasting trends, covering a range of subjects from virtualised production and eSports to working with a budget and achieving greater workforce diversity.
Join friends, peers and colleagues for the Sport Production Summit 2019, sponsored for what promises to be another fascinating day of learning, information sharing and networking. Our Title Sponsor is Panasonic; Case Study Sponsors are Telstra and TVU Networks: ES Broadcast is our first Session Sponsor; and TVU Networks is our first Tabletop Sponsor.
In addition, on Saturday 14 September at the 1st Floor Restaurant inside the RAI there will be two networking events, one for SVG Europe Women (16.30-18.00) and a main networking event for all (18.00-20.00).
Register here for any of SVG Europe's three conference and networking events at IBC2019.
For more information on Sports Production Summit 2019, visit: https://www.svgeurope.org/sps-2019/
#SPS2019