Sport Production Summit: OBjective2020 to change the concept of outside broadcasting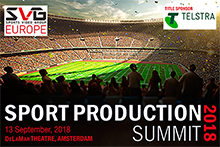 Euro Media Group CTO Ronald Meyvisch will be joined by Axon CTO Peter Schut and SDNsquare founder Lieven Vermaele to discuss the future of OB at SVG Europe's Sport Production Summit on September 13.
This session, titled 'OBjective2020: Changing the Concept of Outside Broadcasting', will be moderated by SVG Europe Executive Editor Fergal Ringrose.
When looking at media production facilities, it is clear that IP and IT are not just evolutions of technology or of the way signals are transported — but that IP is a truly disruptive technology.
Disruptive because it changes the way we do business and the business model behind it. Where service providers have been very hardware-centric using centralised hardware, we are now moving to an application-based approach supported by a distributed architecture with generic hardware and deployed software as required. The focus is now on offering on a service and functionality tailored to the specific needs of the production.
Have you booked your own place at Sport Production Summit & Awards at the DeLaMar Theatre in Amsterdam's Leidseplein on September 13. Click here to register now.