Sport Production Summit: Record attendance as SVG Europe moves up to new level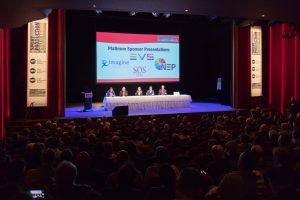 Over 370 people attended Sport Production Summit at the DeLaMar Theatre in Amsterdam September 14, marking a new attendance high for SVG Europe. The European sports production community turned out in force at the new venue and reinforced Sport Production Summit Amsterdam as the flagship event in SVGE's annual calendar.
It was both a major networking event – comfortably provided by the multi-level meeting areas at the DeLaMar Theatre – and an opportunity to absorb compelling content across Remote Audio Production, Winter Olympics, OTT at Scale, Football VAR, Rugby and NFL production, Formula One in UHD, and a special one-on-one conversation between HBS Chief of External Relations Lise Cosimi-Breant and EVS CEO Muriel de Lathouwer on the primacy of tech training and gender equality in the sports broadcasting industry.
Following welcome messages from SVG Europe Chairman and IMG Media SVP Global Director of Engineering & Technology David Shield plus EVP & GM media Software Solutions Neil Maycock from Title Sponsor Snell Advanced Media (SAM), the day's proceedings kicked off with an insider look at the upcoming 2018 Winter Olympics.
February 9-25 will be the second time that South Korea has acted as host city for the Olympic Games, following Seoul in 1988. The XXIII Olympic Winter Games will be held in PyeongChang County. At Sport Production Summit, Olympic Broadcasting Services Chief Technology Officer Sotiris Salamouris looked ahead to the challenges faced and innovations planned for the Winter Games in conversation with Sports Video Group Editorial Director Ken Kerschbaumer.
Salamouris said planning for PyeongChang 2108 was well underway in a bid to meet the high expectations of all involved. PyeongChang will, claimed Salamouris, target the goal of 400,000 hours of broadcast material. This will focus heavily, he said, on digital which is "now mainstream, and so is our mindset." He added: "we are expanding our delivery of [digital]. We started it in Sochi but we are hoping to expand on that."
He also said a broader reach was another focus: "[PyeongChang] is also about a wider audience than before… some people have never seen snow before in their life, so introducing them [to the Winter Games] is a focus."
While live coverage is set to be the main focus for OBS at PyeongChang, 4K, 8K, virtual reality (VR) and OBS' Content+ platform, a multichannel distribution service for content primarily aimed at social media, are also high on the list. "We are delivering VR for our partners," said Salamouris. "For [VR] we are partnering with Intel, and they come with a lot of fascinating capabilities. There will be live VR for almost all sports and a lot of this material will be available also as VRoD."
Salamouris said running live analytics and data both before, during and after the Olympic events alongside these innovative services are a major attraction technologically for broadcasters. On Content+ he noted: "it is aimed predominantly for social media distribution, but also any way broadcasters want to use it. The first time it will be in use is PyeongChang, and we are testing it now with broadcasters."
He added on 8K: "This Games is quite important; for the first time there will be 8K HDR." 4K will be both SDR and HDR, as some broadcasters or their audiences are not currently able to use or view 4K HDR.
Pole position: Formula One goes Ultra High Definition
In the space of just 11 months, Formula One Management (FOM) undertook a radical overhaul of its on-location broadcasting infrastructure to allow it to support UHD production in time for the first race of 2017: the Australian Grand Prix on 26 March. In the company of Sky Sports – which made a commitment to broadcast all of the 2017 races in UHD – key stakeholders reflected on the challenges in delivering the new workflow as well as refinements for the remainder of the season.
Taking part in the session, moderated by SVG Europe Editor David Davies, were Mark Hilton, Vice President Live Production, Grass Valley; Geoff Love, Solutions Architect, Lawo; Neil Maycock, EVP and General Manager, Media Software Solutions for Snell Advance Media; Gordon Roxburgh, Technical Manager at Sky Sports; and Trevor Turner, Group Manager TV Systems for Formula One Management.
Turner told the audience that he headed to NAB 2016 in search of solutions to enable the transition to UHD – knowing that Sky Sports had made the commitment to go UHD for the 2017 season. FOM infrastructure is quite unusual in that the technical backbone for the F1 season is constructed during each winter – and then goes on the road as a flyaway for nine months of the year and doesn't come back to base during that time.
They build with a single purpose (F1 Grands Prix) in mind, so there is no need to construct a replacement system. They do not need to be especially flexible, given their single purpose; and importantly they have space, as the system is shipped around the world and not squeezed into triple-expanding OB production trucks.
Turner told the audience they had that window around the period of NAB 2016 in which to make key decisions, which, he said, needed to ultimately be "a de-risk solution." Would they opt for an IP-based infrastructure? Answer: No, not at that time as it was felt IP-based production and standardisation was not yet sufficiently advanced. "We decided that IP wasn't for us," he said. "We were not comfortable. We would have needed to undergo a lot of training. We needed to de-risk the operation."
With decisions made, and the 2016 infrastructure back at base following that season's racing, the team had about 10 weeks to tear the heart out of the existing HD system and replace it with new UHD equipment. The core system, with a quad 3G SDI approach, was built around Grass Valley LDX cameras; SAM Kahuna switching, Sirius routing and LiveTouch replays; and Axon Cerebrum control.
Not all of the typically 60 cameras around an F1 circuit are UHD (RF cameras and on-car cams for example), so the Kahuna 9600 had its work cut out handling 720p, 1080p and UHD sources. "The Kahuna's Format Fusion functionality afforded greater flexibility over its competitors," said Turner.
Delivering OTT sports projects at scale
Eurosport Discovery Networks International, MLBAM and Interxion executives discussed the challenge of delivering OTT sports projects to scale. While the goal may be to increase the size of an audience the need, increasingly, is to allow that larger audience to have a more personalised and singular experience.
Richard Craig-McFeely, Interxion, Strategy and Marketing Director, Digital Media, said that the scale problem involves ISPs and CDNs to deliver the content and helping in that effort are Interxion servers at the edge that can be scaled up to meet increased demand. Dirk van Dall, MLBAM, VP Multimedia Strategy, added that BAMTECH has opened a new facility in Amsterdam to help push content more quickly to users as geographical location relative to the CDN servers makes a difference.
Sameer Pabari, SVP Business Development at Eurosport Discover Networks International, said the goal for Eurosport during the 2018 Olympics will be to deliver the Games to more people on more screens than ever before. That means an experience available in 20 languages but also one that allows the user to create their own experience.
"Crafting new packages so that fans can sign up for a specific sport is one of the reasons we work with BAMTECH [on those services]," said Pabari. "But it is about the user experience. Once it was about delivering the same content as found on traditional TV but now it is about more functionality and different ways to engage the users and that means pushing boundaries."
Automation will play a big part in that future experience by making the most of sports data and creating different versions of event coverage — for example, one for a casual fan and one for a super fan — without human intervention.
Line of scrimmage: NFL vs Rugby production
American football and rugby present similar challenges when it comes to bringing viewers closer to the action. This session featured production professionals from both sports sharing their thoughts on how they approach a production, aided by a series of clips showing how coverage has evolved over the last ten years. Moderator Ken Kerschbaumer was joined on stage by Fox Sports SVP Field & Technical Operations Michael Davies; Sunset+Vine Executive Producer Rugby for BT Sport Titus Hill; and David Rees, Perform Group, Executive Producer Premier Rugby Productions.
Davies observed that the first Xmo super slo mo was introduced for the NFL in 2008: now, with six, eight or 16x slo mos on a game "you can bring amazing replays that show emotion but also a cinematic relevance on second or third replay: it's the 'cherry on top' coverage" now for American Football production. "As a viewer it can bring you in and give you better understanding" of the game.
Davies said that the challenge is always to move from "shooting from the outside in to inside out", through the increasing use of referee mics, player cams, pylon cams, mics on the field, cameras dug into the ground – all in an effort to get closer to the action. He also noted the importance of the games industry now to TV sport coverage, saying "ten years ago the games people looked to TV [for innovation]; now we look to the video games companies for virtual reality and augmented reality and to see what we can learn."
Another innovation that excites Davies is Intel's BeThePlayer, which was introduced for Super Bowl coverage this year, "which uses 30-something cameras to basically do volumetric capture. We're going to keep pushing this technology as long as Intel allows us," he said. "Volumetric coverage is coming – if a little unwieldy at the moment."
While a number of clips were shown during the session, the one that impressed Davies the most was from Premiership Rugby in England, where the match referee and Television Match Official combined on camera and on audio to decide that a player had made an illegal tackle and thus must receive a yellow card to spend ten minutes in the sin-bin.
Not only was that decision-making process made clear to everyone in the ground and on TV, but while the offending player was still walking off the pitch, clearly unhappy with what he felt was a harsh call, broadcaster BT Sport was able to cut to the player's coach in the stand, who in sound and vision provided his own comments on the play as the player was making his way off the field.
Titus Hill and David Rees explained to Davies and to the audience that it was due to both the culture of respect that exists in the game of rugby, and the trust that BT Sport as a broadcaster has built with the Premiership clubs, that enabled the broadcast team to capture the thoughts of the coach, live, as a key moment in the game was still taking place.
The day concluded with Marcin Serafin, Ekstraklasa Live Park, Director of Operations/COO, discussing the use of Video Assisted Replay within the PZPN Polish Football League. The league has two mobile vans outfitted with the EVS Zeebra replay system to bring replay operations directly to the venue. Two operators work with the system at each match and they have access to up to 17 isolated camera and programme feeds. Serafin says it is more efficient to have them on-site rather than working at a centralised replay facility that is connected to the venue via fibre.
"The VAR is not really part of the TV production but there is communication between the TV director and the VAR operator," said Serafin.
One area of possible improvement is giving viewers more information about
the replay process. A short video that explains VAR is shown on the in-venue scoreboard before each match that has VAR but there is also a need for more transparency during the actual review process.
"It's a new thing for viewers and they sometimes don't know what is going on," he added. "We have the driver's license and now we have to practice because it is a sensitive matter."