Sport Production & Technology Summit: Speakers from BBC Sport, Sky Sports, F1 and NEP to appear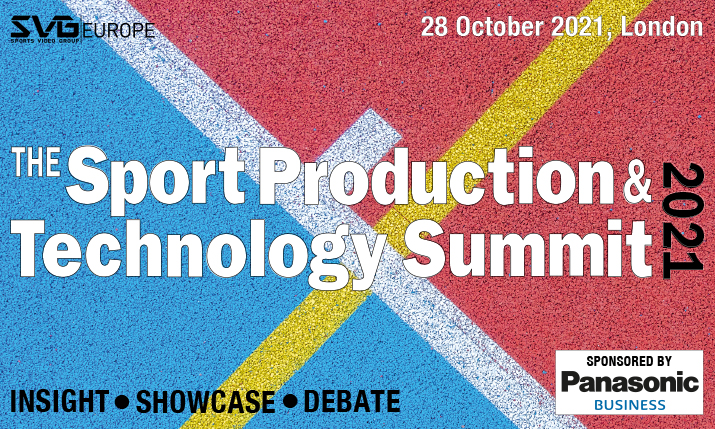 Taking place on Thursday 28 October at Chelsea FC's Stamford Bridge ground, SVG Europe's Sport Production & Technology Summit 2021, sponsored by Panasonic, will feature speakers from Sky Sports, BBC Sport, F1, Mediapro and NEP.
The sessions will begin with a Sport Production Leaders Briefing. Sky Germany SVP of sport production Alessandro Reitano will be joined by Trevor Turner, F1's Head of New Technologies for Broadcast & Media, Sky Sports Executive Director of Production Services and Operations Inga Ruhl, and Mediapro CTO and operations manager Emili Planas for a state of the nation style panel discussion. Topics under the spotlight will include production, operational and technology priorities for both themselves and the wider sports broadcasting industry.
On the same bill, BBC Sport Lead Executive, Major Events, Ron Chakraborty and BBC Sport Creative Director, Motion, John Murphy will discuss the BBC's Tokyo Olympics coverage, including the attention-grabbing virtual set that was used for presentation.
In addition, the newly appointed CTO of NEP, Pete Emminger, will take part in his first public interview since being appointed, discussing his new role and his plans for the future.
Other speakers include:
Per Lindgren, CTO, Net Insight
Anna Lockwood, Head of Global Sales, Telstra Broadcast Services
Karl Kathuria, Customer Solutions Director, Never.no
Chris Clarke, CEO and co-founder, Cerberus Tech
Marina Kalkanis, CEO, M2A
Marc Risby, Managing Director & CTO, Digibox
Rasmus Larsson, Product Director, Sony Sports
More speakers will be announced in the coming days.
In addition to the conference sessions, Sport Production & Technology Summit will also include the prestigious Sports TV Awards, sponsored by Canon, as well as networking opportunities, exhibits and a tour of the iconic stadium.
It is essential that you register in order to attend this event, so if you haven't already, register now to secure your place. You will not be able to turn up on the day and gain access as numbers are limited and we have already introduced a waiting list.
For more information and to register visit: Sport Production & Technolgy Summit