Sports broadcasters have no option but to offer choice using virtualisation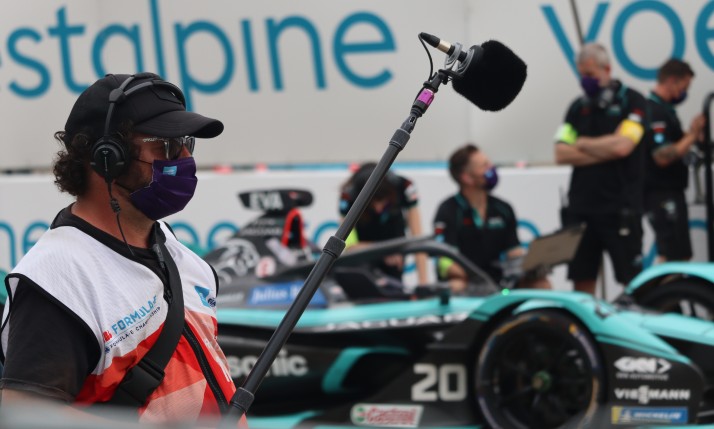 By John Schur, president, solutions group, Telos Alliance
Demand for live sporting events is accelerating globally and sports broadcasters are poised to deliver unprecedented experiential choice to consumers in 2021. Choice of audio, choice of streaming quality, choice to consume on whatever device they want, wherever and whenever they want.
With the onset of the global pandemic, live sports broadcasting was hit harder than almost any other industry segment. Now, with stay-at-home orders in place all over the world, the appetite for content is at an all-time high, leaving broadcasters with no choice but to adapt to new workflows that meet the demand.
Stay-at-home orders also mean that many staff are not in the studio or onsite in an OB truck, which is a catalyst for virtual operations. Back-office workflows have migrated to off-site locations, but broadcast operations have depended on equipment being on-site for 100 years.
Forward-thinking broadcasters are virtualising at least some of their infrastructure, but is this really a choice? Virtualisation is not only a production reality for 2021, but a requirement. Here's why.
Virtual doesn't necessarily mean the cloud
Virtual instances of real time products can often run on common, off-the-shelf servers; either on-premise or in the cloud, simplifying issues such as redundancy, replacement units and spares, wiring and scaling up additional workflows and systems for special events as needed.
At the same time, hosting disaster recovery systems in the cloud provides some advantages, such as it being spread out across several data centres providing more coverage than a single dedicated broadcast facility.
SMPTE ST 2110 provides for a standardised interconnect of media across an IP-based network. This has the additional benefit of providing a common 'backbone' for the facility, instead of broadcasters having to worry about running the correct type of cable and signal to various locations. Engineering personnel can easily configure and control network switches and routers remotely, allowing them to work from wherever they are.
Live sports now make use of REMI, which requires virtual
Using an all IP-based infrastructure allows sports broadcasters to quickly spin up new services without massive upheaval of equipment or studio operations, as core media functions and the network have been virtualised, saving time and money. From production to editing to streaming delivery, virtualisation enables sports broadcasters to create 'studios' anywhere, utilising data centres and other cloud-based tools to put on events. Comms, monitoring, mix control, encoding, transcoding and more, for REMI (remote production) workflows are all possible and often have the benefit of SaaS business models to boot. SaaS opex business models allow the scalability and flexibility of on-the-fly compute resource utilisation to be paid for as needed.
Esports
There is no industry more likely to survive the ravages of COVID-19 than esports. While tournaments were filling stadiums before 2020, the industry has quickly pivoted to fully virtualised productions capable of streaming real-time, multiplayer gameplay to millions of subscribers. Remote production would seemingly be an obvious transition to an industry that is already driven by remote play, but esports also brings with it a demand for the best possible audio and video quality – such as 4K or 8K video and full immersive audio for virtual reality gameplay. Esports is a great driver of change for standard sports broadcasting. It has crossed over into the mainstream broadcast space and virtualisation is the only way to deliver such a wide variety of content to traditional media outlets, as well as simulcasting to popular social media platforms that encourage engagement.
New delivery formats and features 
Next generation TV standards are paving the way for sports broadcasters that traditionally relied on standard OTA transmission or MVPD distribution to use those and alternative methods to deliver a far more feature-rich experience and offer enhanced engagement opportunities with fans. As an example, it's going to be possible to deliver the game and experience via traditional broadcast methods, but simultaneously deliver additional content (enhanced statistics, additional audio tracks, and so on) to the viewer across a network connection.
Metadata is key to all of this. In some parts of broadcasting, metadata has been considered difficult and problematic. Now, it is easier and even more important than ever before. It's what enables many of the new and additional features in next-generation broadcasts.
Personalisation
Personalisation is one of the key new features that next-gen audio sports broadcasts can offer. On the audio side, think of being able to deliver a complete immersive audio bed mix (M&E), along with individual dialogue tracks of each team's announcer, different languages, or audio description (AD) track, and allowing the viewer to select which dialogue, or dialogue + AD, they wish to listen to, all while enjoying this in a full surround or immersive audio experience. In this scenario, the set-top box or TV creates the final mix based on the viewer's preferences.  Metadata is the key to this workflow, since it's required to identify which audio track is which.
Virtualisation makes it easier to add personalisation with video services as well. Adding additional camera angles to allow viewers to choose from or enhanced game statistics is much easier to support by 'spinning up' another process on a server.
Analytics
The advent of connected TVs and STBs, along with content available on tablets and mobile devices, allows for a much larger return path of information from the viewer. This can go as far as allowing the viewer to click on a particular jersey, shoe, or sports drink, which will in turn allow them to find out more information about that product, or even take them to an online store to purchase it. Cloud-based tools are almost essential to analyse this data in real time as it's being consumed.
In order to deliver the rich experiences demanded by sports fans, broadcasters will need to complete their transition to virtualised workflows to create studios anywhere. Choice, driven through metadata to create personalisation, multi-platform delivery, remote workflows and direct-to-consumer content delivery can only be realised by adaptable workflows made possible through virtualisation.