Sports broadcasting and the rapid evolution of technology in 2020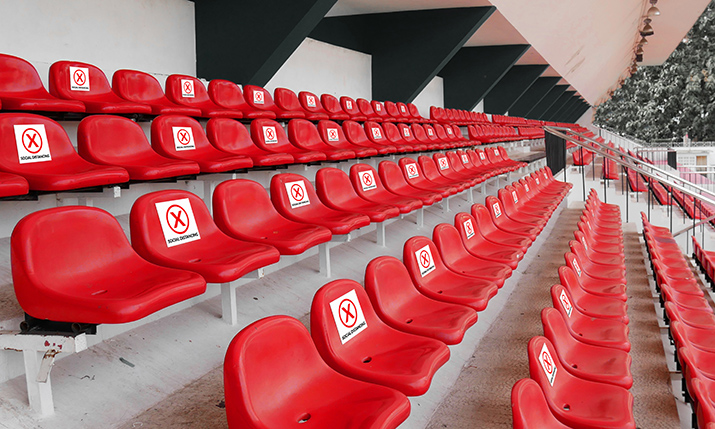 By Jonathan Roberts, SVP of global sport and virtual advertising, Vizrt
In 2020, one of the sports broadcast industry's most dependable components, the live sport fixture list, was completely upended. This specific component is worth noting for a discussion on sports broadcast because so much relies on the certainty of the list. Contracts are signed, jobs are staffed and media narratives are all dependent on the fixtures taking place and the subsequent broadcast coverage.
In response, the industry found ways to be increasingly flexible in 2020. Look now to the collegiate ranks of American football and you see quick shifts not just on the field of play (for example, teams suddenly playing new opponents one weekend in an unexpected and atypical timeslot) but also in how we respond to covering those changes.
We've found ways to increasingly provide remote coverage of sport. We've developed new workflows – which are increasingly software-defined – for visual storytelling and we've tinkered with financial models as a result of these alterations.
All of this was done out of necessity, yet it is unlikely we will see all of it go away once we return to normal.
Payment models
At the end of 2020, every broadcaster of live sport is reassessing how it pays and plans for services. Subscription models that allow broadcasters to use production tools and services when they need them will become more important moving forward. Flexible access and pay-per-use will be increasingly common terms used when manufacturers discuss long-term plans with broadcast partners.
The industry had been discussing such a subscription model for some time. That said, those discussions were at a simmer. The global pandemic has accelerated that need. Paying for services and hardware all up front is likely a practice of the past. With the way budgets will be constructed in 2021, this is a topic no longer on the back burner.
Why? It all comes down to risk. The risk profile of sports has changed forever with the loss of the concrete fixture list. Thus, the way we price that risk must change as well.
The smell of the grass is gone
The old thinking that broadcasters and reporters needed to experience 'the smell of the grass' at a stadium to truly convey the action, atmosphere and emotion of sport becomes less of a truth with every broadcast we conduct from home.
It had long been thought that it was a requirement to send a production crew to football, tennis, golf, or any other live event. But the pandemic has taught us that it really isn't a vital need to have someone that close to the field of play to produce a professional broadcast. The 'from home' production has not just been operationally successful, it also looks great on video.
New norms
This means we must question the norms of production. Could we move from large OB trucks to smaller production trucks? Can we look at new workflows where a production team brings the ISOs back to a central location and produces the PGM feed from there? With flexible access to software-defined visual storytelling tools, you can still offer pre-shows, halftime shows, analysis, stats and live commentary – all done remotely. There is no compromise. Thus, when the senior director is talking about budgets for 2021, this is now a far more realistic consideration.
Further, this connects right back to the fixture list. With matches being considered perpetually in flux until kickoff, having a staff that is flexible to change their assignment from a home or remote workspace is huge and reduces risk.
The passion is the game. It's not the location. We're coming to terms with that right now.
The new tricks are here to stay
When sport first started to return, we saw efforts to reintroduce fans to otherwise empty stadiums. Powerful render engines offering photo realism and compositing capabilities became crucial. Is it here to stay? It seems likely that the idea of bringing fans from far away into the game in unique ways is worth discussion. Creating more connections with fans – even virtually – will always be a valuable component to live sport and sport broadcasts.
That said, these render engines also allowed for some exciting 'teleportation' techniques where individuals on two separate green screens can be placed together on a single virtual set. This can be done in a single studio, in two studios within a single campus, or even up to time zones away. It also allowed for athletes to be digitally transported to a live studio in another city.
Advancing supporting technologies – such as cameras linked together with advanced robotics and more robust IP networks – will be important to ensure these use cases develop. But the capability to offer this virtualisation is here and it should prove itself in multiple creative capacities moving forward.
Software is the solution going forward
As the focus has been on how to deliver the production with a remote team, the resulting output of the production has not actually changed that much. This, of course, is a success for the change with the method of delivery. We've touched on this a few times, but one of the most important concepts is that we must no longer be dependent on hardware. Software-defined visual storytelling is the future. If you can move to software and data centre or cloud-based solutions, you aren't tied to the physical locations of hardware. And that is absolutely critical to respond to changes – to the fixture list or otherwise.
This isn't just a consideration for creativity's sake nor for budgetary considerations – although, as noted, it definitely helps. Rather, this is a new form of fault tolerance. We must be prepared to respond swiftly if our physical locations ever become unworkable in the future.
With software, we will be ready. We will be more flexible, more resilient, more efficient and more creative – all without losing the professional quality viewers have come to expect from us in our sports broadcasts. The industry isn't just adapting anymore, it's evolving.