Sports OTT Forum 2020: Final chance to register for online event
In lieu of the Sports OTT Forum event that was due to take place in London on 27 May 2020, SVG Europe will be producing exclusive OTT and streaming-related video content and making it available online to members and sponsors on the same date.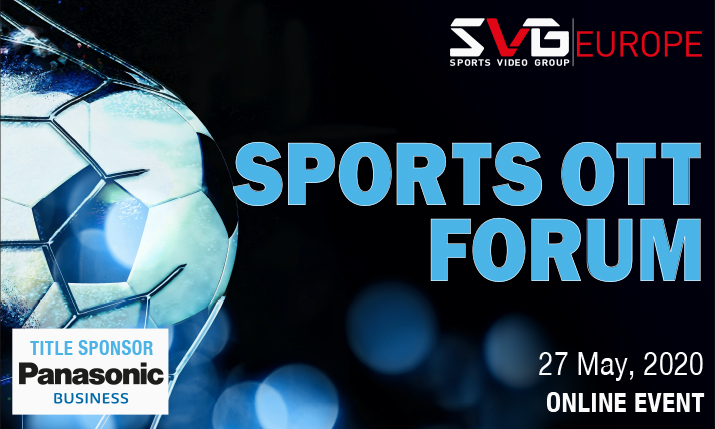 Sports OTT Forum 2020 online, sponsored by Panasonic, will feature live and on-demand interviews and live or 'as live' panels that will be released in conference format, with each session being premiered at different times throughout the day, from 11am until 4pm UK time.
The video content will be made available to both SVG Europe members and sponsors via a dedicated Sports OTT Forum 2020 microsite.
As all videos will be password protected, registration will be required. Registration is now open
Session sponsors for the event are Blackbird and Brightcove.
The speakers at Sports OTT Forum 2020 online will be:
Anna Chanduvi, Facebook, Sports Media Partnerships
Carl Furgusson, MediaKind, Vice President of Portfolio Development
Mike Green, Brightcove, Vice President of Strategic Development and Alliances
Anouk Mertens, Eleven Sports, Chief Operating Officer
Steve Miller-Jones, Limelight Networks, Vice President of Edge Strategy and Solution Architecture
Florian Ruth, WRC, Director of Content and Production
Kelly Simmons, The FA, Director of the Women's Professional Game
Cora Spear, Kayo Sports, OTT Operations
Julian Tan, Formula One, Head of Digital Business Initiatives & Esports
The day will culminate with the SVG Europe Sports TV Awards 2020, sponsored by Canon, which will premiere on the SVG Europe YouTube channel at 5pm UK time.