Sports TV Awards showcase: Outstanding Production Achievement (Event)
In the last of the category showcases ahead of tonight's Sports TV Awards ceremony, SVG Europe profiles the projects that have been nominated for the Outstanding Production Achievement (Event) award.
In this category, SVG Europe recognises a sports production that has delivered outstanding live coverage for viewers and/or media partners and pushed the boundaries of sports broadcasting.
Considerations include the overall quality of the production and storytelling; innovative use of new technologies; and lasting impact of new production techniques. The event could be a multi-day tournament or event, a season-long league or a single match, contest or competition.
The shortlist (in alphabetical order) is:
BT Sport, Timeline, Telegenic, Moov and Redbee – 2019 UEFA Champions League Final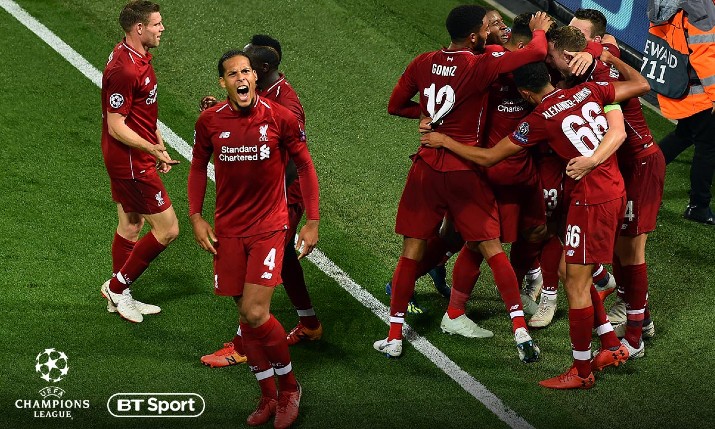 The 2019 UEFA Champions League Final between Liverpool and Tottenham, two English teams contesting for the biggest prize in European football for the first time since 2008. Working technically across all platforms, BT Sport pooled its Linear and Digital expertise to deliver the very best product from Madrid.
BT Sport delivered the most technologically advanced UEFA Champions League Final ever. For the first time a final was seen in full High Dynamic Range, BT Sport was once again at the cutting edge leading against its competitors. Offering this service free via YouTube helped lift the total audience numbers. Our service delivered on its promise of full and uninterrupted coverage of the pre-match warm-ups, the PepsiCo opening ceremony from Imagine Dragons, the full match and trophy lift celebrations, all with no advertising whatsoever. The feed was also free on the BT Sport App, as was the VR360 output with its dedicated commentary and unique user experience.
The linear HD output was enhanced with studio facilities on site and dedicated reporters able to get immediate post-match access on to the pitch to enjoy and experience the emotional end scenes. Digitally and Socially BT Sport owned this final, with its unique and insightful posts via Twitter, Facebook and Instagram, users were kept up to date with events in Madrid for days leading up to the final, plus the final itself and the homecoming with the trophy.
---
FIBA Media – FIBA Basketball World Cup 2019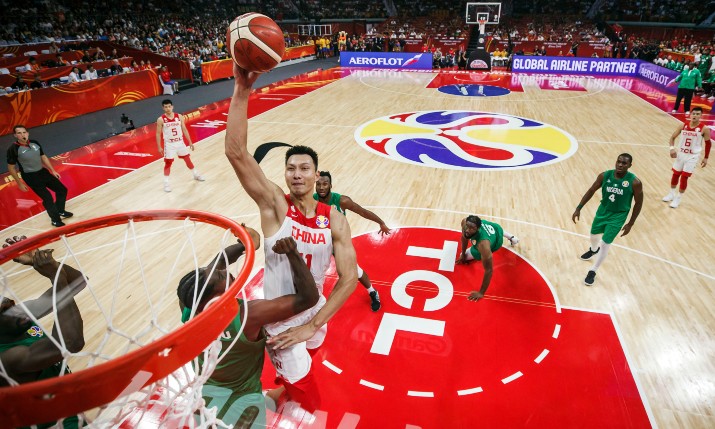 Taking responsibility for producing and distributing international basketball's showcase event on behalf of FIBA for the first time, FIBA Media overcame logistical and geographical challenges in the planet's most populous country to deliver an extraordinary visual spectacle which captured the attention of the world like never before.
Spanning eight cities across five provinces, the FIBA Basketball World Cup 2019 was the most geographically expansive global sporting event ever to be held in China. Despite this, FIBA Media meticulously managed production teams from China, Spain, France, Israel and Latvia to not only deliver an on-court product which exceeded anything that has been produced previously for international basketball, but to create a genuinely
immersive experience for fans. FIBA Media took them behind-the-scenes and into the locker rooms, giving player-focused insight in a manner rarely provided by international sports federations. Furthermore, a fresh graphics package and highly original augmented reality visuals were unleashed for the event. This combined with vision capture innovations like the super slow-motion "Railcam" ensured that the even the demanding basketball audience raised on the glitz and glamour of the NBA had their expectations exceeded.
---
ICCTV with Sunset+Vine – Cricket World Cup 2019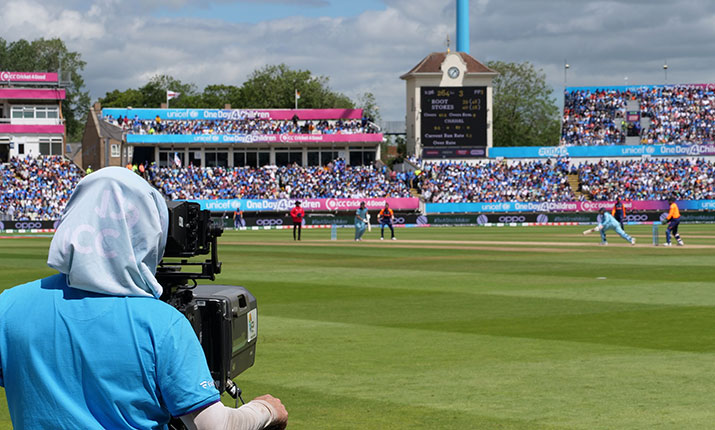 Working with ICC TV's Broadcast Equipment, Graphics and Technology partners, a combined presence of 700+ personnel across four production crews, five OB facility set ups at 11 tournament venues, we produced Host Broadcast coverage of all 48 tournament matches.
The tournament would be showcased as "best in kind" underpinned by consistent production style points followed at all matches, focusing on the basics of story-telling – a distinctive high quality and classy depiction of the on-field events, supported by clean, distinctive camera work and relevant, well packaged, replay sequences and a classy, crisp approach to the match direction cut.
Key technology production features included; a 34-camera host broadcast specification (all venues) including 12 Ultra and Super Motion camera systems enhanced by Spidercam, drone/ buggy camera systems.
Other technology enhancements included;
HawkEye Ball Tracking/Analytics
Piero analysis system with 360-degree replay features
Comprehensive in-game match data/analytics graphics package with player-tracking technology, highlighting fielder placement and in-game player analytics
Integration of pre-edited content with player interviews, archive inserts, behind-the-scenes segments and stylised in-game highlights
The tournament culminated with England's dramatic super-over victory against New Zealand at Lord's – a match described by many as "the greatest one-day game of all time."
---
SailGP, Oracle, Whisper, Timeline, TATA – SailGP remote production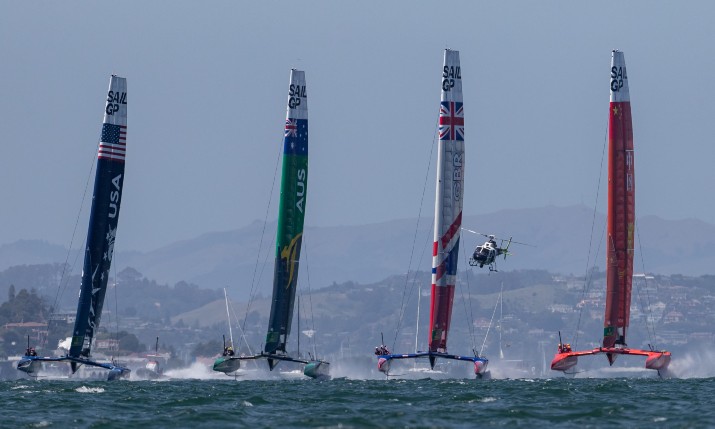 Since the world premiere in Sydney on February 15 2019, SailGP has delivered an innovative and environmentally considerate solution to provide high-quality and consistent TV coverage of the new, annual global sailing championship. SailGP worked with partners Whisper, Timeline TV, Oracle, and TATA, to deliver this ambitious project which pushes the boundaries with a remote production solution that delivers its programming into over 100 broadcast territories as well as a complementary, state-of-the-art app making SailGP available to a wide range of people.
The remote broadcast strategy enables live world feeds to be fully produced in London, up to 10,000 miles away from where the action is happening. The world feed uses more than 40 video and data sources, including the award-winning LiveLine FX technology for impactful on-screen graphics and 1,200 data points derived from hundreds of sensors placed on the boats and athletes.
Key innovations in this landmark remote production include the integration of super-low latency technologies and the in-house design of bespoke equipment such as IP controlled waterproof cameras that self-clean at sea. From Sydney to San Francisco, Sail GP, Whisper, Timeline and Oracle have sought to design and combine cutting edge technologies to produce one of the world's largest live remote production operations.
---
SVT, Arista, Clear-Com, Grass Valley and Net Insight – 2019 FIS Alpine World Ski Championships remote production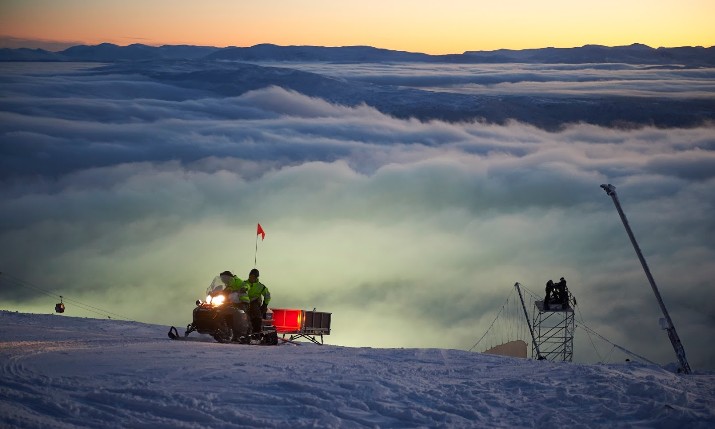 As the host broadcaster for the FIS Alpine World Ski Championships, held in Åre, Sweden in February 2019, Sweden's national public broadcaster Sveriges Television (SVT) had the opportunity to push the boundaries of live production.
SVT wanted to be more ambitious than ever, deploying more cameras and delivering more angles and live replays for a rich, captivating viewing experience in parallel with a focus on sustainability. SVT chose a remote production approach but decided to go one step further and completely eliminate the need for multiple OB trucks to support the live production operation, to reduce the need for technology and number of people on-site and thereby greatly reduce the need for set up time, transport and travel.
SVT's goal of retaining most of the production team and functions such as camera matching, colouring and shading at its home studio, made ultra-low latency even more critical. The decision was made to employ an end-to-end, open standards-based IP remote production infrastructure.
Using the approach, SVT was able to limit its on-location staff and equipment, requiring a support team of around 150 camera operators and technicians in Åre. The rest of the production workflow and staff were based in Stockholm, some 600 plus kilometres away.
This was a unique project on a scale that has never been seen before and it proves that this workflow can stand up to even the most rigorous conditions. SVT has shown that it is entirely possible to create world-class programming in new ways with significantly less equipment and staff on location. SVT has demonstrated with the 2019 FIS Alpine World Ski Championships that remote production can deliver a better fan experience while maximizing resources.
---
Videohouse and Sunset+Vine – The INEOS 1:59 Challenge
Eliud Kipchoge made history on Saturday 12th October 2019 – the first person to run a sub-two-hour marathon in 1:59:40.2. VideoHouse, as a technical partner with Sunset+Vine, was charged with creating a live broadcast to capture the imagination of broadcasters.
The key factor in this operation was based around a very complex ground-receive wireless concept delivered in a 1080 50P broadcast format and in different modulations. With a 12-day weather window in place during which Eliud decide to make his attempt, it was impossible to factor in a high altitude relay aeroplane for coverage, due to logistical and costs issues. This complex concept was prepared by Videohouse – Eurolinx senior RF architect Jan Veldeman. Jan passed away ten days before the real attempt.
The SVG Europe Sports TV Awards submission is therefore not only dedicated to the entire 60-person technical Videohouse crew but also as a tribute to the Jan Velderman. Through the INEOS 1:59 Challenge the world is now aware of Eliud Kipchoge and his message that  #NoHumanIsLimited.
---
World Rugby and IGBS – Rugby World Cup Japan 2019
World Rugby internalised the Rugby World Cup Japan 2019TM broadcast with a dedicated Host Broadcaster, IGBS; raising standards and becoming the most-watched edition ever. Broadcasters were offered more content, services, studios and formats, culminating in record viewing figures and an average live audience of 44.9 million for the final.
One cut produced three formats – a hybrid UHD format, as well as 1080p and 1080i versions. Multifeeds were a first; featuring basic stadium, world, tactical and additional content feeds. ENG crews traversed Japan, generating engaging content, while a Media Server let broadcasters customise their narratives.
Production teams came from the five major rugby countries. Cable camera systems were used extensively, while drone coverage enhanced the Final. AR graphics and Canon's Free Viewpoint system's volumetric replays brought audiences closer to the action, while TMO was delivered intricately. Social media consumption of the event boomed, breaking records with 2.1 billion views across WR platforms.
The HB operation offered those in Europe a sustainable production, reducing the event's carbon footprint. With robust emergency planning, even the impact of Japan's biggest storm in 50 years didn't interfere with coverage; handover to a virtual IBC based in Europe countering the impact of full IBC shutdown.
---
The winners of the SVG Europe Sports TV Awards, sponsored by Canon, will be announced during an 'as live' online awards ceremony at 5pm on Wednesday 27 May 2020. Hosted by sports broadcaster and presenter Abi Stephens, the ceremony will premiere on the SVG Europe Youtube channel, SVG Europe Facebook page, and the SVG Europe Sports TV Awards website