Sports TV Awards showcase: SVG Europe Women Award for Diversity in Sports TV
In the lead-up to the Sports TV Awards ceremony on Wednesday 27 May, SVG Europe is profiling all of the projects that have been nominated for an award. Today the focus is on the shortlist for the SVG Europe Women Award for Diversity in Sports TV.
The Diversity in Sports TV Award will be given to an organisational programme that has successfully encouraged diversity within the sports production and the media industry.
Considerations could include an effective public-facing initiative that encourages diversity and inclusion; tangible changes that have improved the diversity of an organisation and/or the wider industry; and both intervention and industry leadership.
This award covers all types of inclusion and diversity including race, ethnicity, sexual orientation, gender, socio-economic status, age, ability, religious and political beliefs (or other different ideologies).
Key criteria: An initiative, programme or campaign that goes above and beyond the industry norm.
The judges were also looking for entries that demonstrate a powerful impact on a company, the sector or on society as a whole and include tangible evidence of the impact or progress being made to provide a long-term vision to help create a truly diverse sector
The contenders (in alphabetical order) are:
BT Sport – Takeover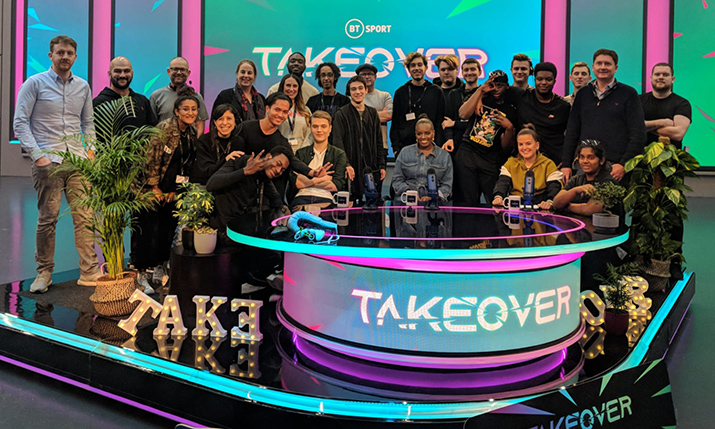 The Takeover TV Project piloted in September 2019. BT Sport engaged and empowered 12 sixth-form students (who had never made television before) with the confidence to develop and produce a half-hour magazine show from scratch.
The subject areas the students chose to examine reflected their own interests and passions which set their ideas apart from other features found on BT Sport.
Course developer, Dimple Patel, steered the programme towards schools rather than universities in a bid to open up opportunities for inclusion. Newham has the youngest overall population the country, it is also home to seven in 10 residents who are from a BAME background.
Newham Sixth Form College (NewVic) is three miles from BT and sends more students from disadvantaged backgrounds to university than any other Sixth-Form in England. NewVic college was selected and proved to be the perfect match for Takeover TV.
In the first week, Simon Green, Head of BT Sport, laid down a challenge to the students: if their programme was good enough, he would put it to air.
In November 2019, Takeover TV was scheduled four times. The feedback has been incredible and BT Sport has recommissioned the project for 2020.
---
Rise with BT Sport, ITV and Clear-Com – Rise Up
Rise Up is an exciting new industry-led schools outreach programme, created by Rise – an advocacy group for gender diversity within the broadcast services sector. It is a series of school workshops delivered throughout the UK to inspire children about engineering and technology opportunities in the broadcast, media and entertainment industries.
The programme has reached over 100 children so far, with 50% of parents wanting to stay in contact about future opportunities to learn more about the industry.
The workshops see children learn about the science behind broadcast, create their own broadcast studios, and then make their own show – all in the school environment, assisted by broadcast engineers using state of the art broadcast equipment, giving them a truly hands on experience.
Crucially, it will enable the industry to remain in contact with students and encourage them to consider a broadcast engineering apprenticeship or degree when they reach this level.
With universities struggling to recruit both male and female talent in broadcast engineering-related courses, this is a piece of work that Rise has prioritised, working with schools, universities and key industry partners, to address this from the very beginning of the talent pipeline.
---
SVT Sports – Gender-equal sports coverage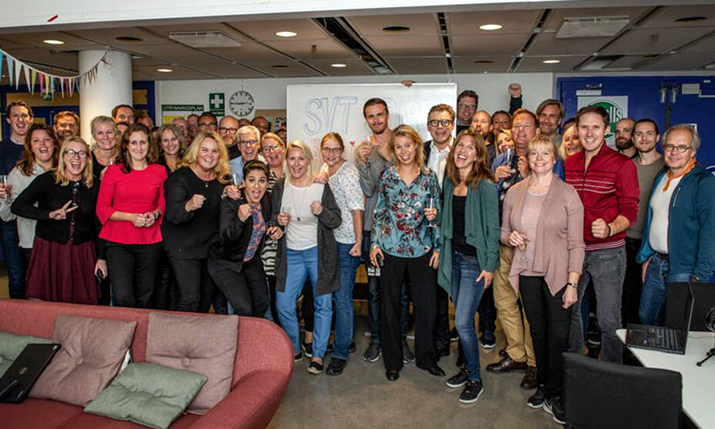 SVT has changed the coverage of sports through its gender-equal sports coverage. Five years ago, 20-25 per cent of its coverage was about women. Today it is close to 50-50.
"SVT has worked with a clear vision and constantly reminded us about the 50-50 goal, a goal that applies to all aspects of what we produce and how we reflect upon ourselves.
"Measuring women and men in our sports coverage has been central. We measure every second on our sports news programmes and we use a special "gender metric" that reads our sports site.
"We measure posts on social media, the number of live broadcasts and the articles on the sports site. We have negotiated new agreements with news agencies to gain access to more pictures, videos, news and results with women, we have bought new sports rights and started to produce more women's sports. During these years the number of unique visitors to our website has increased by over 100 per cent.
"We broadcast more reaching a wider audience, we have more news and are quoted by other media daily. We make better programs with more perspectives and have anchors and expert commentators reflecting the whole audience."
---
The winners of the SVG Europe Sports TV Awards, sponsored by Canon, will be announced during an 'as live' online awards ceremony at 5pm on Wednesday 27 May 2020. Hosted by sports broadcaster and presenter Abi Stephens, the ceremony will premiere on the SVG Europe Youtube channel, SVG Europe Facebook page, and the SVG Europe Sports TV Awards website