SportTechBuzz at IBC 2018: Monday's Latest From Amsterdam
IBC is in full swing here in Amsterdam and the SVG Europe and SVG editorial teams are chasing down the hottest stories from all over the Rai convention centre. To make the onslaught of announcements easily digestible for our readers, SVG Europe is sending you a daily SportsTechBuzz at IBC 2018, with all the top stories gathered together in one easy to read blog from our newshounds.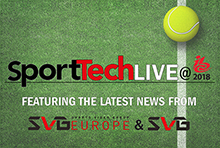 Today's edition features AJA Video Systems, Arqiva, Avid, Blackmagic Design, Canon Europe, ChyronHego, Cobalt, Encompass Digital Media, Eutelsat, Eurovision Media Services, Evertz, EVS, Globecast, Grabyo, Haivision, Ikegami, IMT Vislink, Leader Electronics, Limelight Networks, Marquis Broadcast, Marshall, Microsoft Azure, Movicom, Nagra, Ostmodern, Panasonic, Pixellot, Ooyala, Pebble Beach Systems, Sixty, Videosys, Vizrt.
HALLS 1-3
IBC 2018 marks the general availability of Video Indexer, Microsoft Azure's (1.C27) AI-based advanced metadata extraction service. According to Scott Bounds, US media and cable industry lead, Video Indexer (which has been in a public preview since May,) provides audio, speech, and visual-based learning models to enable emotion detection, topic inferencing, and facial recognition. In addition, Microsoft is demoing how Azure Media Services can help deliver UHD 4K HLG streams from the cloud in partnership with MediaExcel, as well as a "live production in the cloud" demo in partnership with Dejero, Avid, Haivision, Hiscale, Make.TV, and Signiant.
Arqiva is talking about content aggregation and distribution over IP as well as via satellite. From a comfortable sofa on stand 1.B61, Chris Alner, business development director, satellite and media, said: "We are absolutely focused on our role as an aggregator of content for our customers, and not just in a satellite world. Our core demo is about fully public cloud content management and distribution." A large US broadcaster that cannot be named, but who bought some high profile sports rights recently, is now working with Arqiva. "We are acquiring content globally, providing it back to them on multiple different formats, from J2K and fibre to multi package HLS, delivered to them over IP," noted Alner. "We said to them it doesn't matter where in the world the content is; we'll get it to them, process it and contribute it."
Globecast (1.A29) has announced that Cinegy is helping it in the launch of the UK's first dedicated UHD 4K entertainment channel. Cinegy's broadcast playout engine, Cinegy Air Pro, is used to allow the building of the 'channel in the cloud' showing the benefits of cloud technologies in being able to launch a complete service in a fraction of the time it would have taken traditionally. Ian Redgewell, head of media management, Globecast, said: "If we weren't cloud-based, we would have had a very hard time achieving this in the short amount of time we were given. Cinegy convinced us that, using the cloud, even UHD 4K is no problem." Daniella Weigner, managing director at Cinegy said: "We are confident that by showing a premium UHD 4K channel can be launched and run very quickly from the cloud, it will encourage more broadcasters to do the same and drive more business to Globecast."
Evertz is celebrating 400 deployments of its IP solution, Software Defined Video Networking (SDVN) on its packed stand (1.D31). Mo Goyal, director of product marketing, said: "This is a significant milestone for us. Everyone is talking about IP. People have been talking about the underlying architecture and what's happening with 2110, which are great conversations to have, but the next big conversation is going to be about the orchestration system and control of the flow." Evertz is also highlighting its Cloud Media Flow Solution, which it is running on Google on the stand. "This allows us to do contribution, encoding and services over the public cloud," added Goyal.
The content security and multiscreen video technology developer Nagra (1.C181) has enjoyed a big weekend at IBC. The company unveiled its new NexGuard Quickmark solution, which offers subscriber-level watermarking to fight piracy of live sports streams. The Portuguese sports network Sport TV, which owns the exclusive rights to Portugal's top flight football league, also joined as Nagra's latest sports client last week. Sport TV will use Nagra's Anti-Piracy Services to protect from illegal live streaming of soccer matches.
Satellite operator Eutelsat (1.D59) is making a bold move into the world of OTT at IBC with the launch of CIRRUS, a hybrid satellite-OTT delivery solution for DTH TV operators to launch or upgrade their service. According to Gerry O'Sullivan, EVP, global TV and video, it combines the reach and efficiency of satellite with the next-gen features available for OTT. These features include channel numbering, programme information, content security, and record/rewind capability. O'Sullivan claimed that by offering an end to end video distribution platform for a multitude of phone and tablet devices, it will allow broadcasters to focus more on content creation rather than technological and logistical challenges.
IMT Vislink (stand 1.A69) president for the US, John Payne, said the company has managed to get latency of 4K UHD transmission to approximately 16 milliseconds, giving sports broadcasters a chance to overcome one of the big obstacles with respect to wireless cameras; latency. The HCAM and UltraReceiver combination taps into HEVC compression and the unit can also be controlled via Wifi or Bluetooth and an app that runs on either Android or iOS devices.
HALLS 4-7
Just before the IBC show began, Encompass Digital Media (5.B75) announced a definitive agreement to acquire Babcock International Group's Media Services business. At the show Encompass CEO Chris Walters explained that in addition to expanding his company's scale in EMEA and adding international radio distribution to its suite of services, the Babcock acquisition will provide a major boost to its digital products portfolio. Among Babcock's most notable customers is DAZN, one of the fastest growing live sports streaming platforms in the industry, for which it coordinates all aspects of the technical delivery, including network monitoring and supplier management.
Vizrt (7.B01) has its eye on the ball with Viz Libero AR, its sports analysis tool. Said Dr Remo Ziegler, VP of product management for sports: "Libero AR combines analysis technology with our AR studio. It brings the viewer at home closer engagement with the studio. Our AR studio render engine really focuses on reality fusion, making it as easy as possible for our customers to gear it up easily." The company is also demonstrating Viz Arena for virtual advertising placement in any kind of sport with image-based tracking.
HDR Image Analyzer is AJA Video Systems' (7.C25) HDR analysis and monitoring appliance powered by Colorfront software, offering an advanced toolset for quality control (QC) and mastering of 4K, UHD, HD, HDR and WCG content for broadcast, OTT entertainment, production, and post production. It will be available in Autumn 2018 for $15995. From KONA 5 with 12G-SDI I/O and the IPR-10G2-HDMI and IPR-10G2-SDI SMPTE ST 2110 receivers, to the HDR Image Analyzer, the AJA developments introduced at IBC2018 address the dynamic needs of production, post, broadcast, streaming and AV professionals.
Blackmagic Design (7.B45) is getting RAW at IBC with the public beta of a new and what the company calls a "very modern" codec that combines the benefits of RAW with the ease of use, speed, and file sizes of traditional video formats. The key is moving part of the de-mosaic process into the camera where it can be hardware accelerated, improving encoding efficiency so that file size can actually be smaller than using other popular codecs. That means less work for applications that decode the files for users without any compromise of image quality and flexibility. It can be used from acquisition throughout post production for editing and colour grading, all from a single file. "This is quite a big move for us," said Stuart Ashton, director EMEA at Blackmagic Design. "In terms of quality size and the fact that it's free of charge, the release of Blackmagic RAW is groundbreaking."
Dutch Eredivisie is the latest major European football league to adopt ChyronHego's (7.C21) Tracab optical tracking system. Eredivisie is using Tracab to collect and share real time data on player and ball movements for every match, enabling insight on team and player performance for all 18 Eredivisie clubs, as well as other stakeholders. Eredivisie joins the Premier League, the German Bundesliga, La Liga, and other high-profile football organisations that have adopted the Tracab tracking system. Every stadium in the Eredivisie League is outfitted with an array of special cameras mounted high up in each stadium to accurately register movements of each player and the ball at 25 times per second, resulting in around 3.5 million data points being collected per match.
Marquis Broadcast (7.D39) has launched Fotonflite, a secure 'on-the-fly' point-to-point transfer system for Avid Media Composer projects and media workspaces. It allows files to be moved between source Avid ISIS/NEXIS systems and a range of target storage types, including Avid, generic and proprietary storage. Fotonflite is an option for Marquis Workspace Sync, Workspace Backup and Project Parking professional production workflow tools, which are all Avid-certified, and allows remote servers to be configured as if they were local. Fotonflite is claimed to be unique in its ability to directly connect and securely synchronise live Avid ISIS/NEXIS systems, especially with Avid work-in-progress, and is ideal for connecting production centres over the internet, for example, Pinewood and Hollywood.
Avid (7.B55) has been highlighting its recent involvement with the inaugural European Championships. Avid MediaCentral was integral to delivering the event, which required a very close collaboration between the vendor and the organisers. As it was the first event of its kind, the project essentially entailed the creation of a specific visual identity for the Games. "Absolutely – identity is the word," agreed Ray Thompson, director of broadcast and media solutions marketing at Avid. "It was a great collaboration between Avid and the organisers throughout the preparatory period, and they were delighted by the end result."
HALLS 8-11
Eurovision Media Services (10.F20), the business arm of the European Broadcasting Union (EBU), has developed a remote graphics solution to allow sport federations to adapt TV graphical overlays for different geographies to get closer to key audiences and maximise the event value for sponsors and partners. Using one single signal, uplinked at the origin and distributed across different geographical zones, sports federations can remotely insert different graphics for each destination. For example, the name of an athlete could be shown in Latin, Cyrillic, Chinese or Arabic characters depending on the country of reception and the sponsor's logo could also be adapted to a nationally known entity. The whole process is centrally controlled by the production crew onsite to ensure a full alignment with the predefined graphical chart.
Pebble Beach Systems (8.B68) is demonstrating that uncompressed IP is ready for playout. In its IP playout pod, the company is running Arista, Tektronix, Vizrt, Embrionix, AJA and Suitcase TV together to showcase the SMPTE  2022-6/7, SMPTE 2110, SRT, NDO and NMOS suite of standards. Alison Parvitt, marketing manager, said: "We had a few customers worried that IP wasn't ready for playout; that the solutions available weren't mature. So we've got IP playout interoperability on our stand with a number of providers that show uncompressed IP is ready to go."
Introduced at the NAB Show, Via from EVS (8.B90) is a new technology platform built with a microservice-based architecture and founded on three pillars: Via Flow, Via Mind and Via Opengate. Via Flow uses modular services to simplify media management and create customised workflows, Via Mind uses the power of AI to create smarter workflows and Via Opengate uses an open API for easy integration with third party systems for every business service. Throughout IBC, visitors to the EVS stand will be able to see several presentations of how Via forms the foundation of EVS' latest products, including X-ONE, Xeebra, DYVI and the new version of IPDirector. The stand will also feature a demo of Via Flow Monitoring, a service which extends the capabilities of our C-Next contribution solution used for multisite production workflows. Company representatives can also discuss a number of recent deals, including La Liga's use of 20 Xeebra video assistant referee systems for the 2018/2019 season. Xeebra continues to get wins in the sports market, including its use by the Union Cycliste International (UCI) on the Tour de France, Giro d'Italia, and Vuelta a Espana.
Leader Electronics (11.B27) has announced two expansion modules for the LT4610 sync generator. Designed for use in broadcast studios, mobile production vehicles, post production companies and broadcast equipment maintenance facilities, the Leader LT4610 provides a wide range of capabilities within a 1U x 400 mm deep footprint. The new LT4610SER03 Precision Time Protocol option can operate as both a grandmaster or slave clock. It supports ST-2059-2, AES67 and General profiles, and incorporates 10Gb Ethernet (SFP+) and 1Gb Ethernet (RJ-45) interfaces. This option enables the LT4610 to operate in a hybrid IP and SDI environment, allowing all systems to be accurately timed to the same source reference.
IBC 2018 visitors have the opportunity to witness the fruits of a partnership between Panasonic and Videosys that entails the showcase of an integrated 4K camera solution featuring Panasonic's AK-UC4000 camera and Videosys' 4K camera control unit. According to the two companies, Panasonic's AK-UC4000 and Videosys' new 4K camera control unit system combine to reduce the complexities that broadcasters face when setting up a live event and broadcasting in 4K UHD. The demo can be seen on the Panasonic stand (11.C45).
Chris Shaw, Cobalt's executive VP of sales and marketing, revealed at IBC that the company is working closely with Technicolor on a new SDR to HDR range of converters. Shaw has recently re-joined the company after three and a half years. In addition, the company is showcasing its full range of conversion technologies at the show. This includes its 9904-UDX-4K-12G UHD/3G/HD/SD-SDI Up/Down/cross converter, a multi viewer, a UHD streaming encoder, the OG-PC computer card and new 9914DA-4Q-12G distribution amplifier. Cobalt is also demoing RIST, its Reliable Internet Stream Transport solution which allows interoperability between different content streaming system, on stand 10.B44.
HALLS 12-15
Grabyo Editor has been launched here at IBC. The browser-based video editor is focused on simple, fast mobile social distribution, according to Gareth Capon, CEO. He said: "We've seen from our broadcast partners and sports Federations that they want to make content available to their audiences fast, and to as many platforms as possible, with aspects like square videos for Facebook and highlight videos for their websites, and so that's what we've built. Also, you can edit from a laptop, anywhere; it's completely flexible."
Kjetil Horneland, CEO and founder of Sixty, is bringing life to TV delivery for viewers, he said from stand 14.H21. "We are changing the 'flat' way TV has been delivered over the last 30 years," he commented. "OTT platforms are much more like a commodity now and there is an opportunity to make more value from that, which hasn't been done yet. If you can figure out what users want, you can actually engage them in a two-way conversation. We're taking all the assets of TV production and reassembling them on the user's device so you can provide a better viewing experience, engaging viewers in new ways, and engaging them for longer on the screen so they don't go to other devices to satisfy their needs."
Ikegami's focus at IBC on stand 12.A31 is on the HDR capabilities of the new HDK-99 portable camera, the HDK-73 cameras, as well as the HQLM-3125X 4K/HD master monitor. The HDK-99 debuted at NAB so its first appearance at IBC gives those on the hunt for HDR capabilities a new option as it has three 2.6 megapixel CMOS imaging sensors and can capture full HD 1920x1080p images (processed 4K can be sourced from the camera control unit). Also check out the CV380-CS camera which has a slightly smaller form factor but a 30fps limit. Both cameras feature 6G-SDI and HDMI outputs as well as CS mount lens options.
Limelight Networks (14.B52) has introduced Limelight Real-time Streaming, claimed to be the first globally scalable, sub-second live video streaming solution that's natively supported by major browsers and devices. The new service also supports integrated real time data, making it possible to create interactive live online experiences. Streams of live events are typically delayed from the broadcast feed by 30 seconds or more. This often results in poor viewing experiences, loss of reputation when viewers publicly express displeasure, and ultimate loss of revenue. Limelight Realtime Streaming eliminates these challenges by enabling organsations to stream live video from anywhere in the world to anywhere in the world in less than a second, providing online viewers with the same experience enjoyed by broadcast viewers.
Ooyala (14.G02) is extending support for the Interoperable Master Format (IMF) with its Flex Media Platform, a flexible and configurable content supply chain optimization platform. For content distributors, it promises to significantly reduce costs and improve efficiency of their multi-platform distribution needs. Ooyala also announce this weekend that the Flex Media Platform will optimise video operations for SUPER RTL, the joint venture between RTL Group and The Walt Disney Company.
Canon Europe (12.D60) has launched the newest addition to its XF range of camcorders, the XF705. Equipped with the XF-HEVC format, XF705 offers 4K UHD 50P 4:2:2 10-bit recording to SD cards, with superior levels of detail. Combined with a 1.0 type CMOS sensor and DIGIC DV6 processing, the XF705 delivers improved noise performance, sensitivity and cinematic depth of field. With enhanced HDR capabilities, including an advanced 12G-SDI interface and IP streaming, the XF705 is poised to influence industry UHD HDR production workflows.
Pixellot, a provider of automatic sports production tech, has unveiled a series of next generation features that it has added to its automated production platform (stand 14.C01). The new additions include automatic graphic insertion, automatic soccer highlights, condensed games for American football and virtual advertisement tools that will help sports organisations and media outlets to monetise their assets. With the Pixellot platform soon offering AI-triggered graphics insertion, automated production technology makes a quantum leap forward, said the company, providing a similar rich viewing experience as manually produced sportscasts.
Marshall's 4K POV line up has expanded with the new CV420-CS and CV380-CS on display at IBC stand 12.D20. Both cameras feature SDI and HDMI outputs, remote control, and support of CS mount lenses (the CV420-CS can also handle Varifocal lenses). The big difference is the CV420-CS is slightly larger but delivers up to 60 fps recording while the CV380-CS tops out at 30 fps but has a smaller form factor. Those looking for HD support will want to check out the CV506-H12 which can shoot 1080p and 720p at 120 fps.
Ostmodern is demonstrating Skylark, a modern headless CMS for rich media products.  Headless CMS architecture allows for more flexibility for clients looking to innovate and deploy to their existing technology stacks. "Skylark solves the problem of designing bespoke and innovative user experiences that drives higher engagement and differentiation, whilst addressing the need to deploy efficiently and quickly," said Stuart Ferreira-Cole, commercial director, from hall 15 meeting suite 6.
International manufacturer and provider of special cameras, Movicom, is showcasing its latest innovation at IBC. Robycam Compact, a new lightweight aerial camera system is being displayed on stand 12.G67 as well as on stand 0. E02, organised by Robycam Germany. Small in size and light in weight, the new system is a universal cost effective and safe solution suitable for middle-sized venues and studios. The Movicom team is on hand to explain all the technical details, show the camera in motion, as well as show the AR integration.
Haivision (14.B10) has reeled in another high profile member to join its SRT opensource project: Microsoft. The SRT Alliance brings new support to the video standard for low latency video transport over the internet. SRT is quickly becoming one of the more critical video streaming protocols in the industry with the support of VideoLAN's VLC, Wireshark, FFmpeg, and the GStreamer open source projects. It has been only about a year and a half since the opensource project was announced at NAB Show 2017, and in that short time more than 140 member companies have adopted the protocol including Comcast, ESPN, the European Broadcasting Union, NBC Sports, the NFL, and Sky News.