SportTech 2017: Augmented Reality insights with NEP Netherlands' van Vegten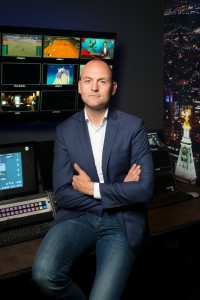 SVG Europe is pleased to announce that NEP Netherlands CIO Ralf van Vegten will present a Case Study: Augmented Reality Overview at SportTech 2017, taking place at Arsenal FC's Emirates Stadium on Wednesday June 7.
NEP is a front-runner in photorealistic Augmented Reality in daily sports programmes, large entertainment shows and location sports productions including carpeting and virtual advertising. The presentation will focus on the advantages, when using Augmented Reality, from financial, production and creative perspectives. The presentation is filled with footage from live and recorded productions that demonstrate the difference between traditional and state of the art technology.
Ralf van Vegten is the Chief Information Officer of NEP The Netherlands. In this role he is responsible for the Technology Department and, since 2016, for the Graphics business unit. The Technology Department services the entire operation at the NEP facilities and several client locations. The technology provided range from studio technique and post production platforms to the distribution systems that are used to deliver signals to broadcasters and the development and maintenance of complete VOD platforms.
NEP Graphics is amongst the most innovative live graphics providers in the sports and entertainment industry and is specialised in data visualisation, virtual and augmented reality in (live) entertainment, sports and news shows and high end signage.
The final places at this event are filling up. Please register now: https://www.svgeurope.org/sport-tech-europe-2017/full-programme/