SportTech 2017: Real and virtual worlds of football with UEFA and BT Sport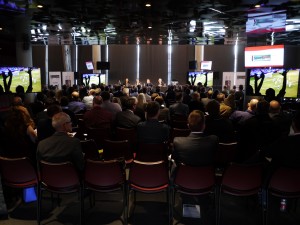 Cardiff's National Stadium of Wales played host to the UEFA Champions League Final on June 3. And broadcast coverage of the event – in HD, UHD and VR — was a huge production for both UEFA and Host Broadcaster, BT Sport. The first session of Sporttech 2017 on June 7, moderated by SVG Europe executive editor Fergal Ringrose, brought together Olivier Gaches, UEFA Senior Digital Broadcasting Manager, Jamie Hindhaugh, BT Sport Chief Operating Officer and Andy Beale, BT Sport Chief Engineer.
Gaches started the discussion by providing some impressive facts about the transmission. In all, 200 countries involving 160 million viewers watched the live match. "This makes it the most important sporting event, worldwide."
Including those who watched replays of the games, that total increased to 350 million. On the production side, 1800 staff from both BT Sport and other rights holders were employed, with 75 broadcasters being present in Cardiff – 25 of which employed HD trucks at the stadium.
Ringrose then turned to Hindhaugh who had previously revealed that the Champions League Final was a showcase for BT Sport. "It was a privilege for us. BT Sport is less than four years old and we hosted the whole event and it went extremely well.
"Since we launched BT Sport our big challenge was credibility. We have a knowledgeable audience and there are some fantastic competitors in the market, like Sky, who have been around for a very long time. People's expectations were that we would fail. So, we had to build credibility, and a great way to do that is through innovation and quality. We have a very clear editorial strategy – which is to be at the heart of sport. Everything we do is around ensuring the audience feel they are a part of the action."
Part of that strategy was to ensure top quality pictures in 4K. Hindhaugh said the way 4K was handled in Cardiff was different from the other 300 events that had been covered earlier in the year because of the size of the host broadcaster operation that was needed for the match.
"Dolby Atmos, which I am extremely proud of, was launched [at Cardiff] as the first broadcast to the world. It brings the stadium atmosphere into the home. So, you have the best pictures and the best sound. HDR was a real challenge in the live environment. But we managed a 22 camera live with Dolby Atmos with HDR to some very lucky people sitting in the Dolby theatre in Soho."
He went on to talk about the Virtual Reality (VR) broadcast that was available during the event. "Being at the heart of sport, you have your pictures, you've got your sound and now the feeling of being immersed. We are a broadcaster and our job is to create the content for our audience. So, we developed our own truck working with UEFA, we created a 12-camera director's cut of the whole game with live VR graphics, live replays and separate live commentary"
Hindhaugh reported that the feedback has been astounding. "I am very proud that we have something for everyone – that enables all to engage and feel closer to the action. That's what we will do around innovation – to make sure it fits the editorial mantra."
He added that the strength of BT Sport comes from the relationship with our partners, and it is important that they are recognised, too.
Looking at HDR
Ringrose brought Beale into the discussion by asking about the High Dynamic Range (HDR) production, and the workflow that was involved. "This really presented an opportunity. We wanted to make HDR and UHD into a full production – not just the match coverage. We took 25 4K cameras, upconverted the non-HDR sources and graphics into the cut and made that the 4K host broadcaster programme into HDR. We then used a second switcher for the BT Sport unliteral presentation operation using 12 4K cameras and non-HDR sources. They were converted into both PQ (Perceptual Quantizer) and HLG (Hybrid Log Gamma)."
These sources were sent back to the BT Sport centre where a replica playout channel had been created allowing the broadcaster to prove that full HDR programme – including promos and advertising – could be achieved. This output was then sent to a number of sites around London and Ipswich – including the Dolby theatre previously mentioned. An HLG cut was also created that was distributed on the same platform.
"So, it was a very comprehensive workflow," reported Beale. "And it wasn't just three or four cameras or even just the actual match. It was the entire coverage."
The reality of virtual
The discussion then turned back to VR, and Beale was able to add to comments made earlier by Hindhaugh. Beale stated that this was not an area into which BT Sport had rushed. "We were very conscious about the possibility of doing a substandard offering. We needed to wait for the right evolution and the right content."
Beale said that it became apparent six months ago that BT Sport needed to do more than just live cameras — so the team developed a specific truck with 4K workflows with replays and graphics and, for Cardiff, installed 12 full stereoscopic cameras. "We wanted to make it a rich, consumer experience. We developed the graphics ourselves with one of our partners because we didn't know of any 360 degrees package on the market."
He continued, "Providing a separate commentary was probably the most difficult part. I asked the question, 'how will the commentator know what is going on?' because you need to be able to see the whole 360 degrees content. So, again, we developed a tool, that looks like an app on a Smartphone, with a big touchscreen monitor to enable the commentator to look around and experience the environment himself."
In addition, a 'region of interest' tool was developed that enables the viewer to look around the whole 360 environments. "Viewers sitting on their sofa don't want to be looking behind them all the time, but on the VR replay, for example, the key interest may be over your shoulder. The tool enables the replay to be spun around on the 360 axes to watch, say, the manager's reaction."
Ringrose asked Hindhaugh if any numbers were available for the broadcast. Although the VR figures are not yet computed, other outlets reported significant success "The 4K broadcast went out on YouTube and they stated it was the largest live transmission by a 'country mile'".
Beale went on to say that BT Sport had worked a great deal with MOOV who approached the broadcaster last year with some ideas for VR graphics. "We built an incubator at Stratford and after each event we covered, we changed things to make it better. It was a fast evolution to arrive at the final product."
Going forward
Ringrose then invited Gaches to talk about other VR and 360 developments within UEFA. "This year will be the year of VR when we will have 17 matches covered live in VR – with a minimum of three cameras per event. But the Cardiff match was the first time we offered a curated cut. It all worked very well, because the main purpose is the create the user experience."
That experience included the first VR production to be sent to Playstations. "This is at the early stage, but for UEFA there has been good responses from the fans, the press and the broadcasters.
The panel concluded with a look at incentives for the future. One idea is an innovation from Dolby that would allow Atmos to follow the sound to coincide with head movements by the viewer. Another involves virtual cameras that are being developed by EVS. These would allow, say, six different streams to be available from each camera.
There are also moves towards Artificial Intelligent (AI). Gaches explained that there are developments from EVS that means that AI could understand the game. That means player tracking and virtual player cameras being used to help understand tactics.
"The same type of thing is happening with voice understanding. Working with some kind of AI we should be able to do automatic translations. No promises for these types of things, but we are looking at these to see how we can carry out our productions."
In the following question and answer session, Hindhaugh was asked what lessons had been learned about VR coverage. "The biggest follows our streaming of a Premier League game last year. I invited neighbours to view the 4K picture and VR where we had just three cameras and it wasn't curated."
That meant the viewers could just choose which of the three cameras to watch for the experience. Hindhaugh reports that the longest that anyone watched was a minute and a half. "Everyone said 'this is amazing' and then took off the headset and continued watching the game in the normal way. That showed we were not doing the job – we worked really hard to create the curated director's cut."
He concluded, "Giving the audience what they expect in the VR environment is our achievement and we are proud of what we did."