SportTech 2018: ArsenalFanTV founder urges football clubs to focus on supporters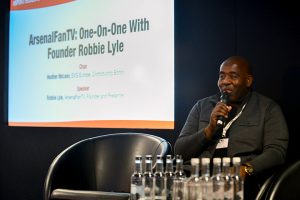 Football clubs are "missing a trick" if they ignore supporters when creating content for social and video channels, so says Robbie Lyle, the founder and host of ArsenalFanTV.
Speaking at SVG Europe's SportTech conference in London (30 May, Stamford Bridge), the former surveyor, discussing how his online channel for supporters of Arsenal Football Club differs from the other forms of football media, said:
"I fully understand that football club fans are not going to allow opinions as much as we do. But I still do feel that football clubs and a lot of the rights holders and associations are really missing a trick when it comes to fans. Some of them are very old fashioned in their outlook: dinosaurs really in the way in which they approach the whole social media."
Lyle believes that clubs need to be more transparent.
"Fans talk about football and they talk about it quite honestly and openly," he said.
"Sometimes clubs should be more open and honest. If your team has had a poor performance, don't turn around and try to pretend that it didn't happen.
"You need to be in the conversation. A lot of the time with football clubs, if you're not in the conversation, it can run away and leave you. That happens a lot. You need to interact with your fans. They're not just there to sell things to."
"You need to interact with your fans. They're not just there to sell things to."
ArsenalFanTV specialises in producing and distributing videos that, in its own words, give Arsenal supporters the opportunity to "express their unbiased opinions on topics such as the performance of the team, transfers and how the club is run."
As well as having its own dedicated channel website, it is available via YouTube and on an ArsenalFanTV tablet and smartphone app. The YouTube channel currently has more than 750,000 subscribers.
Giving fans a voice
Discussing how the launch of the channel in 2012, Lyle said: "I wanted to create a platform that gave fans a voice. [At the time] there was no importance put on fans. But they are as essential as the players. If there are no fans at a football game, there is no game."
Working as part of a two-person team, Lyle started ArsenalFanTV by uploading edited videos to YouTube and linking them to social media channels. But that quickly changed to a more considered approach, with bespoke content created for each platform.
"We realised that there were a lot of people who have their favourite platform, and some that don't go on YouTube at all. We took the decision to go on every platform we can. And when we go to these platforms we try to treat each one as unique and concentrate on it. It's really worked well for us."
The success of ArsenalFanTV has also brought Lyle mainstream media opportunities. This year, towards the end of the 2017-18 season, he presented Channel 4's The Real Football Fan Show, a programme that looks likely to be re-commissioned for 2018-19.
"It shows that fans are an important part of football. I am quite surprised that they've been ignored in the past."
The next step for Lyle is to bring his fan-focused approach to different audiences, and potentially different sports.
"I want to empower other clubs to grow their channels and create a movement with what we're doing. I am really passionate about fans being able to have their say. What we do is transferable to other sports too."
Robbie Lyle was speaking at SportTech 2018, in conversation with SVG Europe contributing editor Heather McLean.