SportTech 2018 Video Reflections: Eurovision's Michele Gosetti on an exciting time of opportunity for sports OTT services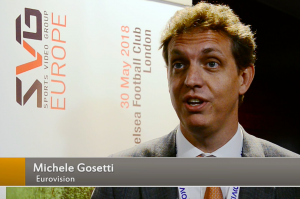 Sports and news content distributor Eurovision enjoyed a high profile at the recent SVG Europe SportTech event, with the company both sponsoring and chairing a session entitled 'Going It Alone: How to Launch Your Own OTT Platform'.
Whilst Eurovision's multiplatform solutions manager Louis Matignon oversaw the debate – which involved input from AWS Elemental, WWE, NeuLion and AWS Elemental – it was head of global sales Michele Gosetti who set the scene with an introduction that touched on the fast-moving nature of OTT services and the challenges that this presents for broadcasters, service providers and vendors.
Shortly before the session took place, Gosetti spoke to SVG Europe Contributing Editor David Davies about the factors informing the current growth of OTT, the implications for a company such as Eurovision, and some of the projects that it has coming up in what promises to be an extremely busy summer.
The video can be viewed here.
Video: Chris Taylor. Editing: James Cumpsty.