SportTech 2019: SeaChange takes Title to lead event sponsor line-up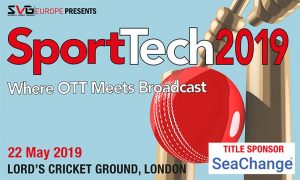 SVG Europe is very pleased to announce that SeaChange is the Title sponsor of SportTech 2019 at Lord's Cricket Ground on Wednesday 22 May. A senior SeaChange representative will make the opening remarks at this event, which is focused on OTT, social media and live streaming.
We're also pleased to announce that Mobile Viewpoint is the Case Study Presentation sponsor and also grateful for the support of Imagen as the sponsor of the SVG Europe Women Networking Event taking place in the evening.
Interxion is the sponsor of the session 'It's Just Got to Work: Keeping Viewers and Subscribers Happy when Streaming Live Sport'. The 'Perfecting Your Short Game: A Sports Clipping and Highlights Creation Masterclass' is sponsored by Wildmoka, and AE Graphics is supporting our exclusive 'Finding the Edge: Covering the 2019 ICC Cricket World Cup on TV and Online' session.
Confirmed Table Top sponsors to date for SportTech 2019 are Lawo, MediaKind, Mobile Viewpoint, Motion Impossible, Panasonic and SeaChange.
On the morning of the event, SVG Europe is delighted to host a Carbon Literacy for Sports Production Workshop, taking place at the JP Morgan Media Centre at Lord's.
This first-ever SVG Europe sustainability workshop is aimed at providing broadcasters, production companies, OB providers and sports rights owners with an understanding of sustainability and improving their green credentials. There are still a few places left at this workshop.
The packed SportTech 2019 programme that also includes sessions on successful live streaming, launching an OTT service and creating sports highlights and clips for social media and the web.
A preview of how the 2019 ICC Cricket World Cup will be covered on TV and online is also included.
As with all SVG Europe events, there will be plenty of networking opportunities throughout SportTech 2019 and delegates will also get the chance to take part in a guided tour of Lord's.
SportTech 2019 is taking place on Wednesday 22 May at Lord's Cricket Ground in London. To find out more and to register, visit https://www.svgeurope.org/sport-tech-2019/
Registration closes at 5pm on Monday 13 May