SportTech Europe: Top producers discuss the future of sports broadcast production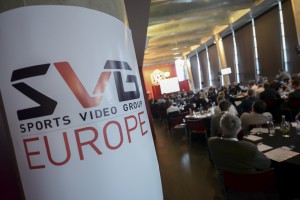 A panel of experts from the front bench of OB vehicles took to the stage at SVG Europe's SportTech 2014 conference at Emirates Arsenal FC Stadium to discuss hot topics like the future of remote production and 4K. Moderator Barry Johnstone, CTV Outside Broadcasts, Managing Director was joined by Jim Storey, European Tour Productions, Executive Producer; John Watts, sports TV director who will be working on the World Cup this summer; and Paul King, Sky Sports, Head of Documentaries and Programme Development.
They began by tackling one of the hottest product areas in sports — super-slow motion camera systems. A big NAB talking point is the move by camera manufacturers like Grass Valley, Sony, and Panasonic to offer high-speed recording so that super-slow motion recording can, possibly, be available at every camera position. Storey says that such a feature would be welcome for RF cameras on a golf course as golf viewers want to see professional swings in slow-motion.
"We have used the Inertia Unlimited xMo for the past four or five years and it is brilliant as we can show the replay within seconds," he said. "So for radio cameras the more replays from those the better." However, he added, shots from cameras towers most likely would not need to have slow-motion replay.
Watts added that for an event like the World Cup, where there are already eight super slo-mo and two ultra-motion cameras, adding the function to all 37 cameras may be overkill. "One of the hardest parts is putting meaningful replays up without missing live action," he said. "For boxing and other sports it would be brilliant."
King said the other problem is overuse of slow-motion replay if it is available from every position. "When all cameras have it then the impact of having cameras that can do it in the first place is lost," he said. "And overuse of them might also have an impact on the viewer."
Added Storey: "When the ball is in play the last thing you want is a replay where the viewer can hear the crowd screaming. So you need sports that have a natural pause with gaps for replay."
The panelists also discussed the promising area of 'remote production' whereby production personnel can produce and direct an event from hundreds of miles away, reducing the number of staff on site as well as costs. "I can remember 10 years ago talking with an excited accountant about how this might work and the potential savings," said King. "But the fact that you are there and can collaborate and discuss the production before you are on air is important. You're working as a team and, yes, there is an upside for smaller sports that can be covered more cost effectively but I would be loathe to see it on major events."
Storey added that from a golf perspective it would be almost untenable given that every hole on every course needs to be covered differently. "Towers can be in the wrong position or a tree might have grown in front of the tower," he said. "And then there are weather problems. To not be on site would be to take a step backwards."
Added Watts: "You lose the feeling of being at the event and I don't understand the savings for an event like the World Cup where you are trying to bring 37 camera signals and EVS signals to one production centre as that would be quite expensive. And you need to talk about camera positions on the day of the match and sort that out. But smaller events may be able to take that approach."
And then there is the potential for 4K and UltraHD, formats that could eventually replace, or be a major component alongside, HD. "I think on football and field sports 4K is better than 3D," said Watts. "You can direct it normally and it enhances shots from the camera one [position] whereas 3D, after seeing the low shots, takes away from camera one."
King added that there will be teething problems, similar to the move from SD to HD, but that he can't believe it is not the football.
"Given the obsession here in the UK with big-screen TVs and that everyone who has seen it thinks it looks fantastic — it's got to be a big part of the future of broadcast," he explained. "And the same production crew can produce pictures for both 4K and HD and that is a big advantage to it taking off."
The one caveat? "On an 85-inch TV it looks fantastic but I can't put an 85-inch TV on my wall," added Watts. "But it will be interesting to see how it will develop as we will have a few games of the World Cup in 4K and also the Champions League Final will be recorded in 4K."
The session closed out with a quick discussion of audio and the need to harmonise the on-field effects with commentary audio as well as improving on-field and course audio.
"It's the one area that is neglected," said King. "But there are some things that you can't control, like the vuvuzelas [at the World Cup in South Africa]. But there is little you can do about something like that as you can only turn the effects down so much before there is no atmosphere. But you need to trust the sound guy."