STAR Sports Augmented Reality and Gesture Control System: A story of firsts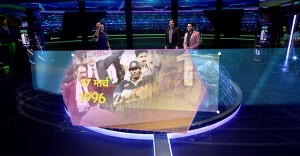 STAR Sports has a history of pioneering new technology, which is why it chose deltatre's Augmented Reality Graphics and Gesture Control System for the recent ICC World T20 tournament. This is the case study of how those innovations were brought to viewers' screens for the World T20.
In the final over of the 2016 final, Carlos Braithwaite from West Indies faces the bowling of England's Ben Stokes. The West Indies need 19 runs, England just need to survive six deliveries. The pressure has mounted on the West Indies as England have fought back with a good bowling display after setting a low target of 156. In a flash of the young all-rounder's wrist the ball goes flying over Long Leg to the boundary. The smallest gesture to help the West Indies on their way to glory.
It is the same story in the STAR Sports studio, where the slightest of movements can change the direction of the show's coverage.
Augmented Reality Graphics
In 2013 STAR made history by becoming the first broadcaster to bring Augmented Reality to the Indian Audience, using deltatre's AR services. For the launch of its flagship Star Power sport news programme, deltatre brought all its expertise from the biggest sporting events to provide cutting edge camera tracking and touchscreen technology.
With a variety of sports to report on, and a whole new dimension to display it in, STAR was able to use deltatre's graphics and technology to show sports data in a dynamic and organic way. The AR was designed in such a way as to extend the channel brand into the studio.
STAR also faced the challenge of finding a way to report on multiple sports in the same show. deltatre's multisport Touchscreen solution provided a way for analysts to quickly and easily create their analysis stories and present these to the viewer in a compelling way by blending data and video.
Three years later, on the eve of the biggest International Cricket Tournament in the world, STAR's goal was to wow audiences again.
Gesture Control System
With a brand new Studio facility and taking inspiration from Tom Cruise in Minority Report, STAR wanted its presenters to interact with the Augmented Reality system – a way of driving content never seen before in India. Combining this strategic goal with technological functionality, deltatre designed a system which allows anyone to reach out and grab the graphics.
The result is a new way for content producers to tell their story. A new and compelling way for presenters to analyse data and a dynamic way to bring the audience key moments and images.
Using deltatre's video analysis tools presenters can play videos at their own pace, pausing when they need to make longer points. All in a visually compelling Augmented Environment.
STAR certainly achieved that during the 2016 ICC World T20 with innovative technology solutions and high quality analysis, as they did in 2013 pioneering Augmented Reality Graphics in India.
The joint work and the use of deltatre's technology and creative solutions has led STAR Sports to become the premier broadcaster for innovation.
STAR's goals:
Engaging viewers
Wow effect
deltatre's solution:
Presenter Gesture Control System for AR
Benefits:
Engaging
Reusable
Highly scalable
Innovative
Results:
Appeal to audience
Awareness as a pioneering broadcaster raised
View the Gesture Control System in action here: https://www.deltatre.com/2016/04/starsports-augmented-reality-gesture-control-system/