Staying ahead of the game: Embracing the live fan engagement ecosystem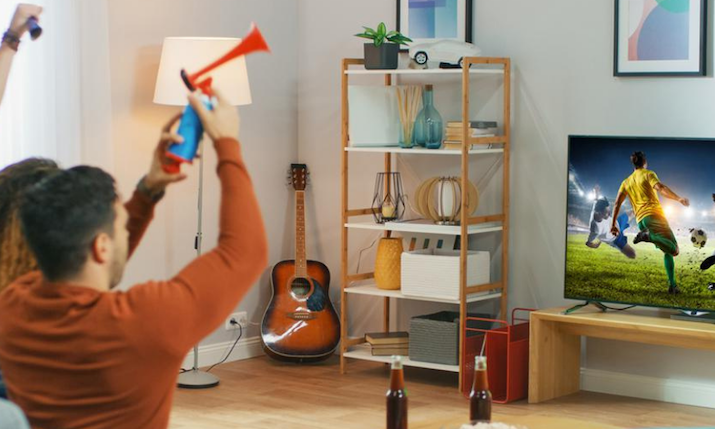 By Rick Young, senior vice president, global products, LTN Global
The pandemic led to a rapid rise in different live fan engagement models. Sports broadcasters pulled out all the stops to keep audiences entertained when stadiums were closed, and governments enforced social distancing.
The ways media companies enabled fans to interact varied considerably. From using hashtags to encourage debate, watch-along, exclusive behind-the-scenes coverage, and even virtual autographs, getting the 'live audience feel' was a crucial part of their strategy.
Social media platforms have been one of the major players in this space due to their capabilities to bring a global audience under one roof with free-to-use tools that deliver instant, unfiltered, user generated content. Although broadcasters have been taking advantage of social media in this sense, fan engagement has become the critical differentiator that requires an effective strategy to stand out from the competition. Implementing such a strategy doesn't need to be complex. When done right, it will unlock new revenue streams that can take media companies into an exciting new future fueled by innovation.
Simplifying the fragmented ecosystem
In today's hyper-connected world, fans no longer need to be at a game to have the live experience. This expanding market appears to show no signs of slowing, and connecting with it is vital. However, with live sports viewership remaining strong and the Euro 2020 final bringing the BBC and ITV peak views of 31 million alone, broadcasters need to strike it right and provide the opportunity to catch viewers' attention.
The current broadcasting ecosystem is fragmented because many unique things are happening simultaneously. From traditional TV and radio broadcasts, mobile devices, social media, team and league websites, and streaming services, identifying and understanding which fans engage with what platform can be challenging.
Check out this video of LTN Global's Rick Young and Roger Franklin openly discussing the pace of change in media
Therefore, fan engagement data has been instrumental in helping better understand the broadcasting ecosystem and create deeper engagement and brand loyalty. Broadcasters have been making significant progress in acquiring and analysing the viewership data since the pandemic, particularly Sky Sports and BT Sport. Several strands can be considered for broadcasters to hit highly targeted audience segments and deliver more relevant content:
Advertising and polling
Super Bowl LVI provided a platform for interactive advertising and polling due to the massive volume of highly engaged fans it attracted. An advertiser served an interactive ad to US fans encouraging them to scan a QR code on the screen using their smartphones. The surge in traffic was so big that it crashed the website, a testament to its vast engagement from audiences.This interactive ad is an excellent example of why planning for fan engagement across the entire lifecycle is essential. Effective planning shows the type of results companies can achieve and contribute to live linear broadcasts is one of the industry's most exciting innovations.
Secondary content
Fans can interact on a broadcaster's application simultaneously while watching a linear broadcast, opening up new possibilities for fan engagement on a different application. Several live major sports events are doing this entirely on social media platforms, with the NBA Playoffs receiving a positive response. A significant way to achieve this is through live sports betting. Fans can place bets in real time while engaging with live sports content in 'watch together' and 'bet together' social communities.
Live fan feeds in broadcasts
As technological innovation shifts the realm of possibility, live fan engagement has become more straightforward and faster to implement. For example, the 2022 Beijing Winter Olympics broadcast relied heavily on integrating live fan feeds to compensate for the lack of at-venue audiences. From this, we saw more virtual 'watch together' parties, tuning live via multiple platforms.
In addition, there are also examples of television game shows sticking with pandemic era at home audience inclusion as a way to add depth to the program. In one instance where this has played out, a classic game show host loves the ability to meet with and interact with a broad array of characters at home and not be limited with just the audience physically in the theatre.
Streaming crucial cog
So how is live streaming now a crucial cog in the broadcasting machine? Live streaming is growing in popularity, with 24% of UK audiences streaming live sports according to YouGov. Media companies must take advantage of this market with the right technology to ensure they can separate from the pack.
To do this, media companies must adopt a scalable live video router solution that can ingest multiple feeds from several locations with ultra low latency. Latency is one of the biggest hindrances to delivering live sports, as frequent lag or other disruptions turns viewers away and prevents significant revenue streams like sports betting. Ultra-low latency accurately provides live feeds to various platforms, delivering compelling, interactive viewing experiences and maximizing monetisation potential. To overcome the latency challenge, media companies need to leverage the power of a reliable IP multicast transmission network that forms the backbone of live streaming.
ATSC 3.0 is also powering growing interactivity, including addressable advertising and hyper-localisation, increasing engagement as fans consume the most relevant content. Live fan engagement is also becoming 'smarter' through cognitive technologies like artificial intelligence (AI) and machine learning, simplifying workflows and empowering media companies to identify the feeds they want to leverage quicker and easier. Both can quickly filter through hundreds of thousands of live content hours in real-time, delivering rich metadata, including location, speaker tags, and voice-to-text.
Differentiation and its potential
Driven by innovation, live fan engagement recaptures audience attention, and media companies harness its unlimited potential with hyper-targeted and interactive content. Adopting cloud routing solutions can help manage disparate live feeds from locations worldwide, ultimately revolutionising live broadcasts.
Media companies can also reap the rewards of IP transmission networks that enable the secure, reliable, and low latency delivery of feeds and ad signaling solutions that power valuable and unique advertising opportunities. The right tech stack brings live fan engagement and interactivity to life. As we now look towards this new era for broadcasting, there is no better time for media companies to realign their fan engagement strategy and thrive above their competitors.