Storytelling tool of the future: Data in the metaverse from the perspective of Disguise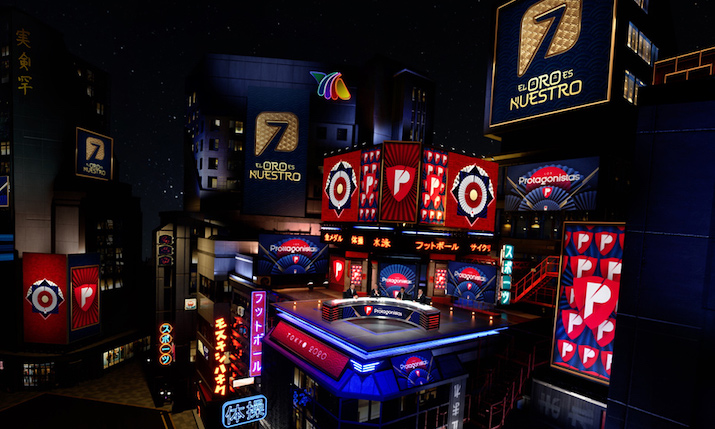 By Grigory Mindlin, Disguise general manager for broadcast.
Since the pandemic made online experiences necessary and desired, the boundaries between the physical and virtual worlds have been blurring. With the advancement of spatial computing and the development of powerful gaming engines and technologies, a new 3D world is just around the corner.
The idea of the metaverse has already attracted major corporate investment. Facebook dropped its name to become Meta and has launched the beta version of Horizon Workrooms, where workers wearing virtual reality (VR) goggles meet in virtual offices. Microsoft took over gaming studio Activision Blizzard for $68.7 billion as a means to create the "building blocks for the metaverse", and Epic Games has raised $1 billion to support its vision for the space.
According to globaldata.com, the metaverse market size was valued at $22.79 billion in 2021 and is expected to grow at a compound annual growth rate (CAGR) of 39.8% during 2022-2030.
But what does this mean for broadcasters? The broadcast world has been in the midst of disruption for quite some time. Over the top (OTT) platforms have caused rising competition urging linear broadcasters to develop new platforms and content so they can compete. With the metaverse comes another major disruption and broadcasters are seeking ways to proactively prevent losing their audiences to big tech. At the same time, they need to increase cost savings so the ability to do more with less is becoming paramount.
The transition towards IP-based networks has meant that infrastructure is better equipped to support studio productions with immersive graphics shared across a host of different platforms. Similarly, the widespread rollout of 5G will provide faster, more consistent, internet and mobile connectivity, making the consumption of content in the metaverse easier than ever before.
Telling stories with data
Using data analysis has always been a powerful way of telling stories. Sports broadcasts visualise game stats and play analyses while news coverage uses data to provide insights about the economy, politics and current affairs. Once relegated to lower-thirds, today's graphics are now used for a lot more than just reporting figures, they are helping to tell stories in highly creative ways.
Key to this transition is the use of Unreal Engine and the ability to represent this data in a virtual world. Instead of displaying 2D graphics on screen, technologies like extended reality (XR) and augmented reality (AR), allow for creative 3D graphical illustrations of the data – truly bringing it to life. Revolutionary technology like LED volumes allows for talent to even see the data they are talking about on the LED stage around them in real-time rather than using confidence monitors and guesswork.
The real-time graphics allowing for more exciting data visualisation is also driving immersive experiences in the metaverse. Digital twins, digital humans and photorealistic real-time graphics are appearing in mainstream broadcasts.
In their coverage of this year's US mid-term elections, MSNBC created a digital twin of Washington DC with immersive data-driven AR graphics which included virtual camera flights over the Capitol and the Mall.
Graphics were placed as AR elements and displayed election data in real-time resulting in unique camera shots and engaging graphics that will be impossible to achieve with traditional production.
This paid off in the results. According to the New York Times, MSNBCs coverage of the election night was seen by 3.2 million people, a bigger primetime audience than CNN, and its first-ever victory over CNN on any midterm or presidential election night.
In the FIFA World Cup, Televisa / Univision used a metaverse representation of Azteca stadium placed in the middle of digital Doha with Unreal Engine MetaHumans of every player in the World Cup. With live data flowing from the tournament, they were able to recreate key plays for each game and analyse them with the on-air talent standing beside each player. This enabled them to provide both unique analyses and entertainment for their viewers unlike any other broadcasters
Digital revolution
Sports broadcasts have started providing VR viewing experiences for games. Several professional teams are developing 3D multi-camera virtual reality game services for fans that provide a fully immersive viewing experience when wearing a VR headset. The Brooklyn Nets NBA team plans to deploy 100 high resolution cameras throughout the Barclays Centre (where the team plays its home games) that feed into a "three-point video system" to create lifelike 3-D renderings of gameplay. The team is the first pro sports team in the US to implement such technology.
There are so many different ways metaverse technologies, real-time graphics and data-driven stories can augment shows and capture more viewership. In the future, younger demographics that are more familiar with metaverses like Fortnite and Roblox will be expecting a similar level of interactivity from all content they consume.
At the same time, the technology is only getting more powerful. Gaming and graphics engines are advancing in how much geometry can be streamed in real-time. Artificial intelligence (AI) is being used to systematically recreate a digital twin of everything in the real world. A completely digital 3D world is not as far as we think it is.
The next digital revolution is on its way. According to Gartner, by 2026, 25% of people will spend at least one hour per day in the metaverse. Broadcasters who act now and start making the most of this technology will be able to grab themselves an audience in a 3D world brimming with possibility.