Streamed coverage of Super Bowl LII Peaks at 3.1m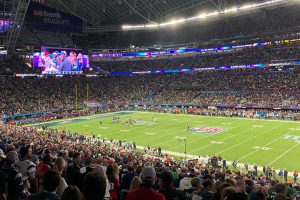 According to NBC Sports, Super Bowl LII was the most live-streamed Super Bowl in history, hauling in an Average Minute Audience (AMA) of 2.02 and peaking at 3.1 million concurrent streams.
The Super Bowl was available for streaming on the NBC Sports app, NBCSports.com, NBC.com, TV Everywhere, the En Vivo app, NFL.com, the NFL Mobile app from Verizon, the Yahoo Sports app, and go90.
NBC Sports Digital's live stream of Super Bowl LII was powered by Playmaker Media and ranks as that platform's most-streamed single game ever.
According to Playmaker Media, fans consumed 633.7 million live-streaming minutes of Super Bowl Sunday (including pregame and postgame coverage) across 6.1 million unique devices. The numbers for pregame and postgame coverage are up 185% and 112%, respectively, from the last time NBC Sports streamed a Super Bowl, in February 2015.
"We are excited by the record-breaking consumption as well as the quality of the streams we delivered to football fans," said Rick Cordella, EVP/GM, digital media, NBC Sports Group.
"We believe this is the largest domestic streaming sports event in history."
NBC Sports' coverage of the Winter Olympic Games in South Korea begins in earnest on 7 February. NBC Olympics is expected to live-stream 1,800 hours of coverage from PyeongChang.