Studio Berlin starts 4K UHD production with 4K UHD Streamline OB Van by Broadcast Solutions
Studio Berlin, a German based full-service live TV production provider, has added a new 4K UHD OB van to its fleet of mobile production resources, as well as acquiring a suite of equipment for its outside broadcast (OB) trucks and TV production studio facilities from Grass Valley.
For the new truck, called Ü9, Studio Berlin relies on a Streamline S16 OB Van, which is currently being built by German system integrator Broadcast Solutions. The trailer is a further example of the company's own development of the Streamline OB Van family.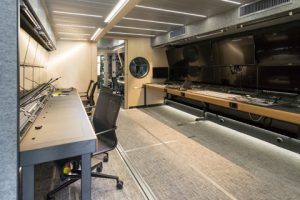 With more than 40 units built, Streamline OB Vans ely on field-proven designs and the latest technology. With the new Ü9 OB Studio Berlin is upgrading its production tools, moving to 4K UHD to provide state of the art picture quality and production flexibility. The Studio Berlin OB Van will be at display at IBC at the Broadcast Solution stand O.E02. The OB's first production will be the German federal election, taking place on 24 September.
Meanwhile, Grass Valley supplied Studio Berlin with a suite of equipment for its OB trucks and TV production studio facilities, including 41 LDX 80/82/86/86N Series Cameras and LDX C80 Compact Series Cameras plus six K-Frame Video Production Centre switchers capable of producing in 4K UHD.
The camera purchase is part of a three year contract with Grass Valley. Studio Berlin is planning to substitute a significant total of 70 LDK Cameras with the new LDX models within that period.
The camera acquisition includes 12 LDX 86N WorldCam native 3G/HD single-speed upgradeable cameras with XF Fiber Transmission and 4K UHD GV-eLicenses; 11 LDX 86 WorldCam 3G/HD single-speed upgradeable cameras, also with XF Fiber transmission and HiSpeed/XtremeSpeed GV-eLicenses; two LDX 82 Première HDR-capable advanced imaging cameras with wireless transmission by Vislink; 14 LDX 80 Première cameras with 3G Triax Transmission; and two LDX C80 Compact Première cameras.
Studio Berlin subsequently enhanced its video switchers by replacing XtenDD and Kayak-HD systems with six new production switchers comprising a 5 M/E 3G and 4K UHD Karrera K-Frame production switcher; a 4 M/E HD Kayenne K-Frame; two 4 M/E HD Karrera K-Frame S-series switchers and two 2 M/E HD Karrera K-Frame S-series switchers.
Nick Zimmermann, managing director at Studio Berlin, commented: "For Studio Berlin the Broadcast Solutions' Streamline approach offers maximum flexibility in connection with technology and production workflows. The combination of cutting edge system integration and field-proven overall concepts, applied by Broadcast Solutions, all come together in a production tool that perfectly serves our purposes. The Ü9 will be a decisive first step in our 4K/UHD strategy, with more steps to follow."
The Ü9 OB Van offers up to 20 workplaces and can work in productions with up to 19 cameras, swapping between HD and UHD productions. Studio Berlin opted for Grass Valley's LDX 86N cameras, offering native 4K signals together with a Grass Valley Karrera 5 M/E video switcher. For video processing Broadcast Solutions implemented Riedel's MediorNet solution to be used as a decentralised signal routing and communications backbone, using MetroN Core Routers plus MicroN Standard + Multiviewer systems.
Matthias Alexandru, technical director at Studio Berlin, commented: "We chose the Grass Valley live production solution to enhance the quality in our productions. The new cameras provide state of the art picture quality and production flexibility. We can now provide a native 1080p or 4K HDR acquisition in both SMPTE 2084 (PQ) and Hybrid Log-Gamma (HLG) formats. And thanks to Grass Valley's GV-eLicensing model, we are now able to provide up to 23 XtremeSpeed (6X super slow motion) cameras if needed. In addition, we wanted a large scale production switcher with the highest 4K I/O count available, and which provides the greatest flexibility with less limitations, when working in 4K UHD. We appreciate Grass Valley's customer-oriented approach and look forward to expanding our mutual cooperation with its talented technical team as well as our system integrator Broadcast Solutions."
Commented Jan-Pieter van Welsem, vice president sales and marketing, EMEA, Grass Valley: "When Studio Berlin searched for a solution to leverage its live productions, we knew we had the proven end to end solution they were looking for. The German market is very important to us and with a longstanding and trusted partnership with Studio Berlin for more than two decades, we look forward to providing our future services to continue their success."