Sunset+Vine lands production hat-trick with Henley Royal Regatta 2017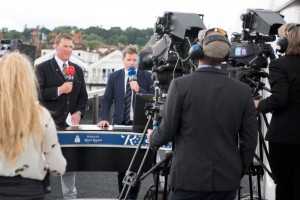 Sunset+Vine has confirmed that it will be the host broadcaster for Henley Royal Regatta for a third year in a row. Broadcast outputs for the 2017 will include eight hours a day of live streaming as well as a daily 20-minute highlights programme, both to be distributed across the HRR's YouTube and Social Media channels.
In addition, Sunset+Vine will produce the final three days of racing for BT Sport, who have returned for a second year to bring the world's best-known rowing regatta to television screens. Live coverage of racing will begin on BT Sport at 1300 BST on Friday 30th June and Saturday 1st July, with Sunday 2nd July's coverage starting at 1100 BST until the end of the regatta (1700 BST).
A total entry of 577 crews, from 15 nations, will race at Henley Royal Regatta 2017, with at least 24 medallists from the 2016 Olympic Games in Rio, including ten gold-medal winners. There is a strong contingent from the USA, which is heavily represented at this year's Regatta, with a record entry of 60 crews.
Sir Steve Redgrave, Chairman of the Regatta's Committee of Management said: "We are looking forward to continuing our partnership with Sunset+Vine and continuing our journey of widening the reach and appeal the world's best-known regatta. With BT Sport, back once again to showcase the very best of the racing action and our own YouTube channel capturing every moment of action, we are in a great place to grow the audience appeal of our sport.
"Viewers will not be disappointed, I am really pleased with the quality of the entry in all events and I am looking forward to seeing a strong international presence in the three newly introduced events for this year – the women's four, pair and double."
Andrew Preece, Sunset+Vine's Executive Producer on Henley Royal Regatta, commented: "We are delighted to be back for a third year of our production partnership with Henley Royal Regatta. Having secured a live broadcaster of BT Sport's stature, last year, to have them back in 2017 shows it was the right decision to bring this spectacular event back to television in 2015 after a 39-year hiatus. We're very much looking forward to some world-class racing. New for this year, Henley – The Official Film will be a compelling record of an intriguing British event that combines a window on English summer life with top level sport that attracts the best international squads as well as schools, colleges and university crews."