Super Bowl LIII: CBS Sports ramps up for its biggest sound coverage ever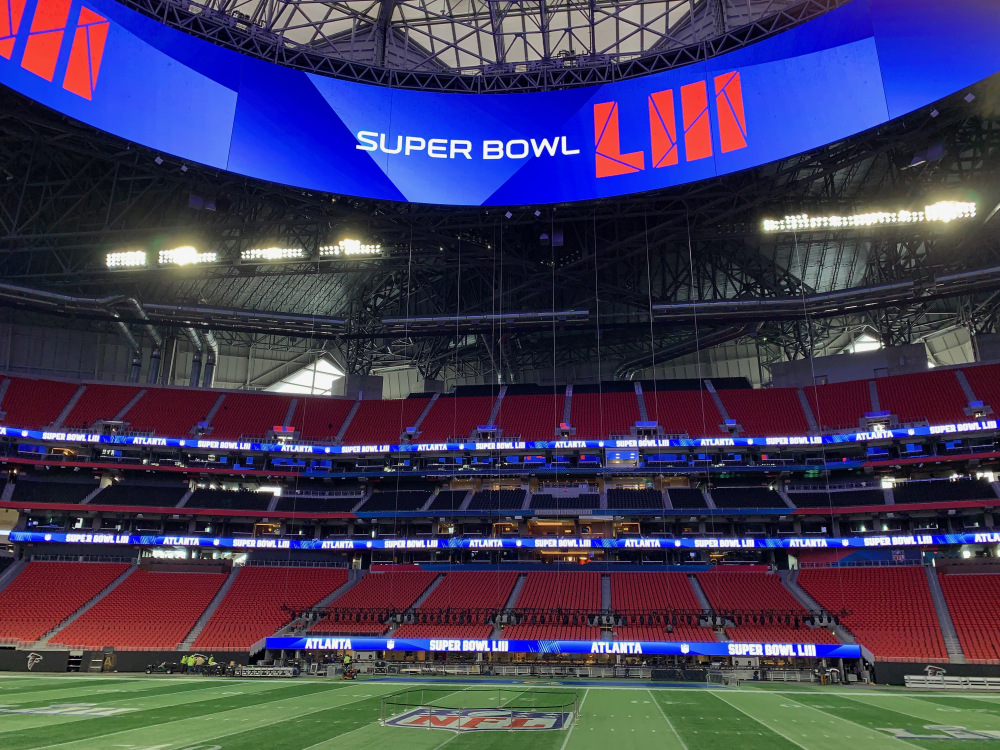 CBS Sports is planning its biggest audio game ever for Super Bowl LIII with an estimated 180 microphones set to be deployed.
The 3 February game at Atlanta's Mercedes-Benz Stadium will have microphones across three studio sets on the concourse, the field, and the Game Day Fan Plaza.
Included will be additional parabolic and other sideline microphones, 18 Sennheiser 416 short shotguns, six 418 stereo shotguns, six 8070 long shotguns, a number of Shure VP88 stereo condenser mics, and as many as 30 various RF microphones.
This will be the first Super Bowl played since the US' RF-reallocation process was completed.
According to Mike Francis, VP, remote engineering and planning, CBS Sports, the network will rely on as many wired microphone sources as possible to minimise what will be a challenging RF environment on game day.
When it opened 1.5 years ago, the venue experienced both sonic and RF issues. However, Francis cites familiarity with the venue as a positive, noting CBS's coverage of recent sports events there.
For this year's Super Bowl, intercoms and IFB will be almost completely on a network.
All back-of-house and production communications, comprising an eight-frame RTS system digitally trunked to CBS's New York studios, will ride on a dedicated Dante network connecting the sets and other stadium locations.
To bring effects audio in from the field, Calrec Hydra2 drops will use MADI connections to the main audio-production truck, NEP's SS-CBS, equipped with a Calrec Apollo main console and an Artemis desk for the sub-mix. Game Creek's Encore unit, also fitted with a Calrec Apollo, will handle pre/postgame shows.
"The goal is that no two-wire wet PLs will be utilized throughout," said Francis.
"[Analogue] is a tried-and-true [comms] solution, but, with this many audio sources to connect, the potential for noise and other artefacts is too great, and troubleshooting it takes time. Other than a few announce locations, there won't be any analogue in the comms. It's 95% networked audio everywhere."
Continually increasing audio quality has been a goal that CBS Sports has been pursuing and achieving for some time.
Starting last year, the division recruited a team of audio professionals — sound designers, broadcast-music mixers, a mastering engineer, with collective credits ranging from Broadway to LPs by Foreigner, Joe Cocker, and David Byrne — as an external audio QC team.
Over the course of the season, they monitored the surround-sound audio for the network's Sunday A games in a control room at the CBS Broadcast Centre, texting comments and suggestions to the A1s mixing that day's games. It's an initiative that Francis says has fine-tuned CBS Sports' audio and will be applied during the Super Bowl as well.
"They get to listen to the audio without the distraction of intercoms and directors' calls," he noted.
"And it's really helped dial in the sound. The first quarter of an NFL game is the Wild West for the A1s: it's the first time they're hearing the stadium with that game's crowd. They can preset to some degree based on their history and knowledge [of the venue], but it's not like a sound check at a music show. You're dialling in the mix as you go along. The QC engineers can get focused in during that first quarter in a way you can't in the truck. It has really made a positive difference."
A1 Ed Soltis, in the main mix position for his sixth Super Bowl with CBS, will be joined for the game by sub-mixer Gordon Gilliam and studio-show A1 Peteris Saltans, mixing his second CBS Super Bowl studio show.
Over the course of the season, the team has experimented with and applied various external compressors, seeking more-consistent levels for the announce team.
"[Analyst Tony Romo's] voice levels can fluctuate considerably, moving quickly from very quiet to very excited. It was a challenge in the beginning," Francis explained, referring to the former Cowboys quarterback, in his sophomore year behind the microphone.
"The right compression helps to bring the excitement across without losing the announcers in it."
The expanded and enhanced audio package that CBS Sports will deploy for the Super Bowl matches what it's rolling out on the video-production side: 115 cameras deployed throughout the stadium will include 16 4K cameras — nine of which will be Sony HDC-4800's capable of 8X slo-mo — and multiple 8K cameras.
The sound of NFL games has become nearly cinematic in recent years and has set the standard for broadcast-sports audio in general. From an audio perspective, the Super Bowl will be much like what a regular-season game has become: an immersive auditory experience. This year's Super Bowl will be just that, said Francis: "Only more so — a lot more."