Super Bowl LV: Facing the challenges of bringing the behemoth that is NFL to European markets
The NFL's Super Bowl LV takes place this weekend (Sunday 7 February) with the Tampa Bay Buccaneers taking on the Kansas City Chiefs in a riveting spectacular that rivals Thanksgiving for popularity in the US.
Over the pond in Europe, while NFL is not quite as popular as it is on its home turf, there is certainly a lot of interest, and that interest is growing.
NFL has been playing pre-season games in London since the 1980s. The World League of American Football was founded in 1989. It was later rebranded as the NFL Europe League then became NFL Europa, until it was wrapped in 2007.
Speaking to SVG Europe, Sameer Pabari, managing director of international media at NFL, says: "That morphed into our current model of international series games where we're taking actual regular fixtures with top teams and top players and bringing them across. So I think we've had 31 of the 32 teams play internationally now. It is very much part of our strategy to grow that."
Pushing NFL to new fans
Since 2007 the NFL has played regular-season competitive matches in the UK, and its fan base has grown with it. Today it plays four games in London per year, plus one more international in Mexico.
On why the NFL is continuing to push its sport to fans outside of the US, Pabari says: "The future fan growth for the sport for the teams is going to come from outside of the US; that's just as a result of how large a behemoth the NFL is as a sport domestically."
"The plethora of choice that people have in terms of how to spend time using digital devices means that we just need to compete far more aggressively and work much harder to capture people's attention"
Pabari says that in terms of both scale and growth, the UK and Germany are the NFL's largest markets in Europe. He adds: "In terms of other markets where we've seen really strong growth over the past few years, France, the Nordics, Spain and Italy are very strong."
Pabari is the boss of all the media for the NFL outside of the US, and joining the international team within the NFL. He notes: "The core fundamental mission that you're signing up to is to grow the sport internationally so everything that we do from a media standpoint supports that goal. In terms of the vision, it is really to continue the strong growth of the sport outside of the US.
"We've got a number of different pillars on how we do that," he continues. "We talked about the international series games, which is a key one for media distribution. Making sure our content reaches as broad a cross section of fans or potential fans as possible is another one. Fostering or encouraging grassroots participation in the sport through our programme, and also using American football from a charitable community standpoint to drive for positive change in society is the third pillar. And the fourth is trying to drive more international players within the NFL itself. So from an overall strategy of how we try and build the sport internationally and increase its popularity, those are the main pillars that we have."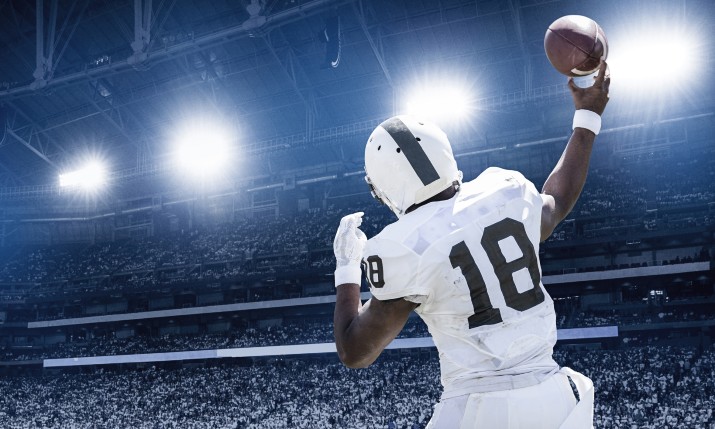 Targeting broadcast markets
Pabari says that the NFL targets international markets with room for growth of the sport carefully from a broadcast perspective. He notes: "Specifically from a media standpoint we typically have a blueprint that we try to put in place in one of the core markets where we see potential. That consists of three different elements.
"[The first is] free to air, which is absolutely integral. It's what gives us the broadest reach and it's also important from a tone of voice perspective because it can [go out] to someone who hasn't spent much time watching the sport or [who feels like] following [the rules] can be a little bit complicated. So having a broadcast partner or a media partner that can actually dial down the level of assumed knowledge and produce content in a way that enables people to follow sport with less assumed knowledge is critical.
"We also work with pay-TV partners in other sports channels. It's an opportunity for us to promote our brand, our sport teams and our players to people who already love sports and follow lots of sports. And then finally we have our own direct-to-consumer streaming service, Game Pass, and that's really there for our most avid fans.
"That blueprint really works on the model of driving higher levels of fandom; you start with awareness, then to interest, then adoption. Trying to get fans along that journey is absolutely key. The strategy tries to cater for as broad a fan base as possible, from someone who has got a bit of an inkling of the sport because they've seen the Super Bowl and they'd like to learn more, all the way to someone who's a hardcore Buffalo Bills fan."
Pabari states that in the UK, which is a good example of how the NFL has used its strategy to attract more fans, the sporting league renewed its UK media deals in summer 2020. That included extending its 25-year partnership with Sky Sports by a further five years.
He adds: "The most exciting part of that was launching our own dedicated Sky Sports NFL channel, so alongside the Premier League and Formula 1, we're the only league or Federation that has its own channel." Sky Sports NFL launched in August 2020 as part of the five-year deal.
In tandem with the Sky Sports deal, the NFL announced a three-year partnership with Viacom CBS to try to reach a different type of fan in the UK. This signing includes the weekly match show, Monday Night Football on Channel 5, a highlights magazine show, NFL End Zone on Sunday mornings on Channel 5 and digital content created with MTV that brings together NFL players themselves with music, culture and fashion, exposing the people under the football helmets. Finally, there is the NFL's long-standing relationship with the BBC.
The international matches are produced by the respective US-based rights holders, who work with their own international partners to produce the games. The NFL's US rights holders are CBS, Fox Sports, NBC and ESPN.
"We'll also…foster a greater sense of community when you're watching sports. For fans of the NFL in Europe often it can be perhaps a bit of a solitary experience watching games, following your team in the middle of the night"
For regular-season TV viewing, year-on-year increases in viewership at Sky Sports (Sunday evenings plus all NFL programming including RedZone) has seen a 26% increase, while on BBC Sport, one million people watch The NFL Show per week either via linear or digital, over a 20% increase in viewers compared with the last year.
Meanwhile, Gamepass has had a 57% increase in international users over the year, and for NFL Europe Shop, revenue has grown by 42%.
"Together that's a really good example of that blueprint being put in place and really driving amazing levels of engagement and fandom, even in this crazy year that we've had," says Pabari.
Pandemic crazy year
On that crazy year and how it has affected the NFL's international mission, Pabari says that thankfully it had just closed the season as things got out of control, although it did cancel the international matches.
He notes: "Clearly for anyone working in sports industry, 2020 was incredibly tough as a result of the pandemic really taking hold, then the ensuing government actions and lockdowns. But I think we were relatively fortunate in that by the time that happened, our season had actually finished; they'd been played in early February.
"So we weren't in a position where we had to pause. We had a bit of time to plan and prepare for the next season, which runs from the beginning of September to the beginning of February. Really our mindset was the safety and wellbeing of players, fans and the different stakeholders around the game."
He goes on: "But we really needed to adopt a mindset and mentality of being flexible and agile. And I think you saw that during the course of our 2020 season from the way that we rapidly changed the format for our draft, which was supposed to be a huge event in Las Vegas and very quickly turned into a virtual event, which went down incredibly well. So all of those elements and particularly the protocols that we developed enabled us to start the season on time and finish the regular season and the playoffs."
He adds that in terms of international fandom and engagement, NFL has seen no impact of the pandemic. "All of the KPIs that we track in terms of fandom have been moving in the right direction."
With the Super Bowl happening this weekend, the NFL is now seeing a culmination of much planning and co-operation between its stakeholders, broadcasters and governments. Pabari says he is hopeful for the next season: "We've worked very, very closely with government authorities and medical officials to make sure that we manage the season and athletes from a health perspective. So the fact that those protocols are robust, I think we go into next season quietly confident and also optimistic that with the rollout of vaccines across the world, by the time our season starts in September of this year we'll be in a different place than where we are today."
Digital futures
The future will be influenced by digital disruption, where younger generations are pulling away from linear TV to their other screens and to streaming services. This is influencing how the NFL moves forward. Pabari explains: "From a digital streaming standpoint you're going to see higher levels of personalisation and individual engagement. I think two immediate impacts that I see from digital disruption is number one, the plethora of choice that people have in terms of how to spend that time using digital devices means that we just need to compete far more aggressively and work much harder to capture people's attention.
"And secondly, the factor for the next generation of fans is they're growing up as complete digital natives so their first port of call for any form of content, whether that's audio content or video content, is going to be through a digital service or a digital platform in some way, shape or form. So that really then drives your distribution strategy. I think there's real opportunity with digital disruption for us to be able to connect directly with fans and learn more about them."
He adds: "I think that we're really scratching the surface of streaming. All we've really done is taken a live feed from a big screen showing you can take it onto a smaller screen, but actually in many cases it's still a big screen because people like to watch sports on as large a screen as possible. So either they're accessing that digital feed through an app on connected TV or a connected device, or casting from their phone or tablet onto the big screen as well. Going forward, I do expect that to change with higher levels of personalisation. So I'm talking about Twitch, influencers providing alternative commentary and kids-focused commentary. I think there's also going to be much smarter use of data in storytelling."
In terms of future development from the NFL out to its international audience, Pabari states that personalisation is going to factor in more in its developmental work to help connect audiences with each other.
"We'll also have the ability to foster a greater sense of community when you're watching sports. For fans of the NFL in Europe often it can be perhaps a bit of a solitary experience watching games, following your team in the middle of the night [when matches are played in US time zones]. To be able to connect with the community of fans doing the same around Europe, I think there's real potential there. These are all areas that as we develop our direct-to-consumer strategy, we're going to be investing in to make that experience even better."
Pabari says Game Pass is going to be one of the areas that the NFL focuses on as a vehicle for personalisation: "Over the course of 2020 we've seen phenomenal levels of success with Game Pass around the world. But we see the potential for even higher levels of growth. It still accounts for a relatively small percentage of our fan base, so that's going to be a key area of our strategy going forward, improving the product and making it accessible to a broader cross-section of fans."
The Super Bowl will be live on BBC and Sky in the UK on Sunday 7 February, including BBC1, BBC iPlayer, Sky Sports Action, Mix and Main Event.