SVG Esports Production Summit returns to Los Angeles as emerging sector continues to grow
Leagues, venues, teams and more meet at the Sheraton Universal to discuss a myriad of topics
eSports isn't just the fastest-growing live-entertainment sector; it's also one of the biggest drivers of technological innovation for live production today. At SVG's second-annual Esports Production Summit in Los Angeles on 19 November, more than 400 attendees — representing a wide cross-section of publishers, leagues, venues, broadcasters, streaming outlets, technology vendors, and more — gathered at the Sheraton Universal Hotel to learn from eSports-production leaders and technology experts about the state of the industry and get a behind-the-scenes look at how eSports content is being produced and distributed to a rapidly growing fan base.
The day-long event began with an opening presentation on the state of the esports viewership and consumption, featuring Esports Charts founder Ivan Danishevskyi, who provided an overview of the current trends in esports development and streaming.
Next up, a who's who of eSports-production leaders took attendees behind the scenes of some of the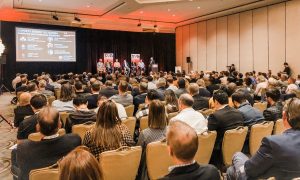 highest-profile live esports productions of the past year. On the panel were Matt Donovan, broadcast and technology manager, Riot Games; Simon Eicher, executive producer/director, broadcast, esports services, ESL Gaming; Andrew Lane, director, broadcast, FACEIT; Mitch Rosenthal, director, esports production operations, Twitch; Scott Smith, co-founder/managing director, Do Not Peek Entertainment; and Andrew Wagnitz, director, broadcast and technology, Next Generation Esports.
The morning also featured a Keynote Conversation exploring BlizzCon and the Blizzard Entertainment Esports Content Factory. Pete Emminger, VP, global broadcast, Activision Blizzard Esports, and Saralyn Smith, BlizzCon executive producer, Blizzard Entertainment, shared an inside look at the recent BlizzCon production, as well as at how Blizzard produces and manages its massive content and broadcast portfolio.
"Whether it's Overwatch League or at BlizzCon, we want to provide live esports experiences for fans in the arena and those watching online at home," said Smith. "We're very committed to the future here."
Said Emminger, "Our ultimate goal is to entertain people. That message is at the core of how we do everything."
Following a midmorning networking break, where attendees were able to visit the Technology Showcases, the focus shifted to the technology behind esports production. Representatives from technology leaders Ross Video, Blackmagic Design, Canon USA, Grass Valley and SwiftStack discussed the next-gen technologies and workflows that live-esports producers are turning to enhance the fan experience.
A Spotlight Session, presented by The Switch, offered a look at ESL gaming and the future of esports production.
On the general-session stage the conversation turned to eSports venues. eSports-focused venues are popping up across North America, and, with the Overwatch League and Call of Duty League set to start home and away games next year, the esports industry appears on the verge of a massive building boom. eSports-venue experts from Esports Stadium Arlington, Allied Esports International, Populous, Overwatch League, and 1337 Facilities gave their best practices in designing and operating a venue, as well as what they expect in this rapidly growing sector.
Up next, the teams took centre stage, with Heather Garozzo, VP, marketing, Dignitas, and Oluwafemi Okusanya, VP, content/production, FaZe Clan, explaining why creating content factories of their own will enable them to better serve the growing demand for live streaming to VOD.
A panel discussion on Pro League Perspectives followed, with traditional sports properties NBA and NASCAR Productions joining eSports properties EA and Defacto Entertainment to discuss how professional sports leagues around the globe are embracing the esports revolution by launching their own leagues and teams, as well as partnering with key publishers to develop new initiatives.
Closing out the day was a Keynote Conversation with esports pioneer Mike Sepso, co-founder/CEO, Vindex, who discussed how the esports business has evolved and what he sees for this rapidly growing market in 2020 and beyond.
"This is an industry being built on the most profitable sector of entertainment," he said. "It's going to be successful, but it's just going to take time. It's a big business, and now there are millions of dollars being invested in it."