SVG Europe announces shortlists for 2017 Sport Production Achievement Awards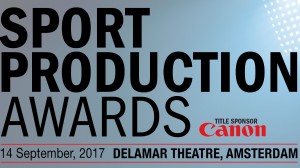 SVG Europe is delighted to announce the shortlists for the 2017 Sport Production Achievement Awards, sponsored by Canon. Nominations were sought in three categories – Outstanding Digital, Technical and Live Event Achievement – with a fourth Award, Outstanding Contribution to the European Sports Production Community being a non-voting category.
The winners of the 2017 Sport Production Achievement Awards will be announced on Thursday 14 September at the conclusion of SVG Europe's Sport Production Summit at the DeLaMar Theatre in Amsterdam. Then, on 16 September, SVG Europe will hold the Sport Production Summit & Awards Networking Evening at the RAI, also sponsord by Canon.
The shortlist for Outstanding Digital Achiement Award is: ATP Media for Tennis TV; BBC Sport for Digital Olympics Rio 2016; and BT Sport for UEFA Champions League Final VR 360.
In Technical Achievement, the Award nominees are: Formula One Management for F1 Conversion to UHD; Sky Deutschland for new Sky Sports HQ Production Centre; and UEFA for Remote Uncompressed 4K Production Krakow-Stratford.
The finalists in the Outstanding Live Event Achievement Award category are: BBC Sport for Olympics Rio 2016; BT Sport for UEFA Champions League Final HD/UHD-HDR/VR 360; and ITV Racing for Royal Ascot 2017.
"We would sincerely like to thank every broadcaster, production company, sports federation and vendor that took the time to submit an entry for our 2017 Awards," said SVG Europe Executive Editor Fergal Ringrose. "We were delighted with the quality of the responses, right across the categories: a total of 24 entries were received for these Awards. We would also like to thank those many members of our European Advisory Board who took the time to cast their votes."
Full category details
OUTSTANDING DIGITAL ACHIEVEMENT: The Outstanding Digital Achievement award is presented to the best European production or innovation that was distributed via digital distribution methods which include OTT, an app, VR, and social media platforms. Nominees will be evaluated on the level of innovation and quality of production.
OUTSTANDING TECHNICAL ACHIEVEMENT: The Outstanding Technical Achievement award is presented for a specific technical achievement within a larger European production. Some examples include a new use of augmented reality, a new camera system, a new approach to live event audio. The award is not for the technology itself but rather its use within an event in a positive and meaningful way.
OUTSTANDING LIVE EVENT ACHIEVEMENT: SVG Europe wishes to recognise a truly memorable European live sports event production, a complex team effort that delivers outstanding coverage of a key sporting event right across the disciplines of planning, production, resources and on-site operations.
OUTSTANDING CONTRIBUTION TO THE EUROPEAN SPORTS PRODUCTION COMMUNITY (not open to general nominations): This SVG Europe award is presented to an individual who has changed the nature of sports content creation and distribution within Europe. Criteria includes their longevity within the industry, the impact their professional career has had on the entire sports production community, and their commitment to moving the industry forward in a positive way.