SVG Europe Audio to look back at Beijing 2022 during Immersive Audio Forum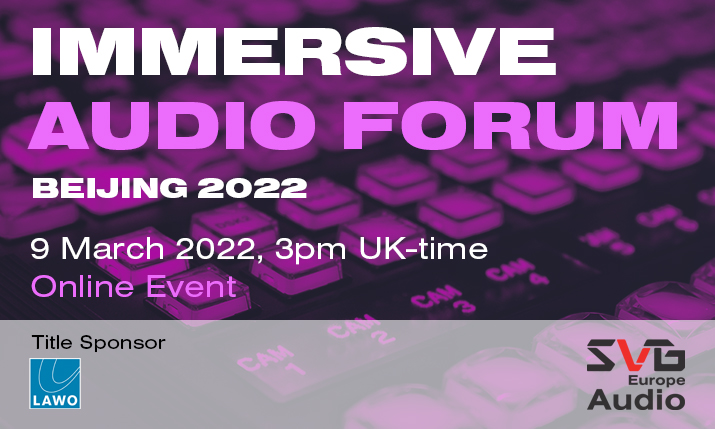 Join SVG Europe Audio at its second event of 2022, the Immersive Audio Forum – Look back at Beijing.
Taking place live online on 9 March at 3pm UK time, the informal session will explore what has been achieved at the Winter Olympics and how sophisticated rights holders like NBC are scaling up distribution to an increasingly wider audience.
Nuno Duarte, Olympic Broadcast Services' (OBS) sound design and audio manager will set the snow-clad scene for the 2022 Winter Olympics audio achievements with a presentation that will cover how OBS created the immersive sound experience, the challenges faced, and the results for broadcasters and viewers.
The conversation will then open up to a broader discussion of the Beijing Games' soundscape that will include Olympics rights holder, NBC Sports, with Karl Malone, director of sound design, NBC Sports and Olympics, NBC Universal. NBC delivered an unprecedented offering of Dolby Atmos encoded 5.1.4 audio programming.
More speakers will be announced soon.
Beijing 2022 marked the first Winter Olympics where OBS captured immersive 5.1.4 audio for every single venue and event. Building on the successful efforts for Tokyo Summer Olympics, this represents a landmark in large-scale immersive audio production.
The 5.1.4 configuration offers a fully three-dimensional audio experience and provides exceptional spatial audio rendering with a new sensation of height, and greater depth of sound, with a result that is closer to the reality of being in the stadium or on the slopes. All of which can be experienced on an increasingly wide range of discrete systems, sound bars, enabled televisions, and mobile devices.
As in Tokyo, the overhead layer of the 5.1.4 format has been captured with two new immersive microphones, especially designed in conjunction with OBS. In total, OBS deployed more than 1,600 microphones with 40 different models.
Beijing 2022 also marked a milestone in immersive audio distribution, with Olympics rights holder, NBC Sports delivering an unprecedented offering of Dolby Atmos encoded 5.1.4 audio programming, along with Dolby Vision 4K HDR, to an enormous national prime-time audience across the US.