SVG Europe heads to Milan for Sky Italia Innovation Summit 2016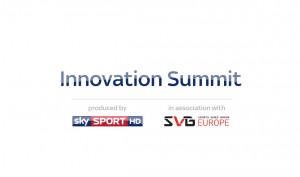 SVG Europe is delighted to announce an association with our Italian colleagues to produce 'Sky Italia Innovation Summit' in Milan May 25. This will be an Italy-focused, Italian-language, Platinum-only event hosted at Sky Italia's Milan studios during Champions League Final week.
SVG Europe has collaborated with a senior team of Manuela Baraschi, Riccardo Botta, Alessandro Marini and Sergio Tadini in preparation for the event, which will feature An Introduction to Sky Italia/Sky Europe; UHD/HDR/HFR Technology Presentation by Sky Italia Technology's Massimo Bertolotti; a panel discussion with Italian League/Federation; a panel on the Future of Sport Production (Services & Systems Integration); and a closing tour of Sky Italia studios in Milan (motto: Per amore dello sport).
The agenda for Sky Italia Innovation Summit has been drawn up by the Sky team, which has prepared an invited list of suppliers, partners and competitors including 3Zero2, One TV, Videe, Cinevideo, EBD, deltatre, NVP, Globecast, Euroscena, VideoB, Livesat, Telerecord, Erreclesse, DBW, Professional Show, Videoprogetti, CVE, Fidogroup, PanoptikonVR, RAI, Mediaset, Juventus FC, AS Roma, US Sassuolo and Torino FC.
This is the latest SVG Europe collaborative 'regional' event, following the success of Sky Deutschland Champions Summit in May 2015, and Euromedia's Sports a 360 Summit in March 2016 (the day before SVG Europe's Football Production Summit at Stade de France).